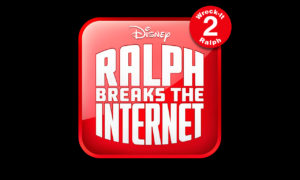 Spoilers after ads
A Worthy Sequel to Wreck-it Ralph
Summary:
The steering wheel breaks for Vanellope Von Schweetz's game, Sugar Rush, and there is only one place they can get a replacement part: eBay. So, Ralph and the kid set off on a grand adventure to get into the internet and track down that part.
Additional Comments:
It's a fun sequel that is different but almost as fun as the first.
The portrayals of the internet sometimes come uncomfortably close to reality.
Themes: There's a lot in here if you want to unpack deeper meanings. Cyber bullying, friendship, changes to friendship, loyalty, growing up, internet safety, and much more are packed in here somewhere.
Part of the middle is irksome (when Ralph's being an idiot and doing the breaking of the internet part). Everything works out, but the dark moments are rather dark.
As with the first movie, Easter Eggs lurk everywhere. That makes for a fun movie to see a couple of times.
Coolest new character: Shanks.
My favorite parts: Will put in after the ads in the spoiler section.
The mid-credit scene was amazing and hilarious.
Conclusion:
Fun family-friendly movie.
Associate links to follow…
(If you click through and buy something, there's the chance I'll earn like $0.04 … not kidding, that's basically it.)
Amazon Prime
The Collins Case – 2 FBI agents track down a kidnapped family. Kid friendly.
If fantasy's more your thing, go Redeemer Chronicles. The first, Awakening, is available as an audiobook.
Ashlynn's Dreams Shorts – a kid deals with her parents' divorce, bullies, and the wonder of discovery.
Try The Dark Side of Science – Genetically altered kids fight for the right to live.

OR
Spoiler Section:
I like how of the two options to fix the Ralph virus, the one that ultimately works is "therapy." Because Ralph gets to figure things out on his own.
Funnies parts: Disney princesses save Ralph by using each of their skills. Nobody can understand Merida. Vanellope first meets the Disney Princesses. Spamly tries to catch Ralph but he goes right through the car. Fix-it Felix becomes a father of 15!
I wish we could have seen more of the original side characters from the first movie.