Enter mysterious worlds. See the unseen world here.
Fighting for peace could cost them everything.
Daniel and Marina find themselves embroiled in a quest to unite Aeris's two magic races and defend the innocent against the Dark Man's grand plans to enslave the world.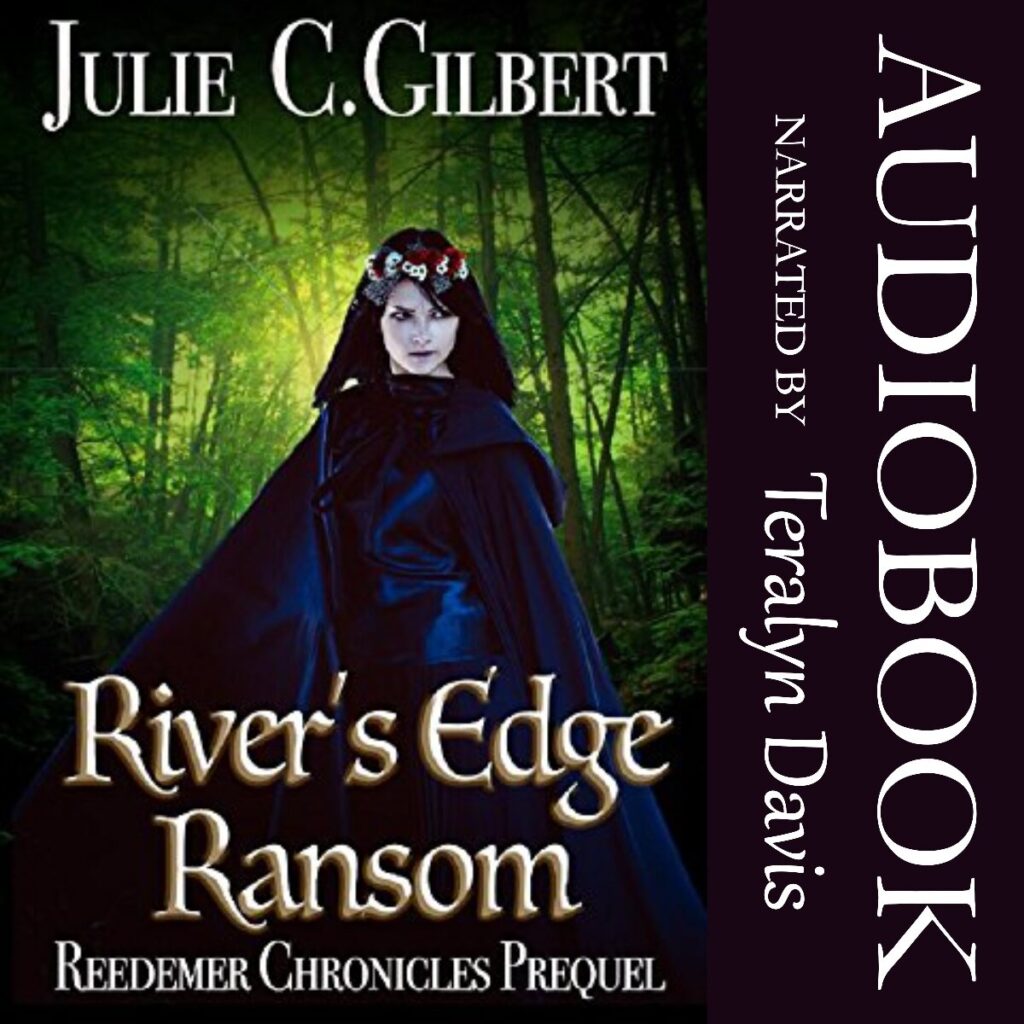 Redeemer Chronicles Prequel
River's Edge Ransom
Money cannot buy a cure …
The secret contract Daniel accepts to hunt down a powerful and dangerous Destroyer should set his career for life.
But it's a lie.
Marina is not trying to destroy River's Edge. She's trying to save it, but is she willing to give up everything to rescue strangers?
Narrated by Teralyn Davis.
Aeris Legends: A Prequel Trilogy to Redeemer Chronicles
Aeris Legends is a prequel trilogy that follows the events of River's Edge Ransom and leads right to the beginning of Redeemer Chronicles. Aeris stories in order: River's Edge Ransom, The Huntsman and the Healer, The Dark Man's Wrath, The Lady's Grace, Awakening, The Holy War, Reclaim the Darklands. You can jump right in or grab some background first. River's Edge Ransom takes place before this story, and all of Redeemer Chronicles takes place after this story.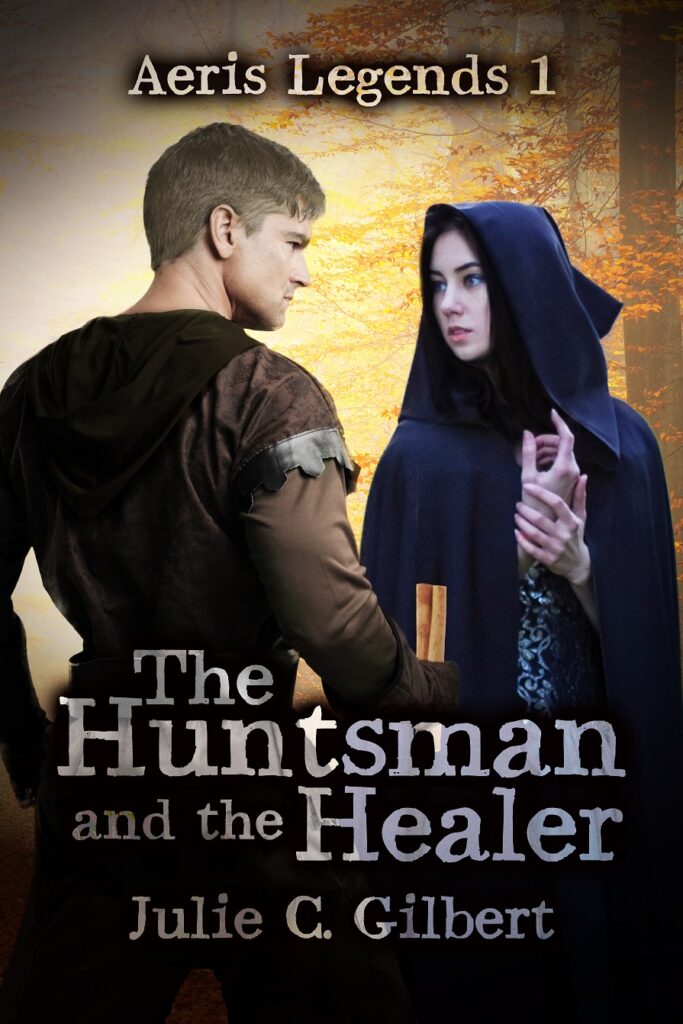 Book 1: The Huntsman
and the Healer
The Guild wants justice. They'll settle for her life.
Marina didn't cause the River's Edge tragedy, but she knows who did. Knowing the truth could spark a war between the two magic races, she determines to carry the secret forever.
The Arkonai High Council wants answers, and they want Daniel to get them.
He knows she's innocent, but if he doesn't cooperate, they will send another huntsman. And Marina might not live through the encounter.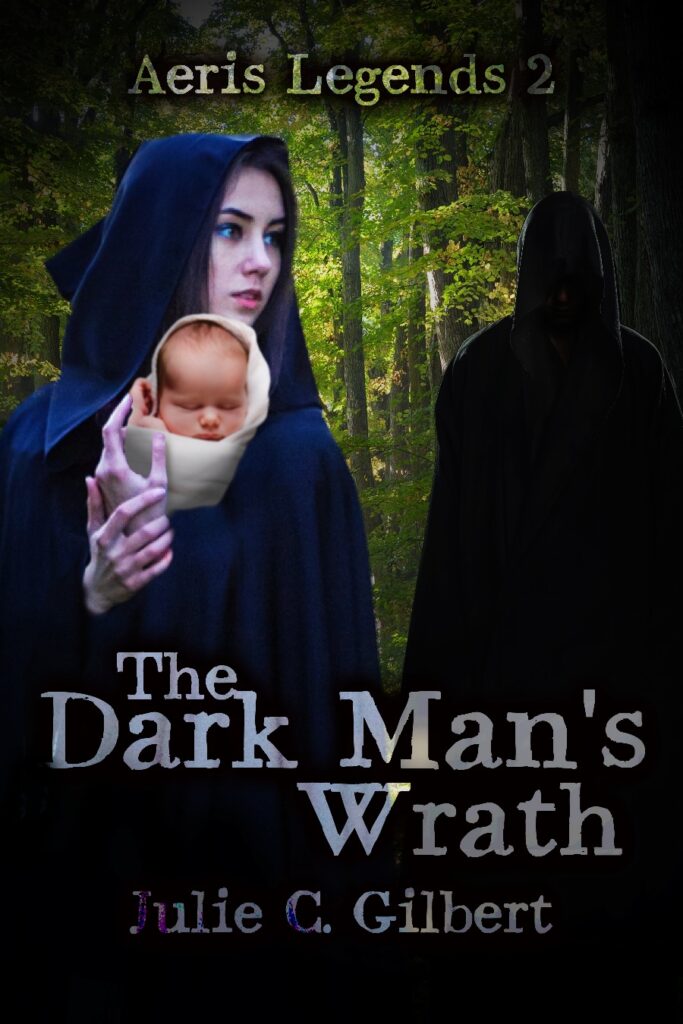 Book 2: The
Dark Man's Wrath
Love. Honor. Family. What's worth fighting for?
Marina longs to heal the hatred that exists between the two magic races, but evil men and dark spirits fuel the discord for their own purposes.
Daniel strives to fulfill his duties as an Arkonai huntsman and spend time with his family. He's good at his job, but the Council politics disgust him.
The Dark Man needs something from Daniel, and he will kill or threaten anybody to get it.
Fighting an immortal seems impossible, but if Daniel and Marina fail, their infant daughter will only be the first of many to die.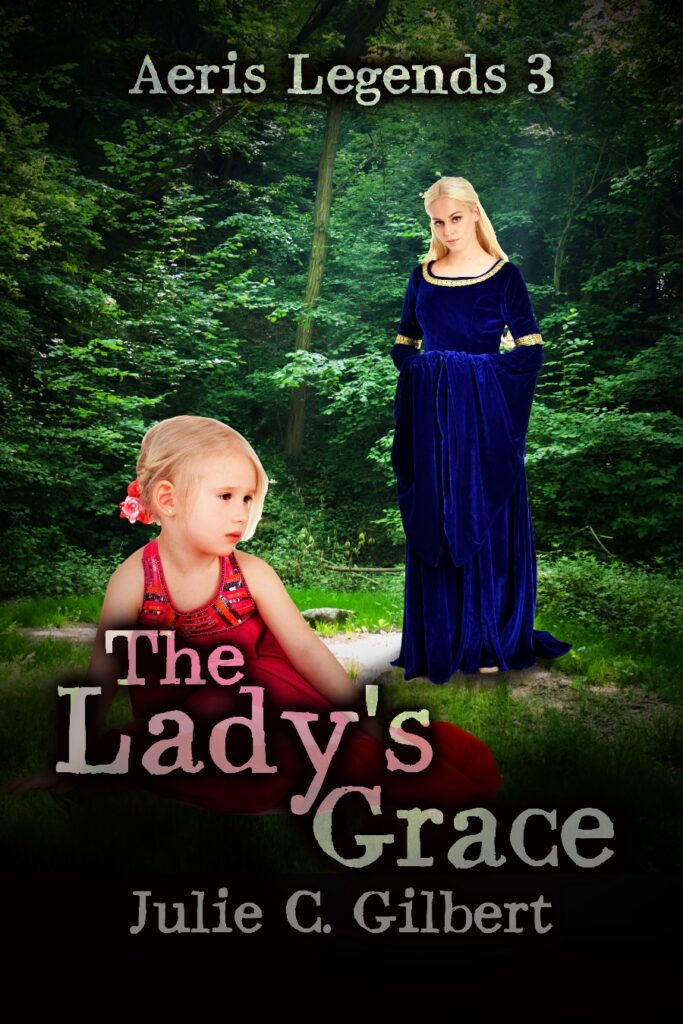 Book 3: The
Lady's Grace
Daniel's daughter is dying.
Only the Lady's magic bracers can save Victoria from a horrible fate.
The Dark Man promises to heal Victoria with the bracers if Daniel gives them to him. Since he doesn't trust the huntsman to be reasonable, he makes another simple bargain: Raelyn's life for the bracers.
Raelyn's ready to die for Victoria, but can Daniel accept such a gift to save his daughter?
Redeemer Chronicles Series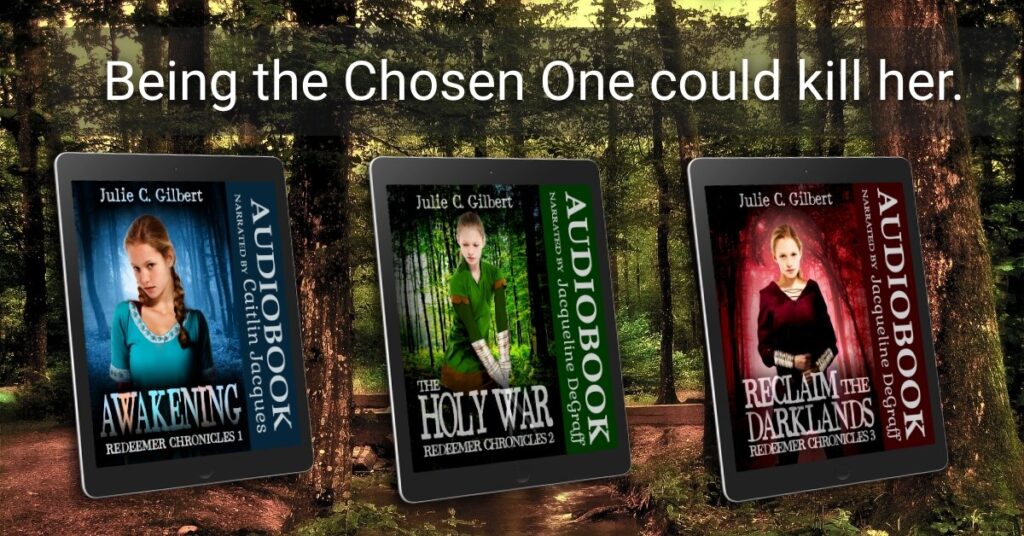 Book 1:
Awakening
Victoria Saveron knows she's probably the Chosen Redeemer, but that doesn't exactly explain what she's supposed to do.
Audiobook performed by Caitlin Jacques.
Universal Link to Awakening. Amazon affiliate link to ebook.
Book 2: The
Holy War
Vic and her friends struggle to prevent widespread war on Aeris.
Universal Link to The Holy War.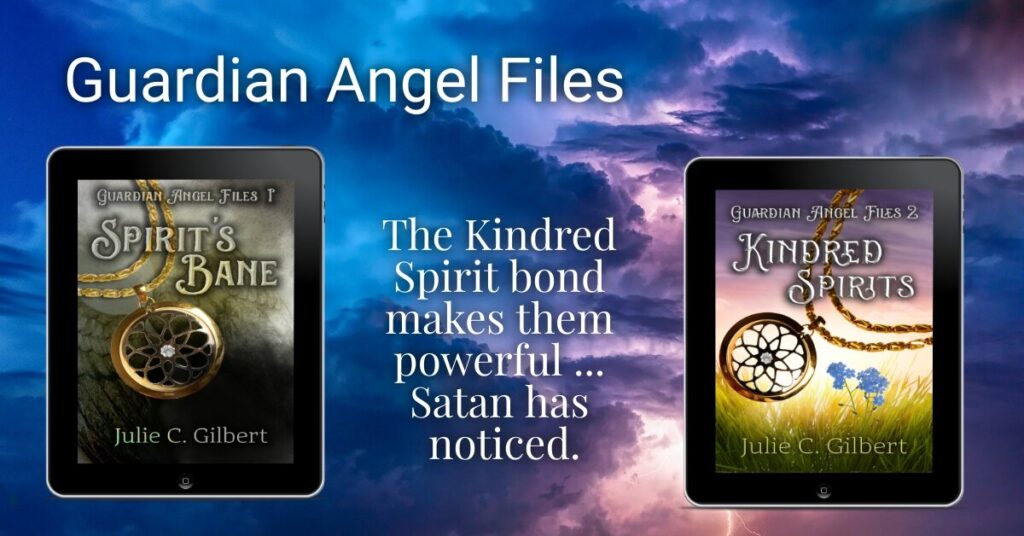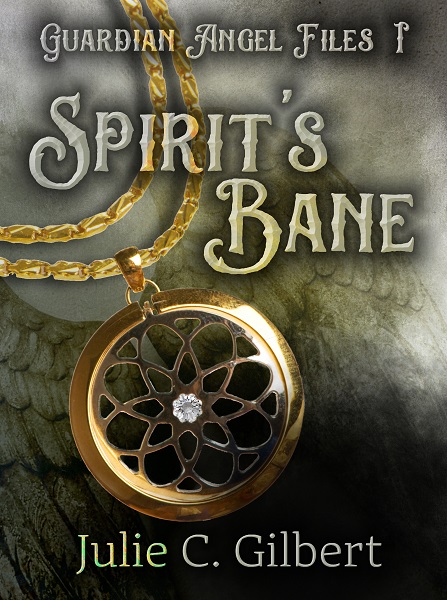 Spirit's Bane
The Kindred Spirit Bond makes them powerful …
Lucifer has noticed.
As with all young angels on the Guardian path, Allister and Mina undertake a wide variety of missions to discover their Gifts.
Meanwhile, Satan and his top lieutenants have a new secret weapon to test, so they set a trap for the pair.
Now, the Guardian Angel candidates need protection. If Spirit's Bane successfully destroys the angels of light, the last line of defense between humans and demons will disappear.
Link to Spirit's Bane ebook.
Link to the audiobook version of Spirit's Bane. Performed by Reuben Corbett.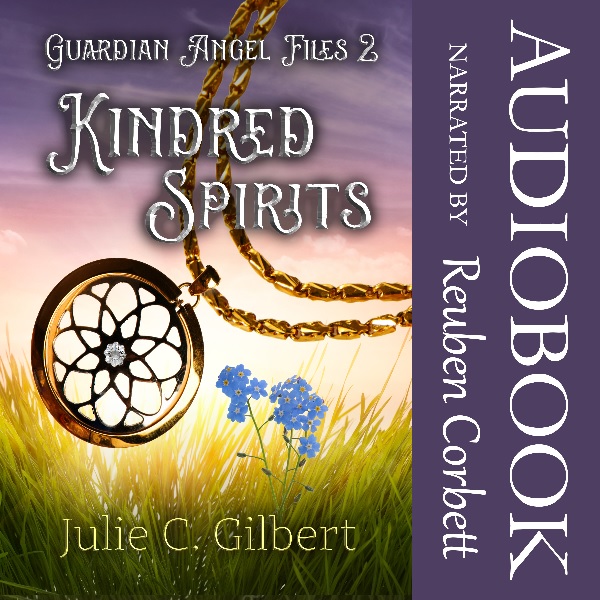 Kindred Spirits
Victory comes at a price.
Exiled to Earth, Mina bears the weapon she stole from Satan, preventing him from destroying the angels of light. Despite this, Spirit's Bane weakens her with pain when she uses her Gifts to protect those under her care.
Meanwhile, the Council of Light confines Allister to the Heavens. They fear what Satan will do if he captures the Kindred Spirit Pair. Allister knows they are stronger together, but even if he defies the Council by going to Earth, there's no guarantee he'll reach Mina before Satan's minions.
If Allister and Mina cannot defeat Spirit's Bane swiftly, precious souls will be lost in the coming conflict.
Kindred Spirits can be read alone, but it would probably be much more powerful (and sensible) if read after Guardian Angel Files Book 1: Spirit's Bane. The series is written in a style reminiscent of C.S. Lewis's Screwtape Letters. The series is available as ebooks, paperbacks, or audiobooks performed by Reuben Corbett.
Link to Kindred Spirit's Audiobook performed by Reuben Corbett.