*Spoilers, spoilers, spoilers, spoilers. And once again, I own nothing of the pictures.*
BTW, this movie is definitely better without spoilers. Go watch it first, then look for the discussions.
Introduction:
I love this movie. I'm a little baffled as to why people keep trying to compare it to The Force Awakens. They're completely separate entities and fulfill different functions within the Star Wars canon as re-imagined by Disney. It definitely deserves its PG-13 rating. It's a movie about war during the height of the Empire.
Discussion of the Character Arcs:
They did a very nice job with the character development of Jyn Erso. They took her from innocent kid pretty much orphaned by war, raised by a radical, emotionally wounded by being abandoned a second time by Saw Gerrera when she was 16 … in short, hardened by life … and gave her a cause to fight for. The more times I watch the movie, the more I pick up on in terms of the connections and turning points in some of the characters, especially Jyn. This is what I meant by replay value in my spoiler-free review. I've seen this movie 3 times to date and will likely see it a few more times.
Jyn Erso
When we first meet her, Jyn's a criminal imprisoned for possessing illegal weapons, resisting arrest, etc. She's got this flippant shell around her emotions that gets blasted to pieces when she sees her father's hologram message. I'd say that's the first real turning point for her. The second major turning point happens on Eadu when her father dies in her arms, killed by Alliance bombs. I'm surprised she can push that aside and focus on the mission her father basically hands to her, undoing his life's work. She returns to Yavin 4 to convince the Rebel Alliance to go to Scarif for the Death Star plans, which will allow them to exploit the weakness her father put in the system. And fails. But she convinces the right people who go rogue with her, breaking away from the Alliance long enough to steal the Imperial shuttle acquired on Eadu and dash off to Scarif. I think the last major shift in her attitude takes place when she realizes they're trapped but the mission's only really half completed at that point. They don't even have the plans secured. Staring at the end flying her way along with Cassian, you get the sense that she's accepted it and made peace with the fact that others will have to carry on the war from here.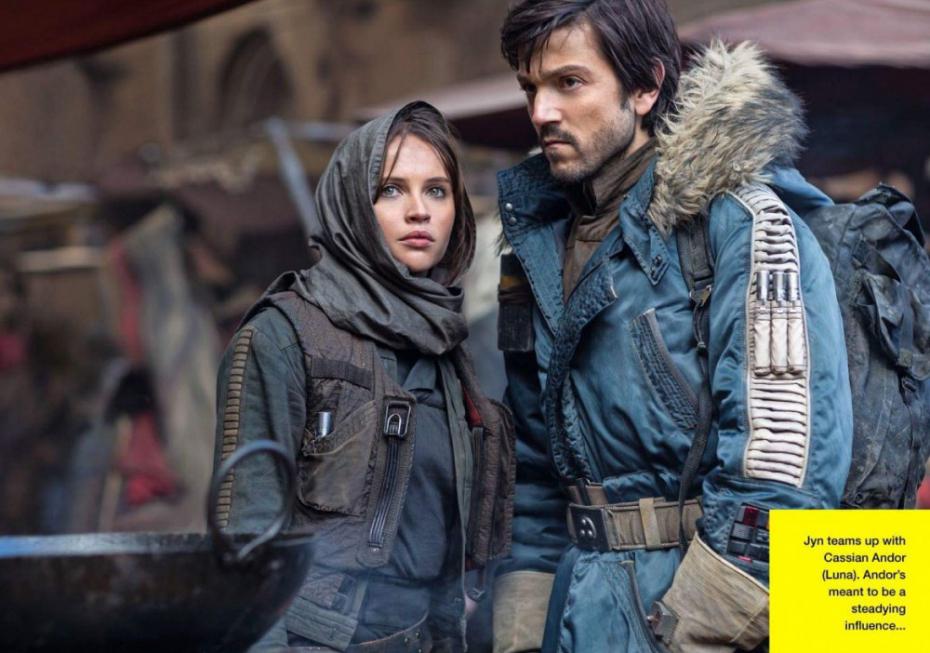 Cassian Andor
We don't learn all the much about this guy's background. He's a captain in Rebel Alliance intelligence. He's done things he regrets in the name of the cause. And he says he's been in this fight since he was 6. The viewer gets the sense he's got a ship's load of tragedy in his past. Throughout the story, his attitude toward Jyn changes. At first, she's just a pawn to be used to approach Saw Gerrera without getting killed. He doesn't trust her, and he certainly doesn't trust her father. I think the first turning point for him is when he sees her fighting when they're in the streets of Jedha. It probably helps that at one point she jumps in front of K2SO—Cassian's droid buddy—to protect him. His second turning point is when he's staring down the barrel of his sniper rifle ready to take out Jyn's father. Cassian hesitates and ultimately disobeys General Draven's orders. Another turning point happens when he realizes she wants to fight despite the Council's decision. He's been in the fight long enough to be able to predict the outcome of the political machine. The last turning point comes when he pulls her back from going after Krennic. I think they both knew they were doomed at that point.
Galen Erso
The more I see the movie, the more I love this guy. All the actors and actresses did a splendid job, but the character of Galen Erso is awesomely tragic. He's the kind of misunderstood figure whose name gets lost to time. Is he a hero or a villain? That depends on the point of view you're seeing the situation from. He's a brilliant scientist forced to work on a project that scars his conscience. Collaborator – certainly. Double-agent – apparently. He loses his wife and his daughter in one fell swoop, one to death, one to inevitable separation. (There are still some big leaps of logic one has to nod and smile at in order to enjoy without questioning it too much.)
K2SO
K2SO joins a long list of lovable droids. He tends to say whatever comes into his circuits. The interactions he has with Jyn and Cassian are great. Pretty much everything he says is funny. He's reminiscent of HK-47 from Knights of the Old Republic. The sassy droid seems to love what he does.
Bohdi Rook
We don't get to learn much about his backstory. But somewhere along the way, he interacted with Galen Erso who basically told him to follow his heart, which led him to the Rebellion.
Baze Malbus
Once a devoted guardian of the Whills. He seems a little cynical, but he's devoted to his blind friend. I love his machine gun blaster. The dude wears a backpack tank thing that must have a lot of fuel in it because he mows down opposition.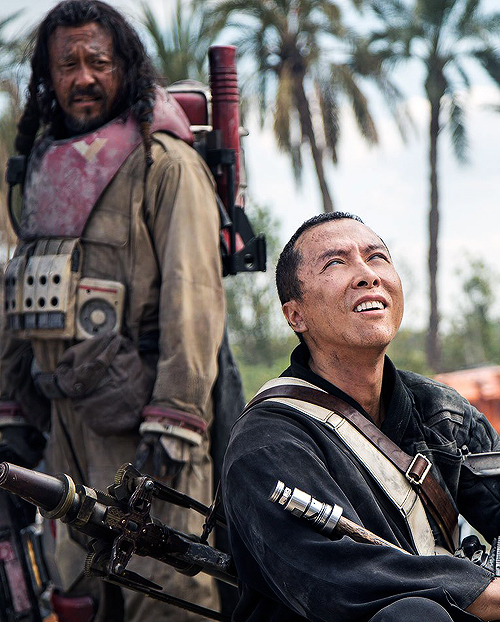 Chirrut Imwe
He's blind, yet he sees much in the Force. This might be the first time we see a cool action sequence of this nature without a lightsaber involved.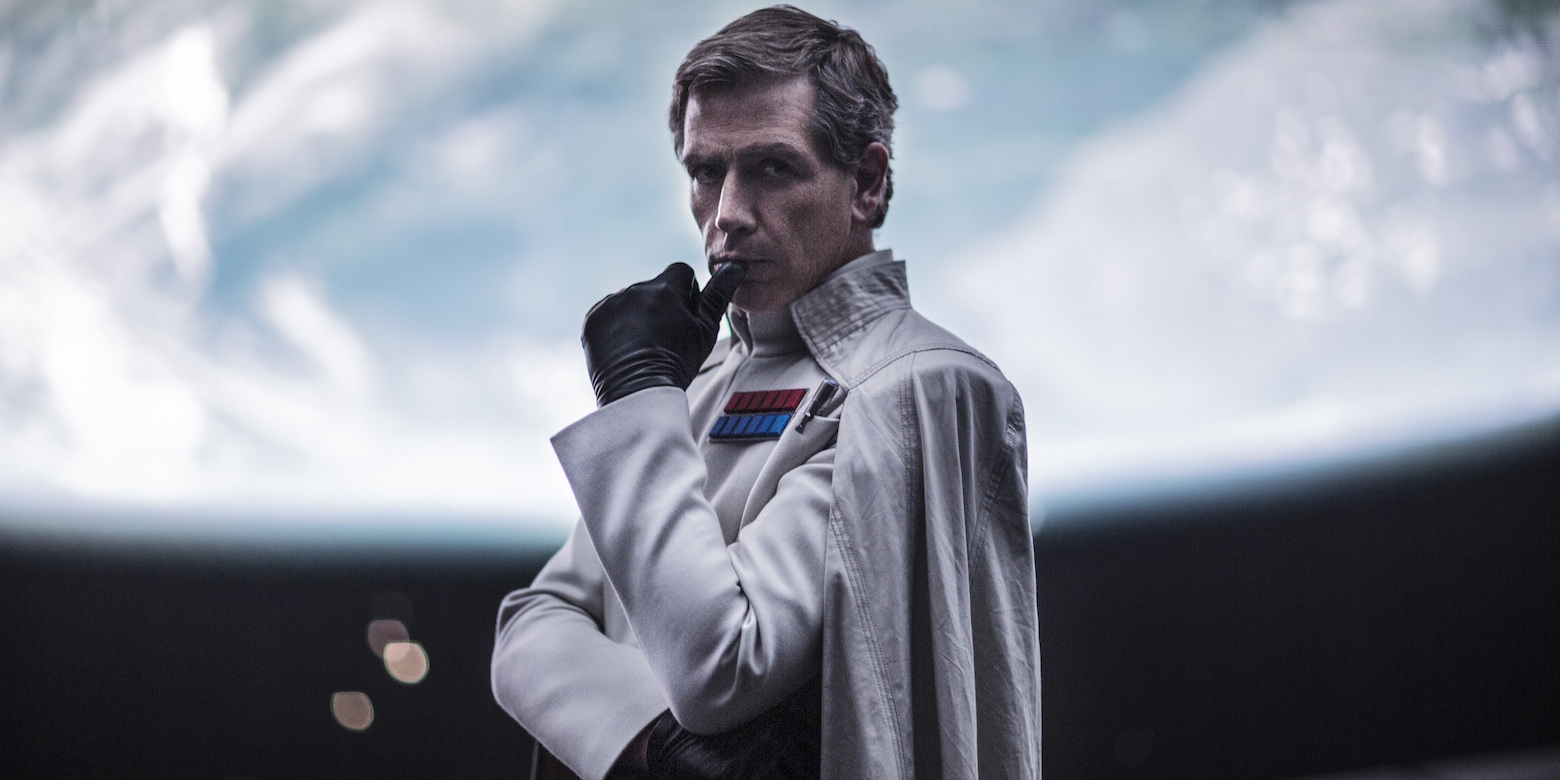 Director Orson Krennic
In some ways, you want to feel bad for this guy. He's a bureaucrat who's devoted his life to making the ultimate superweapon in the galaxy only to have a pen-pushing psychopath who happens to have more favor with the Emperor to usurp control at the last second. Ouch.
War is Messy:
Good guys being bad; bad guys being good. The movie portrays the blurred lines of morality in war very well. Some examples include: Cassian shooting the informant who tells him about the Imperial defector, Galen Erso's revenge in the design of the original Death Star, and Saw Gerrera's rebels relying on terrorist tactics in their quest to rescue the Kyber crystals.
Things that they could have cut or modified:
The tentacle creature Saw uses to probe Bohdi's mind. I get it; it's Star Wars, they want to include some weird stuff, but I think it would make more sense to have him using an Imperial probe droid or something. Make it so he's using a weapon of his enemy against the defector. His suspicion comes through clearly enough.
Don't get me wrong, I love the end, but there could have been one survivor. I will say that the end gives new depth and menace to the way Tarkin calculates things
Reaction to the End:
I had zero expectations going in. Not sure what it says about me, but I find the ending beautiful and powerful and, of course, very, very sad. It brings new meaning to the simple words from the opening crawl of A New Hope where we learn that the Rebels have finally struck a decent blow to the Empire by stealing the Death Star plans. Typically, I'm a happy-ending sort of girl, so the fact that I love this movie despite its tragic ending says a lot.
I'm definitely game to see it again. (I'm up to 3 times vs The Force Awakens 14, but hey, it's early in the run.)