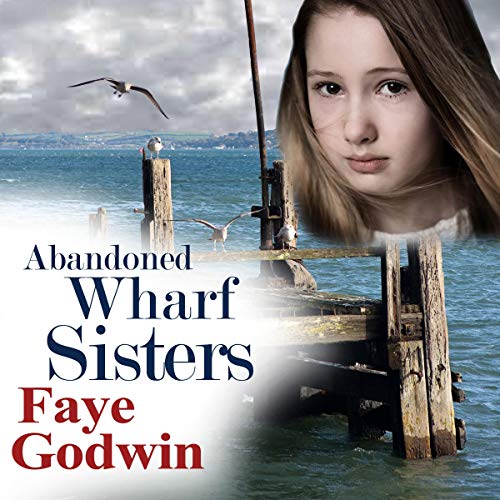 Narrated by: Gareth Richards
Run Time: 4 hrs and 17 mins
Summary:
Effie and John, 13 and 10/11 respectively, struggle to help their 3 younger sisters alive. But the best they can do is beg or work on the docks selling fish. London in 1895 is unforgiving to poor people in the winter, especially kids on their own.
Additional Comments:
The title fits but is kinda unfair to poor John because he too was abandoned.
One can't help but want to hug Effie and her siblings. Not sure how anybody could just abandon their kids, but I guess people do what they do.
There are several time skips in here, but it makes sense in this story.
There are quite a few repeated lines in the book, which is downright disconcerting to hear.
The romance angle was okay. The kid didn't have much choice even if she didn't fall in love with her childhood friend.
Several plot points were a stretch.
I had to stop listening at some points because it was just downright depressing.
I wondered why they selected a male narrator when the MC was a 13-year-old girl. He did a nice job, but a woman probably would have fit Effie better. As this did not have a first-person perspective, it worked out fine.
Conclusion:
Not much happens if you think about it. Try not to starve. Try not to starve. Rinse and repeat. But rendered in the lovely British accent and complete with the descriptions of the 1890's, it's still worth experiencing.
Audiobook Promotions …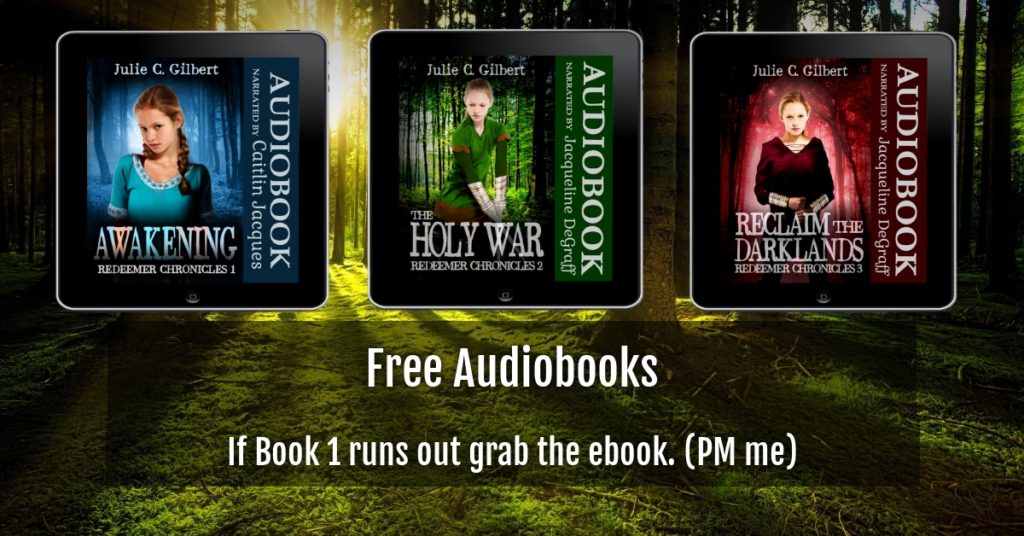 Many of my 44 audible titles are listed on Audiobooks Unleashed.
Whether you're looking for mystery or suspense or fantasy, I've got a title for you. Free codes are probably on audiobooks unleashed.
Normal links go to audible. *The Amazon labeled links are affiliate links. That means I get a very small payment from Amazon if you go through with a purchase.*
Note: Filter by US if you're looking for those codes as many titles are out.
Ones I think may still have US codes: Reshner's Royal Ranger, Never Again, Innova, The Golden City Captives, The Holy War, Reclaim the Darklands, Eagle Eyes, Treachery Makes it Tense, Ashlynn's Dreams Shorts, The Dark Side of Science, Ashlynn's Dreams, Nadia's Tears, Malia's Miracles, and Varick's Quest
There are plenty of UK codes, but not many US ones left.
Redeemer Chronicles (Fantasy)
Awakening – Redeemer Chronicles Book 1, MG fantasy (Amazon) (free codes)
The Holy War – Redeemer Chronicles Book 2, MG fantasy (Amazon) (free codes)
Reclaim the Darklands – Redeemer Chronicles Book 3, MG fantasy (Amazon) (free codes)
River's Edge Ransom – Prequel to Redeemer Chronicles (Amazon) (email devyaschildren @ gmail.com for free codes)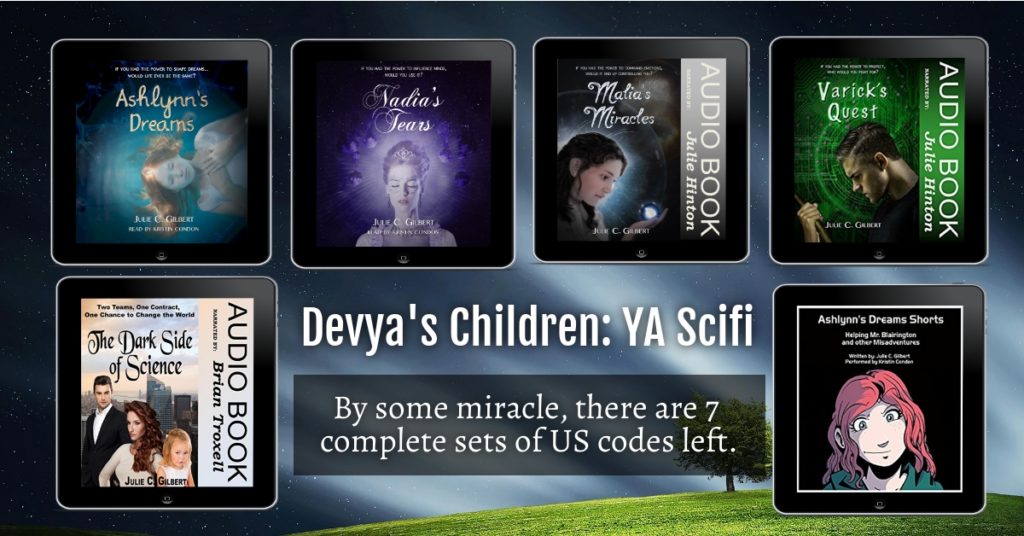 Devya's Children Series Links:
Ashlynn's Dreams Shorts – short stories featuring Jillian. (Amazon) (free codes)
The Dark Side of Science – official prequel to Devya's Children; Genetically altered kids fight for the right to live. (Amazon) (Please email devyaschildren @ gmail.com for free codes)
Ashlynn's Dreams – Genetically altered Dream Shaper learns her gift. (Amazon) (free codes)
Nadia's Tears – Jillian tries to awaken her sister, Nadia, from a coma. (Amazon) (free codes)
Malia's Miracles – Jillian and her siblings try to save a friend's mother. (Amazon) (free codes)
Varick's Quest – Jillian and Danielle get kidnapped. Nadia's also in trouble. (Amazon) (free codes)
More Scifi:
Reshner's Royal Ranger (epic sci-fi) just made it there. (Amazon) (free codes)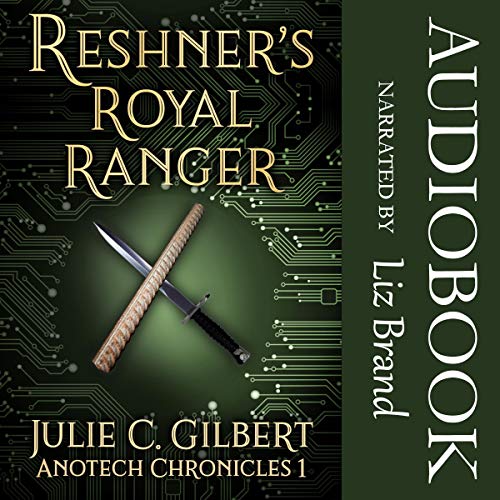 Guardian Angel Files:
Spirit's Bane – Allister and Mina are training to be Guardians. Satan's out to get them. (Amazon) (free codes)
Kindred Spirits – Mina's exiled to Earth. Allister's stuck in the Heavens. (Amazon) (free codes)