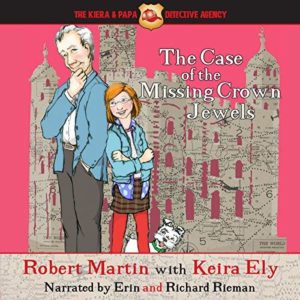 Narrated by Erin Rieman and Richard Rieman
*Mild spoilers possible in the discussion*
3.45/5 Nicely Delivered Kid Story
Summary:
Keira finds a magic hat that gives her access to knowledge she might not have otherwise. She forms a detective agency with her grandfather (whom she calls Papa). They're called upon to discover who stole the crown jewels of England.
Additional Comments:
I heard the audioversion, so some of my spellings might be a tad off.
Narration 4/5: Very nice. It's nice to have the male/female parts largely divided between the two narrators. The mother sounded a tad too formal, but Keira's voice was excellent as were most of the British characters.
Characters 3/5: Keira and Papa and Commish are fine characters. They're a tad stock but in a tale of this size and breadth, that's fitting. You want your girl detective to be super smart and always wind up on top. That's part of the charm of girl detective stories. I know Waffles is supposed to be comic relief, but he's usually just a nuisance. (Question the validity of such a genre? Nancy Drew's survived quite a few decades as an ace detective.)
Plot 2.5/5: Nonsensical at best. I get this is a kid's book, but that doesn't mean it should lack all sense. The crown jewels get stolen and they turn to a kid with a magic hat for the answers? They seem overly concerned with finding footprints at the crime scene.
World-building 2.5/5: The magic hat's powers aren't really well-defined. Sometimes, it seems all powerful, in which case they should have just asked it "hey, who stole the jewels and how do we catch them?" At other times, it gets broken then repaired with duct tape. Magic in a kid's story is fine, but there should still be an established system of why it works the way it does. Spy and detective are used pretty much interchangeably here, which is annoying because they're way different jobs. Keira and her grandfather form a detective agency, but she repeatedly refers to what they do as spying, which simply isn't true. It's an investigation. The doll angle is kind of cool.
Conclusion:
If you're very good at suspending disbelief and just looking for some mindless kid charm, this is a decent choice. It's very well-presented, even if the story is somewhat lacking in sense.
Associate links to follow…
This Book…

Amazon Prime
Audible – If you'd like some free codes, please email me at devyaschildren@gmail.com with requests for any of my works.
Try Audible and Get Two Free Audiobooks
Or