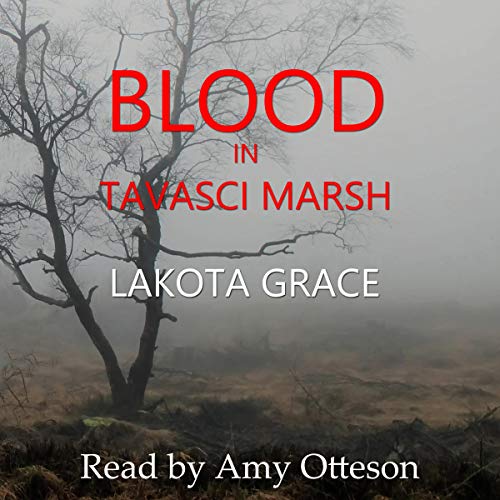 *Will try to keep spoiler free until after ads
Narrated by Amy Otteson
Summary:
When a shady patriarch's body shows up in the marsh, Peg gets wrapped up in a family saga.
Additional Comments:
– I noticed in the first book that the author had a tendency to leave chapters with a little comment like "if I'd have known what trouble…" I've never liked that technique. This book seemed to have more of that. It's meant to make the chapter a cliffhanger so you'll want to continue. I guess it could function like that. More often than not, it just annoys me. (I've definitely used the technique before. It just seems overused here.)
– 3/5 stars Narration: Second time around, I'm used to the voice now. Struck me as an odd choice in the first book. There were less editing mistakes this round.
– 4/5 stars Side Characters: The whole Nettle clan seems very quirky. Aurora's a sweet kid. Everybody else has some screws loose. I think that's part of their charm.
– 3/5 stars Main Character: Peg's still learning, but there's only so long that excuse is gonna fly. I'll elaborate a tad below ads.
– 3.5/5 stars Plot: Things moved forward, but did reply on some convenient mishaps to unfold a certain way.
– 3.5/5 stars Ending: Satisfying, if a bit convenient.
– I do like that not everything's black and white, clear cut good vs. evil. It makes the messy business of being a small town cop more realistic.
Conclusion:
It's not quite cozy mystery, but it's clean and interesting. Still reminiscent of a Joanna Brady novel.
Associate links to follow…
Amazon Prime
The Collins Case – 2 FBI agents track down a kidnapped family. Kid friendly.
If fantasy's more your thing, go Redeemer Chronicles. The first, Awakening, is available as an audiobook.
Ashlynn's Dreams Shorts – a kid deals with her parents' divorce, bullies, and the wonder of discovery.
Try The Dark Side of Science – Genetically altered kids fight for the right to live.
Beyond Broken Pencils – Contemporary literary tale of a school shooting. Ian unleashes his inner demons on his classmates and teachers…
Scratched Off – FBI agent vs a serial killer. When Sam Kerman sets out to hunt a serial killer, he has no idea how personal the case will become.
OR
Spoiler Section:
– Rookie mistakes needed to keep the plot going: I know why they needed Peg's phone to die near the end, but that seems like beyond sloppy police work. If you know you're one of very few officers in this small town, you'd likely get it together enough to keep your phone charges. Also, not calling in backup or telling anybody where you're going on or off books is downright stupid.
– I still find it hard to believe that everybody's okay as one big, sort of happy family at the end. The wife. The girlfriend. The new baby. The sister/daughter. The noble brother. The baby brother.
– Peg walks the gray area well, though it's interesting that she seems to disapprove of her predecessor, yet she breaks almost as many rules. She turns a blind eye to the marijuana patch, pays off gangsters, etc.