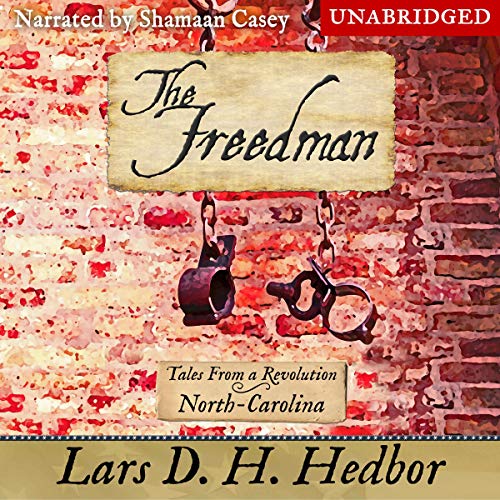 Featured work:
The Siege: Tales from a Revolution- Virginia
What brought you to working on this project?
I have worked with Lars D.H. Hedbor on nearly all of his audiobooks. With this being his latest release in the series, he offered to have me once again bring his characters into the world of audio, and of course I couldn't refuse.
What was the hardest part of bringing this story to life?
The hardest part for me is trying to get into the headspace of the main character, Nathaniel. In the opening of the story he goes through a disastrous battle and comes home a changed man. Trying to get that sense of weariness and sense of self pity is certainly challenging, while still keeping the story moving forward.
Do you have a favorite character voice from the project?
I like voicing Nathaniel the most, though not just because he's the main character. He goes through moments where he's in pain, where he's frightened, frustrated, depressed, friendly, and trying to get a girl. I like the scenes making me change of his inflection a bit more than other characters going about their daily lives, since he certainly goes through a roller coaster of events.
Do you have a favorite chapter from the project? Why/ why not?
I personally prefer the opening chapter of the book, because usually Lars doesn't involve the direct action of the historical battles that often in his series (his characters certainly talk about them or get caught in the crossfire, but are not actively participating in many books). With this one, the battle feels horrifying as the main character gets taken out of the fight fairly quickly once the guns start going off, and Lars brings a sense of grim reality that doesn't glorify the violence, but adds a sense of trauma that haunts the main character throughout the book. Also dealing with the aftermath of the battle, and how different characters react to stories about the battle later on was fun, as many often get caught in the sensational details and neglect the more humane side of enemy forces.
Is there anything you'd like listeners to know about this work before they hear your performance?
If you like deep voices, I'm your guy.
What else are you working on?
How many other works have you narrated?
I have narrated more than 25 titles, some still on their way to stores like Audible.
What was the most challenging other work you've voiced? Easiest? Most fun? What made it hard, easy, fun??
I think the most challenging work I've voiced was doing another book by Lars, "The Prize" which features two main characters who have French accents. That was certainly new for me, so I had to brush up on the French accent and voice an older man and a young girl while still trying to sound credible. Once I got used to it, the process became smoother, but initially voicing those characters felt like an uphill battle of doubt and uncertainty. The most fun I had voicing characters came in "The Siege" where I got to voice two of my favorite characters in the series, Nichiwake and Tanarou. Both were older Native Americans, so I got to rely more on my lower tones and add a bit more roughness in my voice, and I had a blast voicing them.
Can you recommend any of your other titles for us? What about the work is appealing?
If you like short and quick sports biographies, I have done a few of those, so you can learn the basics on a few of the more popular NBA players. I also have done two sci-fi stories (more of the pg-13 rating), so if you want a more action-packed story, I have those. I also did an as-of-yet unreleased clean romance, so maybe one day that'll be out and tickle the fancies of anyone interested.
Me: The romance genre isn't my thing, but I do like sci-fi.
Which work are you most proud to have been a part of? Why?
I'm proud to have been a part of the Tales from a Revolution series. The main draw is that each book takes place in a different colony, and focuses on a group of people not often discussed in the history books concerning the American Revolution. With The Siege, the main character is a disabled veteran. In The Freedman, a freed slave has to fight for his family's freedom while the nation fights for it's own. In The Smoke, the Haudenosaunee are forced to choose sides in a war that isn't theirs, but threatens to destroy them anyway. Every time I do one of these books, I walk away learning something new, and I'm proud to have my name attached to them.
Me: Always good to learn something along the way.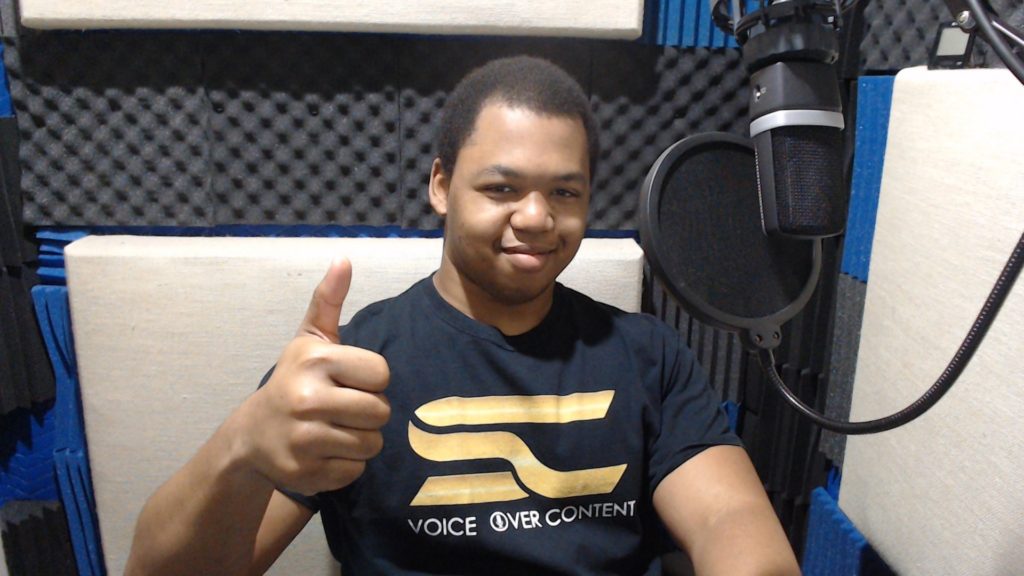 Tell us more about yourself.
What drew you to voice acting?
All my life, people have told me I should get into radio because of my deep voice, often comparing me to Morgan Freeman or James Earl Jones. However, I decided to pursue a career in culinary arts, getting my Associates Degree in that and Restaurant Management. However, while working my day job as a food demo rep for my grocery store, a customer suggested that I get into audiobooks, mentioning that he records them himself in his home. While I kind of brushed off the idea initially, over time the idea of being my own business and capitalizing on my voice became appealing. So, roughly a year later, I bought a usb mic during a Black Friday sale and threw my hat into the ring with audiobooks. As I quickly discovered, it takes more than having a nice voice to be successful in this industry. It gives me a lot of appreciation for the craft, and the sheer amount of work people do behind the scenes to provide customers the content they want.
Me: You do have a lovely voice.
Do you have a process when you approach a work? Please describe it for us.
Usually I first read my way through the book, and often request a quick summary of the overall story and characters so I can focus on making decisions concerning the production and less about trying to understand what is going on. I make notes on how often characters appear, so I know how distinct I need to make them so that a listener can easily tell them apart from the rest. Pronunciations are something I check online with for local pronunciations (Houston, Tx is pronounced differently from Houston County, Ga) or with the author if it's a unique character name. After that, I create separate sound files so I can grab a piece of my reading in the character's voice, and save it for later when I need to keep my voices consistent. If there is an accent involved, I purchase online accent guides to help get me ready for the role, and look up videos of people talking with the native accent to help me further. After that, then I blast chill my recording room with my window AC, and record until I have to cool down the room again.
Do you get to read for fun? Do you have a favorite genre to read for fun?
I honestly prefer reading comics and manga to traditional books, but I do appreciate a good mystery or science fiction novel from time to time.
Me: Cool. I should have you look at my new graphic novel.
Do you have other hobbies? What do you do to relax?
When I'm not recording, I'm either cooking, baking, or playing video games. Often I find inspiration that helps me when it comes to doing character voices, or just to simply focus on something that doesn't involve deadlines.
Me: Now I want to know what kind of video games.
Want to know more?
Website: www.shamaancasey.com
Social Media Links:
Audiobook Promotions …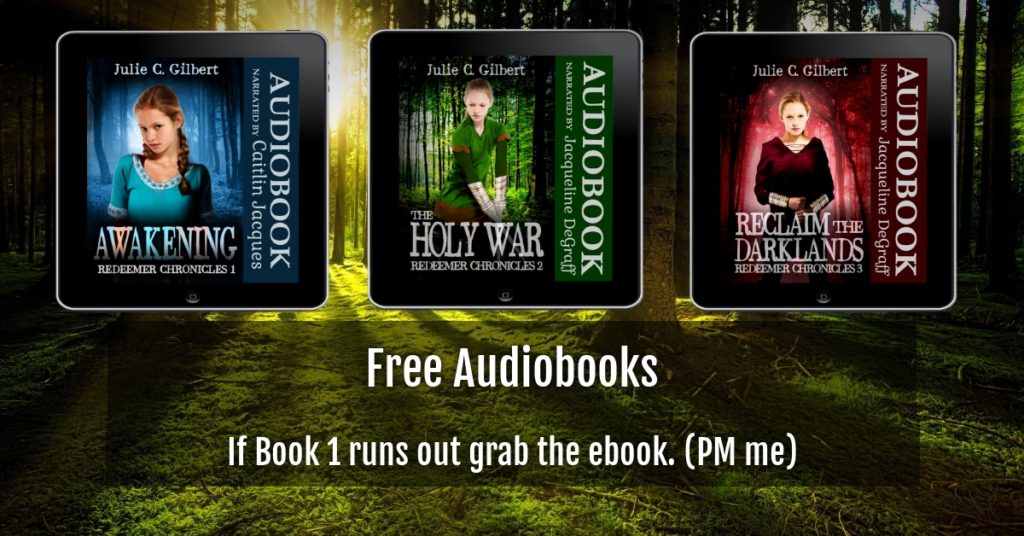 Many of my 42 audible titles are listed on Audiobooks Unleashed.
Whether you're looking for mystery or suspense or fantasy, I've got a title for you. Free codes are probably on audiobooks unleashed.
Normal links go to audible. *The Amazon labeled links are affiliate links. That means I get a very small payment from Amazon if you go through with a purchase.*
Note: Filter by US if you're looking for those codes as many titles are out.
Ones I think may still have US codes: Reshner's Royal Ranger, Never Again, Innova, The Golden City Captives, The Holy War, Reclaim the Darklands, Eagle Eyes, Treachery Makes it Tense, Ashlynn's Dreams Shorts, The Dark Side of Science, Ashlynn's Dreams, Nadia's Tears, Malia's Miracles, and Varick's Quest
There are plenty of UK codes, but not many US ones left.
Redeemer Chronicles (Fantasy)
Awakening – Redeemer Chronicles Book 1, MG fantasy (Amazon) (free codes)
The Holy War – Redeemer Chronicles Book 2, MG fantasy (Amazon) (free codes)
Reclaim the Darklands – Redeemer Chronicles Book 3, MG fantasy (Amazon) (free codes)
River's Edge Ransom – Prequel to Redeemer Chronicles (Amazon) (email devyaschildren @ gmail.com for free codes)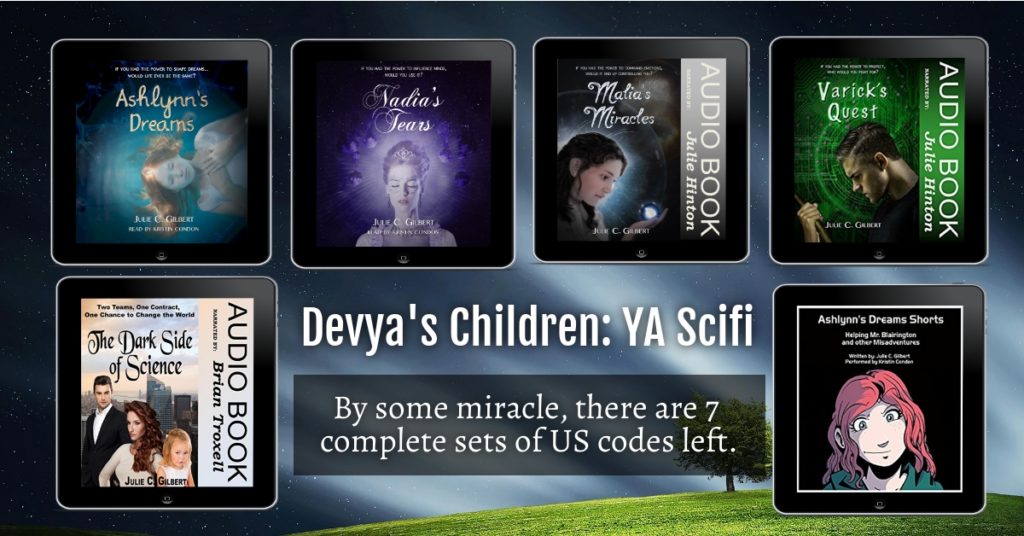 Devya's Children Series Links:
Ashlynn's Dreams Shorts – short stories featuring Jillian. (Amazon) (free codes)
The Dark Side of Science – official prequel to Devya's Children; Genetically altered kids fight for the right to live. (Amazon) (Please email devyaschildren @ gmail.com for free codes)
Ashlynn's Dreams – Genetically altered Dream Shaper learns her gift. (Amazon) (free codes)
Nadia's Tears – Jillian tries to awaken her sister, Nadia, from a coma. (Amazon) (free codes)
Malia's Miracles – Jillian and her siblings try to save a friend's mother. (Amazon) (free codes)
Varick's Quest – Jillian and Danielle get kidnapped. Nadia's also in trouble. (Amazon) (free codes)
More Scifi:
Reshner's Royal Ranger (epic sci-fi) just made it there. (Amazon) (free codes)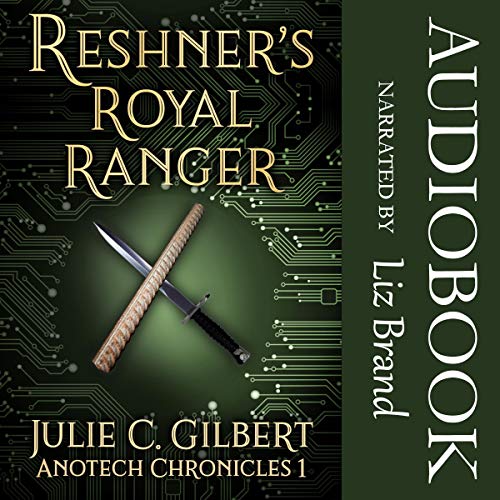 Guardian Angel Files:
Spirit's Bane – Allister and Mina are training to be Guardians. Satan's out to get them. (Amazon) (free codes)
Kindred Spirits – Mina's exiled to Earth. Allister's stuck in the Heavens. (Amazon) (free codes)