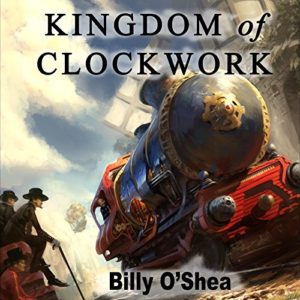 Intriguing Start to a Steampunk Series
4/5 stars Kingdom of Clockwork (Written and narrated by Billy O'Shea)
Summary:
Karl Nielsen (going with the spelling I found in a review since I listened to the audio and the blurb doesn't mention the main character, which is weird) is the king's clockmaker. Despite kind of just wanting to do his thing quietly, he gets caught up in the court intrigue.
Additional Comments:
-5/5 stars for world-building: This is an intriguing world. To be honest, I had no idea it was supposed to be a future Denmark until I read the blurb (after listening to the book). It's a future sort of set in the past. There are some things that don't make sense but it's not for lack of effort on the author's part. As a world, they're back to fighting with muskets and swords and using steam power. Yet there are remnants of what once was, forbidden railways and the like.
– 4/5 characters: Karl's interesting as a narrator. I enjoyed the beginning even though it didn't have much to do with the end except describe the world we land in. The king comes across as a decent king, which sort of requires him to be a jerk at times.
– 3.5/5 plot: The beginning is cool because it introduces you to a quaint world set in a future that's been sent to the past by war and lack of oil. The middle is interesting because it features the bulk of the court intrigue and the start of what could be an exciting adventure. And then, it sort of just runs out of steam (sorry, had to do it). The main character doesn't actually do much. He's mostly an observer on this journey that takes up the bulk of the book. It turns into a political thing solved through means that don't involve a good physical fight (that's kind of disappointing). It ends with an okay amount of closure, but there are definitely threads to follow into a sequel.
– 4/5 Sound effects and narration: The sound effects were cool and the narration was well- handled.
– Content warnings: It's mostly a clean fantasy read. There are some mentions of adult content late in the book, but nothing's particularly described. Still, it's a bit of an oddity because the rest is something that would be cool for a middle grade student.
Conclusion:
Good start to a steampunk, pseudohistorical tale.
Associate links to follow…
Amazon Prime
Audible – If you'd like some free codes, please email me at devyaschildren@gmail.com with requests for any of my works.