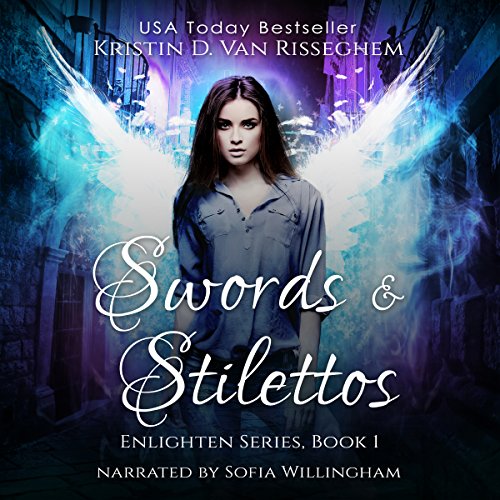 Run Time: 8 hrs and 35 min
Narrated by Sofia Willingham
*mild spoilers possible in discussion
Summary:
Zoe's likely the Redeemer, so Satan's out to get her. (Might be a mild spoiler, but it comes up quickly in the book.) Despite this, her main problem seems to be all the hot guys falling over themselves to protect her.
Additional Comments:
Story 3/5: It hits most of the normal Chosen One type tale points, but it really boils down to a very long introduction to Zoe since she doesn't really do much until 8 hours into an 8.5-hour book. There are typical YA fantasy elements: Chosen One, multiple possible love interests (though she's all team Shay from the get-go), prophecies, etc. There's nothing wrong with having those elements, but there's also not a whole lot unique to this particular story, except maybe the very high level of cooperation among the supernaturals.
World-building 4/5: There are some cool concepts. The interactions between the fairies, werewolves, and angels are pretty cool. You get a brief glimpse of their political structures.
Pacing and Plot 2/5: About 90% of this book is normal high school drama (mean girls, jealousy, the great mate hunt). There's a bit of fantasy stuff thrown in, but way too many words are used to describe: Zoe goes to school, comes home, hangs with Shay, rinses and repeats, and occasionally runs into demons.
Narration 4/5: It was fine. I think my favorite character voice was the Sidelle. That's surprising to me because normally fairy voices tick me off the quickest. Not sure the character voices for others were totally unique, but one can tell male from female characters and it's mostly first person pov from Zoe's perspective.
Content warnings: Although the amount of curse words still passes my "clean" test and the kissing and innuendos also pass since nothing's described, I'm a little surprised by the amount of times God's name is used casually. In most books, that's just a thing, but this book is about angels, demons, and so forth.
Conclusion:
If you're in it for a standalone story, you're probably going to be disappointed. If you don't like YA, avoid. Flip side, if you love YA fantasy series with a heavy emphasis on trope and characters, give it a go. This is merely a very long intro. It looks like there's a lot more to come in the rest of the series. Listen to the sample, read some of the reviews, and see if it's something you'd enjoy.
Audiobook Promotions …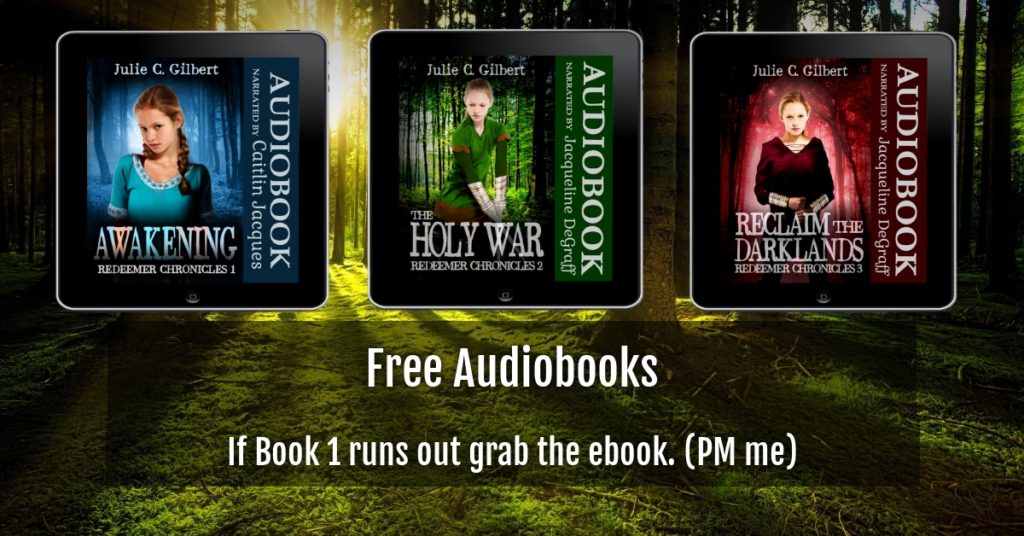 Many of my 42 audible titles are listed on Audiobooks Unleashed.
Whether you're looking for mystery or suspense or fantasy, I've got a title for you. Free codes are probably on audiobooks unleashed.
Normal links go to audible. *The Amazon labeled links are affiliate links. That means I get a very small payment from Amazon if you go through with a purchase.*
Note: Filter by US if you're looking for those codes as many titles are out.
Ones I think may still have US codes: Reshner's Royal Ranger, Never Again, Innova, The Golden City Captives, The Holy War, Reclaim the Darklands, Eagle Eyes, Treachery Makes it Tense, Ashlynn's Dreams Shorts, The Dark Side of Science, Ashlynn's Dreams, Nadia's Tears, Malia's Miracles, and Varick's Quest
There are plenty of UK codes, but not many US ones left.
Redeemer Chronicles (Fantasy)
Awakening – Redeemer Chronicles Book 1, MG fantasy (Amazon) (free codes)
The Holy War – Redeemer Chronicles Book 2, MG fantasy (Amazon) (free codes)
Reclaim the Darklands – Redeemer Chronicles Book 3, MG fantasy (Amazon) (free codes)
River's Edge Ransom – Prequel to Redeemer Chronicles (Amazon) (email devyaschildren @ gmail.com for free codes)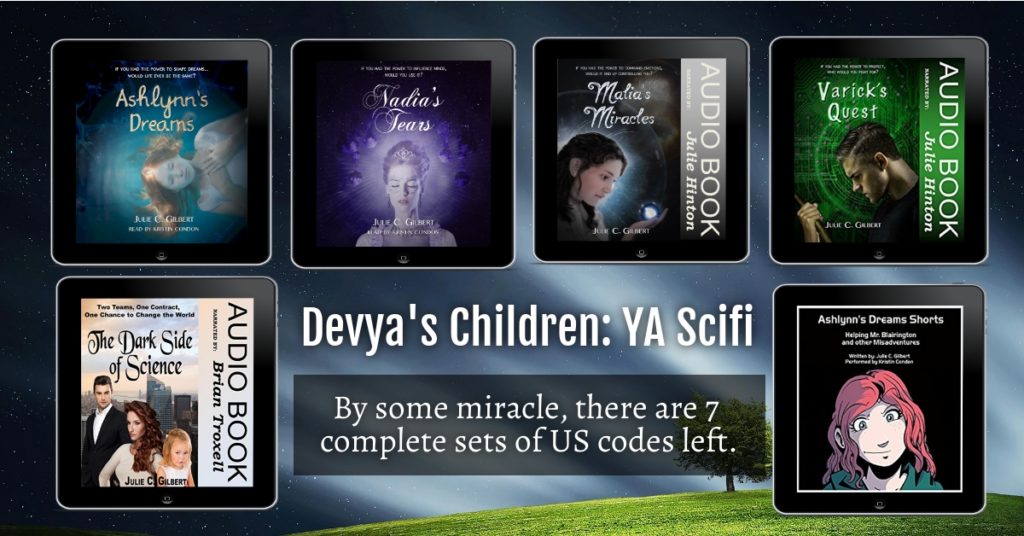 Devya's Children Series Links:
Ashlynn's Dreams Shorts – short stories featuring Jillian. (Amazon) (free codes)
The Dark Side of Science – official prequel to Devya's Children; Genetically altered kids fight for the right to live. (Amazon) (Please email devyaschildren @ gmail.com for free codes)
Ashlynn's Dreams – Genetically altered Dream Shaper learns her gift. (Amazon) (free codes)
Nadia's Tears – Jillian tries to awaken her sister, Nadia, from a coma. (Amazon) (free codes)
Malia's Miracles – Jillian and her siblings try to save a friend's mother. (Amazon) (free codes)
Varick's Quest – Jillian and Danielle get kidnapped. Nadia's also in trouble. (Amazon) (free codes)
More Scifi:
Reshner's Royal Ranger (epic sci-fi) just made it there. (Amazon) (free codes)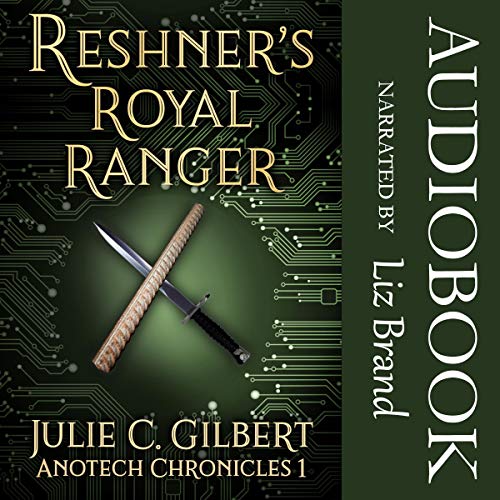 Guardian Angel Files:
Spirit's Bane – Allister and Mina are training to be Guardians. Satan's out to get them. (Amazon) (free codes)
Kindred Spirits – Mina's exiled to Earth. Allister's stuck in the Heavens. (Amazon) (free codes)