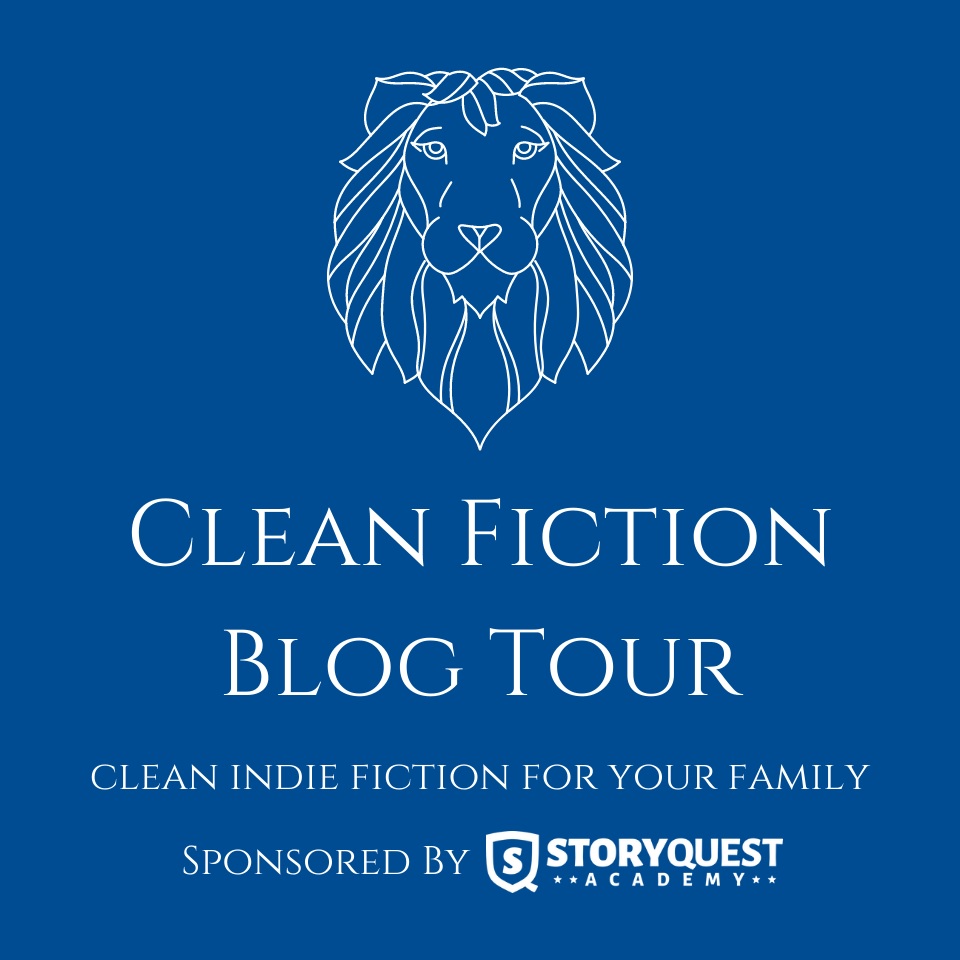 Who is Julie C. Gilbert?
I'm a high school chemistry teacher who happens to write in several genres. My latest venture isn't published yet, but that's going to be litRPG. That series is far from complete, so I'll focus on what's currently available.
My website: Juliecgilbert.com
Amazon page: https://amazon.com/kindle-dbs/entity/author/B002BMB2LG
Why Clean Reads?
I grew up on a steady diet of The Boxcar Children, Nancy Drew/The Hardy Boys, Star Wars Expanded Universe stories (pre-Disneyfication), and Christian contemporary and historical fiction I borrowed from my mother's extensive book collection. Things can be hard-hitting without being gory. One can also explore relationships without describing everything. Besides simply being used to clean fiction, I've always wanted to write stuff my students could safely read.
Nonfiction: 5 Steps to Surviving Chemistry and 5 Steps to School Success
Before I dive into fiction, I should mention the non-fiction stuff meant to help people in two specific areas.
The chem book is a broad survey of the topics one would hit in college prep or honors chemistry. It can also function as a review for someone entering first-year college general chemistry.
The school success book focuses on how to make the most of your high school years. The pandemic has changed a lot about the way school is run, but a lot of the book discussions are still relevant. Some are even more important. It talks about things like emailing your teachers, managing stress, and putting things in perspective.
I had my current students reading it chapter by chapter (1/week) for the last few months. Here's some of what they said (Disclaimer – they got a grade for giving me feedback not whether the feedback was positive or negative.):
"I really enjoyed reading the 5 Steps to School Success book. Not only did it help me with school related things, but it also helped me personally. I think the amount written on each topic was perfect – at no point did I feel like the information was getting repetitive nor did I feel like any information wasn't in depth enough. My favorite section of the book was Chapter 6: Learn to Read Your Teacher. Hearing this information from a teachers perspective gave me another insight and helped me greatly." – AC
"I absolutely loved the 5 Steps to School Success book and all of the advice it gave me. It gave me ideas on how to deal with my stress, anxiety, and constant worry about school. Yes, my stress and all that is still there and school seems to love to do that but it had definitely gotten better just by reading this book. In Ch 3 of Persist and Persevere, helped me lower my stress levels by listening to music as a work and watch movies and TV shows as a "reward" after finishing an assignment. I also really took the advice of talking to friends more often and enjoying nature which took my mind off of a lot of things." – MR
Literary/Contemporary: Beyond Broken Pencils
Target age: upper middle school/high school
Content Warning: focuses on a school shooting
This is likely one of my hardest-hitting books. There's definitely a fine line between violence and gore. I don't usually have to put content warnings on my books, but I'm aware this one has a topic that not everybody will be comfortable with.
School shootings crop up in the media every few years. The pandemic has changed this too, but once things revert to normal, it'll likely happen again. It's tragic and often senseless. What makes people resort to violence? What do ordinary people do in such a crazy situation?
YA Science Fiction: Devya's Children
Ashlynn's Dreams was one of my earliest stories. I set out to write a kidnapping story and ended up with a soft science fiction that focused a lot on the relationships that build around kids placed in extraordinary situations. Jillian and her genetically altered siblings each have special Gifts. She's a Dream Shaper. Nadia's been given a very powerful mind. Malia can control emotions.
I loved the characters in Ashlynn's Dreams enough to see where the tale would lead them next. Nadia's Tears, Malia's Miracles, and Varick's Quest came from that desire to know more about them. The Dark Side of Science is a prequel.
This series is written as letters and journal entries. Good for a discussion on epistolary works.
Children's Short Story: Ashlynn's Dreams Shorts
This is a prequel series of short stories set well before Ashlynn's Dreams opens. Before Jillian learns of her Gifts, she's just a kid dealing with some life issues like her parents' divorce, schoolyard bullies, and the urge to explore creepy places.
YA Christian Fantasy: Guardian Angel Files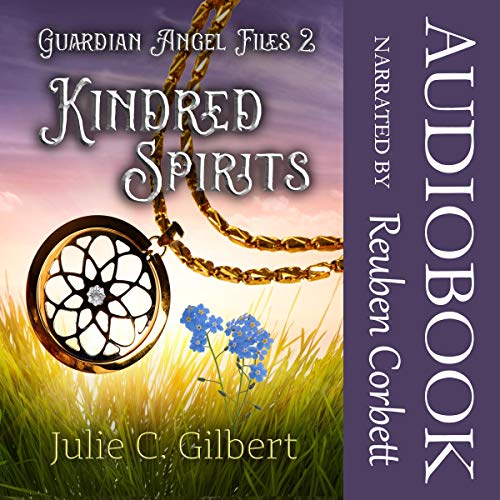 Spirits Bane and Kindred Spirits both feature a pair of guardian angels-in-training. There are a lot of Christian themes in here, but it's also pure fantasy. Allister and Mina share a Kindred Spirit Bond. Satan and his minions know. They know they'll need to either control or destroy Allister and Mina.
The angels write journal entries. The demons write letters. Stylistically, a wee bit like The Screwtape Letters.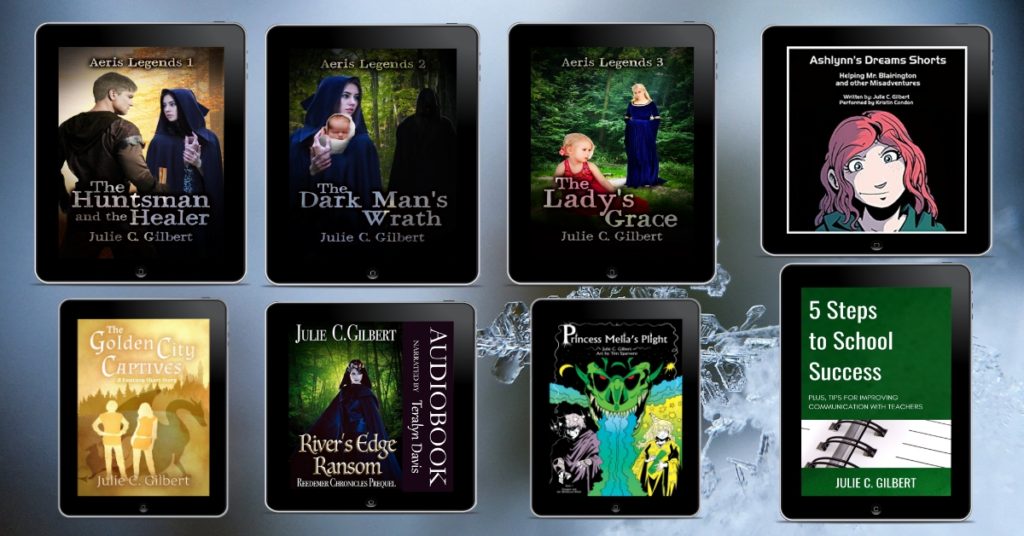 MG Fantasy: Redeemer Chronicles and Aeris Legends
Redeemer Chronicles started as fantasy with the Chosen One trope and spun into so much more. When it begins, Victoria Saveron knows little more than that she's supposedly the Chosen One, but she's frustrated by the fact that her friends have cooler powers than she does. She glows when dark things approach. That's it. She can't even remember any fight as she blacks out every single time. Awakening shows Vic coming into her power. The Holy War has her and a few close friends trying desperately to keep the magic races from destroying each other. Reclaim the Darklands depicts Vic's epic battle to save Aeris from the Dark Man.
Redeemer Chronicles is mostly first person, but one of the 3 perspectives that cycle is the Lady. As an immortal, her first-person accounts read more like third limited.
Aeris Legends is a prequel trilogy which is also preceded by River's Edge Ransom.
The Huntsman and the Healer starts where River's Edge Ransom leaves off. It's basically the story of how Vic's parents met and married. The Dark Man's Wrath and The Lady's Grace round out what happened before Redeemer Chronicles opens.
Children's Fantasy
Princess Melia's Plight
This one exists as a beautifully drawn graphic novel or an ebook or an audiobook. It's about a princess trying to save her kingdom from a madman. It's a very short, fun tale. I highly recommend the graphic novel version. My friend, Tim Spavero, did an amazing job with the illustrations. Kate Poels brought her lovely British accent to bear bringing the story to life.
The Golden City Captives
In The Golden City Captives, Keio and Clara are captured and sent to the Golden City, but it's nothing like they've been told all their lives. There's a prophecy, but what will it cost them to fulfill it?
Fun fact: This one was adapted to screenplay. I've seen the script, and it looks amazing. I may have to someday expand this one into a full novel.
Christian Inspirational Poetry
Last summer (2020), I got to travel to Michigan to record my poetry collection for audiobook format. Normally, I would hire somebody to do this for me, but most of the poems are also songs, and I didn't have sheet music for them because they weren't made with that in mind.
Thin Black Road, Just Like You, and My Champion are the individual collections. They're also available as a combined volume called Made to Praise. I recommend buying the combo version if you want ebook. I need to create the individuals so they would be available as separate audiobooks.
Although a small number of the poems are stories, most are short thoughts about life, nature, the nature of God, and so forth.
Multiple Formats:
Most of my books are available in ebook, paperback, and audiobook. I'll expand more on this process later (See the 3/17/21 post when available), but for now, suffice to say, audio's one of the fastest-growing parts of the book industry. I've worked really hard on hiring awesome people to bring these stories to life.
If you want to check out my audiobooks, go here in the US and here for the UK site.
Unifying Theme:
Throughout my stories, you'll find the idea that everybody has gifts. Often the main characters have magical gifts, but even the ordinary people have gifts they use to help others. That and kidnapping. Lots of kidnapping going on in my tales. Not sure why that is, but regardless of their gifts, my characters tend to be stronger together.
Conclusion and Connections:
No matter what kind of story you're looking for, I probably have something that will appeal to you. Get on my newsletter to keep up with news and get access to exclusive content (coming soon).
Don't Miss a Beat … Check Out All the Awesome Blogs to Come
Catch up if you missed any to date. Don't forget to come back on March 17th to hear about Clean Indie Audiobooks.
March 1st Story Quest Academy
March 2nd Ellie Naomi
March 3rd Julie Gilbert
March 4th Jasmine Natasha
March 5th Liz Delton
March 6th Mark Hansen
March 7th Ian Vroon
March 8th Story Quest Academy
March 9th Nicholas Kotar
March 10th J.M. Hackman
March 11th Mark Hansen
March 12th Courtenay Kasper
March 13th Debbie Schreffler
March 14th Story Quest Academy
March 15th Steven Guglich
March 16th Laurie Lucking
March 17th Julie Gilbert
March 18th Meg Dendler
March 19th Nicholas Kotar
March 21st Story Quest Academy
March 22nd Molly Casperson
March 23rd D.J. Edwardson
March 24th Marty C Lee
March 25th Molly Casperson
March 26th Mark Hansen
March 28th Story Quest Academy
March 29th Debbie Schreffler
March 30th Nicholas Kotar
March 31st Molly Casperson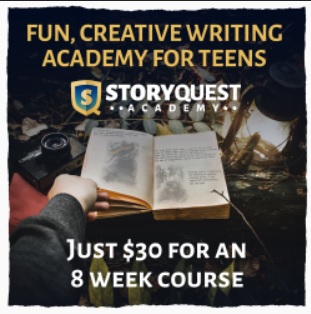 Interested in a fun writing course designed for teens? Check out Storyquest Academy. (Note: affiliate link – if you sign up for the class through this link, I earn a commission … you get a great deal – win-win 😉 … seriously, most writing courses are a LOT more expensive.)
Audiobook Promotions …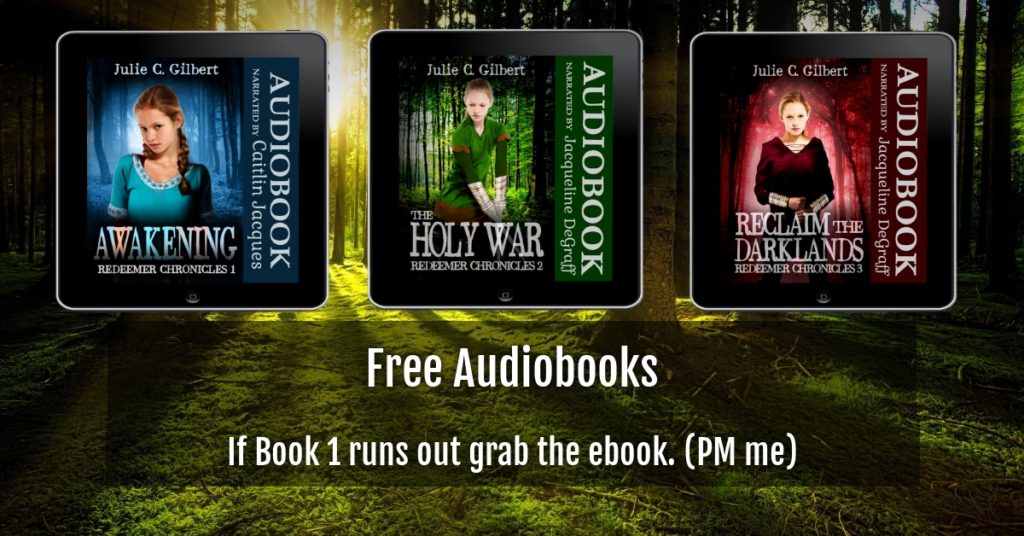 Many of my 44 audible titles are listed on Audiobooks Unleashed.
Whether you're looking for mystery or suspense or fantasy, I've got a title for you. Free codes are probably on audiobooks unleashed.
Normal links go to audible. *The Amazon labeled links are affiliate links. That means I get a very small payment from Amazon if you go through with a purchase.*
Note: Filter by US if you're looking for those codes as many titles are out.
Ones I think may still have US codes: Reshner's Royal Ranger, Never Again, Innova, The Golden City Captives, The Holy War, Reclaim the Darklands, Eagle Eyes, Treachery Makes it Tense, Ashlynn's Dreams Shorts, The Dark Side of Science, Ashlynn's Dreams, Nadia's Tears, Malia's Miracles, and Varick's Quest
There are plenty of UK codes, but not many US ones left.
Redeemer Chronicles (Fantasy)
Awakening – Redeemer Chronicles Book 1, MG fantasy (Amazon) (free codes)
The Holy War – Redeemer Chronicles Book 2, MG fantasy (Amazon) (free codes)
Reclaim the Darklands – Redeemer Chronicles Book 3, MG fantasy (Amazon) (free codes)
River's Edge Ransom – Prequel to Redeemer Chronicles (Amazon) (email devyaschildren @ gmail.com for free codes)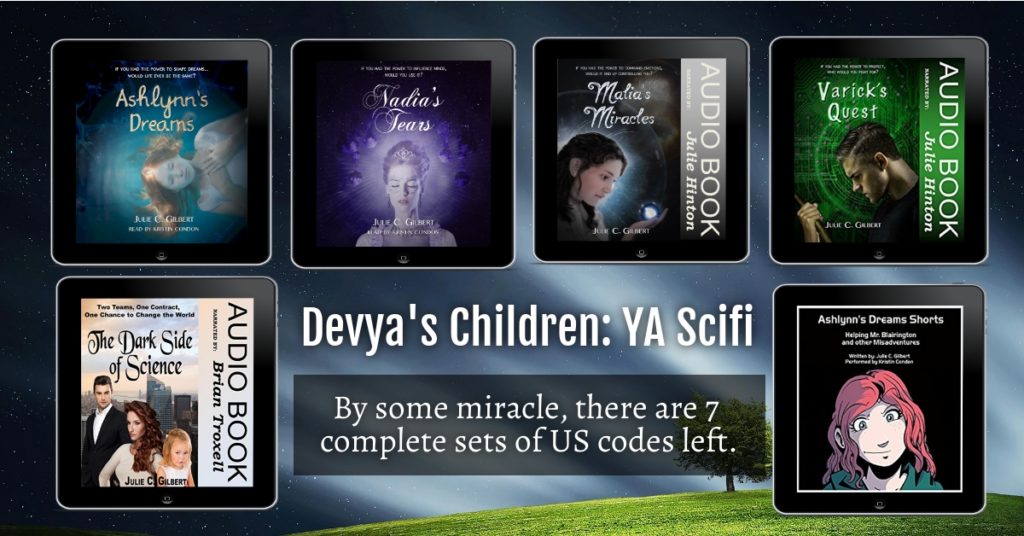 Devya's Children Series Links:
Ashlynn's Dreams Shorts – short stories featuring Jillian. (Amazon) (free codes)
The Dark Side of Science – official prequel to Devya's Children; Genetically altered kids fight for the right to live. (Amazon) (Please email devyaschildren @ gmail.com for free codes)
Ashlynn's Dreams – Genetically altered Dream Shaper learns her gift. (Amazon) (free codes)
Nadia's Tears – Jillian tries to awaken her sister, Nadia, from a coma. (Amazon) (free codes)
Malia's Miracles – Jillian and her siblings try to save a friend's mother. (Amazon) (free codes)
Varick's Quest – Jillian and Danielle get kidnapped. Nadia's also in trouble. (Amazon) (free codes)
More Scifi:
Reshner's Royal Ranger (epic sci-fi) just made it there. (Amazon) (free codes)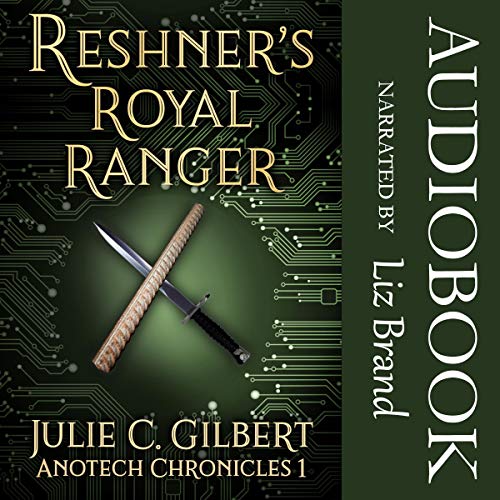 Guardian Angel Files:
Spirit's Bane – Allister and Mina are training to be Guardians. Satan's out to get them. (Amazon) (free codes)
Kindred Spirits – Mina's exiled to Earth. Allister's stuck in the Heavens. (Amazon) (free codes)