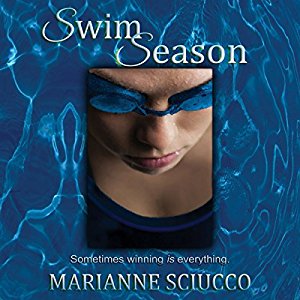 4.5/5 High School Sports Drama
Summary:
There's drama in and out of the pool for the Two Rivers's high school girls swim team. Aerin Keane's been on a ton of teams in the last few years, but she's spending her senior year living with friends of her mother so she doesn't have to live with her father and his new family. She's the outsider who just wants to fit in. Meanwhile, there's a high-stakes challenge with a $50K scholarship on the line …
Additional Comments:
– I'm not sure about some of the details concerning school attendance and sports laws. Most public and private high schools have some sort of anti-recruiting rules in place. Meaning, I'm not sure Aerin would have legally been allowed to join the Two Rivers high school team. I'm not even sure how she would attend the school, though there might have been an exception given her family situation. (Doubtful because she could have lived with her father.)
– Another nitpicky point – quizzes do not get taken and graded in a day if they're on paper. They "might" get graded instantly if they're on the computer, but if somebody's got to handle paper, there's about a .0001% chance of that paper getting graded same day. Trust me. I'm a high school chem teacher. Also, why does Mel's twin brother drive and she doesn't?
Point by Point:
– Length 4/5: It's long. Very long. Probably could have been slimmed down by 200 pages and been fine.
– I HIGHLY recommend the audiobook version because then the length doesn't mean much, somebody's reading the story to you. The narrator's very believable and gave a solid performance.
– Main Character 4.5/5: The main character's likeable for most of the book. The first third or so she annoyed me, but you knew she'd come around.
– Side Characters 4.5/5: Erica (sorry about spelling if that's wrong; friend), Mel (new best friend), Tatiana (rival), and Jordan (mean girl) are a tad cliche, but high schools tend to have them, so in that sense it's realistic. I really liked Aerin's background. It might be cliche, but it works very well.
– Plot 4/5: While one could probably predict the outcome if you've read enough of these sorts of books, it's still satisfying. The Allison Singer Challenge is kind of cool. I liked how the whole community really got into the swim team's season. That sort of fervor's usually saved for football in most towns.
– Swim details 4/5: In audio form, following the competition times got a tad difficult.
– Themes 5/5: I loved that the book contained a bunch of YA themes: fitting in, dealing with bullies, finding yourself, discovering your potential, pushing yourself, pressing on, the flightiness of popularity, etc.
Conclusion:
Swim season delivers an enjoyable high school sports drama.
The Ebook is only $0.99. That's an awesome deal for a 600+ page book.
As Always …
If you want the chance to get the audiobook for free, please join Audiobook Readers' Edge.
If you're an author (or a narrator) with an audiobook you'd like featured, sign up for Audiobook Authors' Edge.
Thanks for your time.
Sincerely,
Julie C. Gilbert
Audiobook Edge is completely free, but if you wanna donate anyway, go for it 😉
Please, just do it as a friend b/c otherwise, you're basically just paying paypal.
[paypal-donation]
Prime Student – Oh, how I wish I was still a student.
Kindle Unlimited – Keep that Kindle Happy. 30 FREE trial