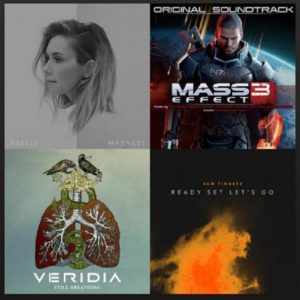 Introduction to Part II:
Thanks for checking out the second half of my explanations for the songs on the 1819 Songs for Students playlist. This half starts off pretty strong with a song about not letting life knock you down.
The Middle Songs …
Higher The Score (Atlas)
"Scraped my knees, bruised my heart
It's where you end, not where you start"
"All my life
I have been fighting, I have been fighting for this
Dream in my soul
And I won't let it go"
Strength to Believe (Epic Score)
Another song you could believe playing during a moment where all heck breaks loose in a situation.
Never Give Up on Your Dreams by Thomas Bergersen (Two Steps from Hell Unleashed)
Thomas Bergersen does some amazing movie trailer type music. I love the title of this one. There are a lot of fantasy themes in this piece. In this case, I like that it's long. It's kind of a miniature epic tale. It just makes you feel: wow, this might be hard but I can make it.
Revolution by The Score (Atlas)
Fear is a natural part of life, but don't let it conquer you. I don't know exactly what you're dealing with, but odds are good that others have been where you are and can help you.
"Can't let time keep passing me by
Run down what I've always been chasing
Black out every fear I've been facing"
The Insurgency by Henry Jackman (Uncharted: The Lost Legacy)
This is more a "hey, danger is coming" theme. Facing unknown dangers seems to be the prevailing message behind what's here. It's also just a fun song.
See What I've Become by Zach Hemsey (The Way)
This song offers a significant slow down from the previous one before moving into a rousing marching type section in the middle.
Climax Songs …
Light That Fire by Oh The Larceny
I really just discovered this band on Spotify. Much of their music sounds the same. There seems to be a good theme of not giving up in there. Not a fan of the word "ain't" but it has its uses.
"If I am beaten, I'm not defeated
I fight back to the top
Ain't backin' down no, we goin' big
Ain't stoppin' now, we get after it"
Free produced by Tommee Profitt (features Svrcina)
The singer's amazing. Check out the 1718 list if you want to hear more of her.
"Secrets tell a million lies
But the night still has a thousand nights
And when the truth is brought to light
You and I
Will be free, free, free."
Be honest with yourself and others.
End Songs …
Light is Green by Kazuma Jinnoichi (from Halo 5)
This song has a very slow build, but when you pass the midpoint, it turns into something filled with profound conviction. The last minute is gorgeous.
Wallrunner by Stephen Barton (Titanfall)
Never played any of these games, but the music is pretty. It works very well with the previous song. Sort of like the extended credits score.
Flight of the Silverbird by Thomas Bergersen (Two Steps from Hell; Battlecry)
A soft, moving way to end. This song promises that there's more to come yet this portion has ended. Hopefully, we'll all make it through to the end and come out triumphant. There are portions ~1:21 that speak of great victory and parts about a continuing fight (~1:45).
Conclusion:
This list is definitely a work in progress. I'm happy with most of it, but there's probably also undiscovered music. Every class has a character. I'm still getting to know the current batch of students, but if these music choices are any indication, I want to encourage them to not give up on finding their way in life.
Pacing Note:
I tried to mix in contemplative themes and upbeat ones. The few songs at the very end might be relocated because they were added very recently.
Associate links to follow…
(If you click through and buy something, there's the chance I'll earn like $0.04 … not kidding, that's basically it.)
Amazon Prime
The Collins Case – 2 FBI agents track down a kidnapped family. Kid friendly.
If fantasy's more your thing, go Redeemer Chronicles. The first, Awakening, is available as an audiobook.
Ashlynn's Dreams Shorts – a kid deals with her parents' divorce, bullies, and the wonder of discovery.
Try The Dark Side of Science – Genetically altered kids fight for the right to live.

OR