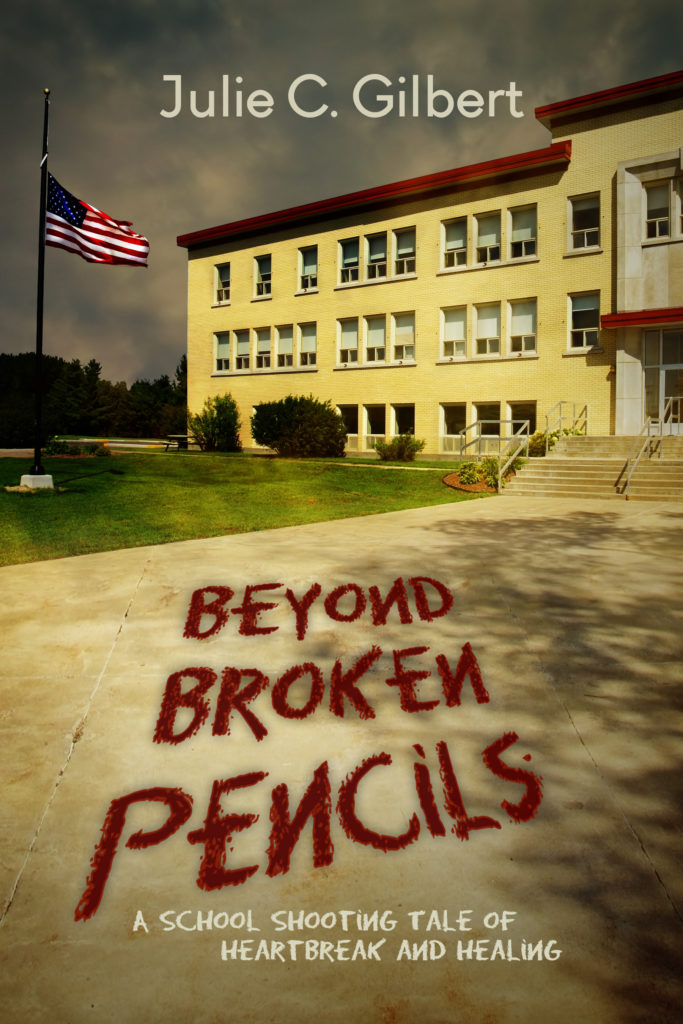 Find the playlist here on Spotify.

Ebook.
Warning:
The discussion contains spoilers, but then again, so does the back cover copy and the subtitle. You know what's going to happen in Beyond Broken Pencils. It's really all about the how and why. Still, if spoilers aren't your thing, just listen without the explanations.
I've recently made 3 lists, and as usual, I tried something different this time. They're in order for ease of listening and the meaning they take on. Roughly, they're in order of inspirational, then what would be going through one of the MC's heads, danger, and aftermath.
Can't Hold Us Down by Tommee Profitt and Sam Tinnesz
I love Sam's voice! Knowing what's coming, this is a reminder that even these sorts of tragedies can't kill a community.
Take the World (Let's Go) by The Phantoms
A nice, rousing, inspirational tune.
Strange by The Score
"Lately, I've been thinking everyone around me is insane."
The song bounces back and forth between thinking the world's gone mad and then thinking there's something wrong inside. Teenage years are sort of confusing for most people.
High Hopes by Panic! At the Disco
"I was gonna be that one in a million."
A lot of kids/people in general want to stand out from the crowd.
Never Going Back by The Score
I've put this song on a few different playlists, including the one I prepared for my current students. "I can't slow it down." "I'm never gonna follow just because they say so."
"Never giving up. Never gonna crack. Never giving in. Never going back."
Good song for capturing the indomitable human spirit
Stand Out The Phantoms
Pretty straight forward message about standing out. Even school shootings are a desperate cry for attention in at least some of the cases. "Ya gotta break some rules. You gotta take some chances." This message appeals to most people, teenagers included.
Tightrope by The Score
"I can't be everything that you want me to. Fill my mind up with silly dreams."
"People look like specs of dust when you're this high off the ground."
"I am walking a tightrope. I am walking it for you."
"I'm fighting with gravity. Trying not to fall."
Haven't had a chance to think too deeply about this one, but on first few listens it comes through about the weight of expectations, some fairly and some unfairly placed upon people.
Little Voice by for King and Country
Roughly the midpoint of the list was a great spot for an instrumental piece. In every arrangement, there's always that calm before the storm. It's from the soundtrack for Priceless, which I haven't seen, but I believe has to do with setting someone free from human trafficking. In the face of darkest evil, shine the brightest lights.
Will I Make It out Alive by Tommee Profitt and Jessie Early
The title's pretty descriptive. In the middle of a horrific event like a school shooting, I imagine that's a thought that goes through most people's head. Also, when it comes down to instinct, how will I react?
Only One by The Score
You're probably sick of hearing this band on this list, but they just happen to have a lot of songs that capture the right mentality.
"It's time to break out, so everybody just scream out. I'm the only one.
"I cut the strings a long time ago"
I'm probably not grasping the whole message here. I'm going to key in on the last line: "No chains, no chains won't hold me down."
Heroes by Zayde Wolf
"We are heroes in the darkest time when there is no light."
"… we'll rise above

Tragedy has a way of bringing out the best and worst in people. Some rise as heroes. Ordinary people placed in extraordinary positions show what we can be. If it were a movie, I think this is the kind of thing to play during a montage of various responders doing their jobs.
Carry Me by For King and Country
Another instrumental piece when the chaos is ending but nothing's truly sunk past the horror of what's going on around.
Hold Me Up by Sam Tinnesz
"It's been some long days and some hard nights"
"I'm losing this fire in the valleys of my heart.
"I need somebody to lean on."
"Can you hold me up?"
"I know it's out of my hands,
But I can't do this again."
Great song about coming together after something awful has happene
Walk through the Fire by Zayde Wolf and Ruelle
"I'm always wonder if it's ever gonna end
I can feel it in my bones x2
Standing in the dust of what's left of us
I can see you in my soul x2"
"Did we take too many chances?"
"Did we light too many matches?
Turn ourselves into these ashes?"

"We walk through the fire…"
After the dust settles, comes a time of reflection and bandying about blame.
"Try to understand, how we're here again
In the middle of the storm."
As a society, how did we get here again and again? Also, just a lovely, haunting song.
"Is there a way out?"
Ubi Caritas by Audrey Assad
After the Parkland shooting, I happened to be sent this song by a friend. The timing fit perfectly. I could hear this song as a memorial for the lives lost. It's in Latin, but there are translations available. Audrey's voice is amazing in most of her songs, but especially so here.
Heaven Come Down by Becca Bradley
Kind of a mini-synopsis of what happens when there's a school shooting (or any mass shooting incident). Beautiful cry for mercy and grace from above. "Will it ever change?
Oh everyone's got someone to blame
For the hurt and fear and pain
In the mess, in the madness we will pray…
Heaven come down."
"Nothing on Earth can give us what we really need…"
"No law, no money, nobody else can save us."
Live Life by Zayde Wolf
If this were a movie, I think this would be a nice way to begin the credits. "What am I gonna do?
Live life like I never had
Live life through the good an bad"
Life goes on for those who survive tragedies. They might be haunted by events and struggle in other ways, but there is hope for them.
joy. (Fransis Derelle and Jinco Remix) By for King and Country
Joy is sometimes a choice.
"Gotta get that fire fire back in my bones."
"Oh hear my prayer tonight…
Time has come to make a choice
And I choose… joy."
"Let it move you.
Conclusion:
Ultimately, this is the whole reason to write a contemporary drama story like Beyond Broken Pencils. We can't always bottle the crazy. Sometimes, people unleash their inner demons on the world at large and innocents to down with them. At such times, after the natural course of mourning, you have to make a conscious choice to return to joy.
Associate Links to Follow:
(If you click through and buy something, there's the chance I'll earn like $0.04 ….)
Amazon Prime
The Collins Case – 2 FBI agents track down a kidnapped family. Kid friendly.
If fantasy's more your thing, go Redeemer Chronicles. The first, Awakening, is available as an audiobook.
Ashlynn's Dreams Shorts – a kid deals with her parents' divorce, bullies, and the wonder of discovery.
Try The Dark Side of Science – Genetically altered kids fight for the right to live.
OR