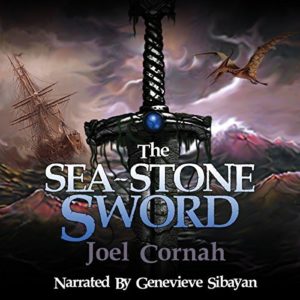 Introduction:
It's been awhile since I posted any audiobook reviews. Still got a mixed bag of them to review. Let's start back up with a darker sort of epic fantasy. It had fantastic narration provided by Genevieve Sibayan, but I'm a little ambivalent on the plot and characters.
*spoilers possible in discussion part*
Summary:
A boy with grand ideas of being a hero finds the path much more complicated than the stories make it out to be.
Additional Comments:
– I fantasy books because they bring the reader to faraway places. This book was no exception in that regard. It contained quite a few neat world-building aspects, but there were also some major things I didn't connect well with, which is how it ended up with an average rating (3 stars = it's okay).
The Bad (I hate ending on negative points, so I'm going to start out with the things I struggled with).
– The book took me a long time to get through, even in audio form. That's generally an indication that I'm just not that "into it." Here are some of my major disconnects.
– I didn't like the main character. I get from the blurb that the author wants this to come across as a gritty, realistic, life is messy sort of commentary, but I really like being able to root for the MC. Rob just annoyed me 90% of the time.
– Pacing – timeline and event flow didn't seem smooth to me. That could be my fault as a reader/listener. Not sure. I remember being about a quarter into the book and being like "what? Who just died? Who the heck's that guy?"
– Lack of Closure – There's always a delicate balance to strike. Ending with a lot unresolved is a tactic to get most people to buy the next book, and maybe it works. But after 11+ hours I find the way it ended very annoying.
– Bad guy's motives come across clear as mud. The amount of effort he goes through to manipulate events would be fine if something like world domination or promises of loads of wealth were at the heart, but that's not the case.
The Good
– The narrator did a fantastic job of bringing the world to life.
– The world-building is cool with multiple races.
– The plot has some neat twists.
The Neutral
– Not sure picking a female narrator was the way to go with the MC being a 14 year old boy. On the other hand, many of the other characters were female.
– There's multiple interesting races, though I will say most of them came across as stereotypes of themselves. i.e. all Penguish (sorry about spelling, I heard the audiobook) are ___.
Conclusion:
It's okay. If you enjoy complicated fantasy (narrated very well), this might fit the bill for you. But if you really need closure in stories, avoid.
Associate links to follow…
Amazon Prime
Audible – If you buy some of my audiobooks with your first credits, I'll pay the first month's bill (beyond the free ones). (Terms and conditions: must have proof of purchasing my books, like a screenshot. Will also have to have paypal.)