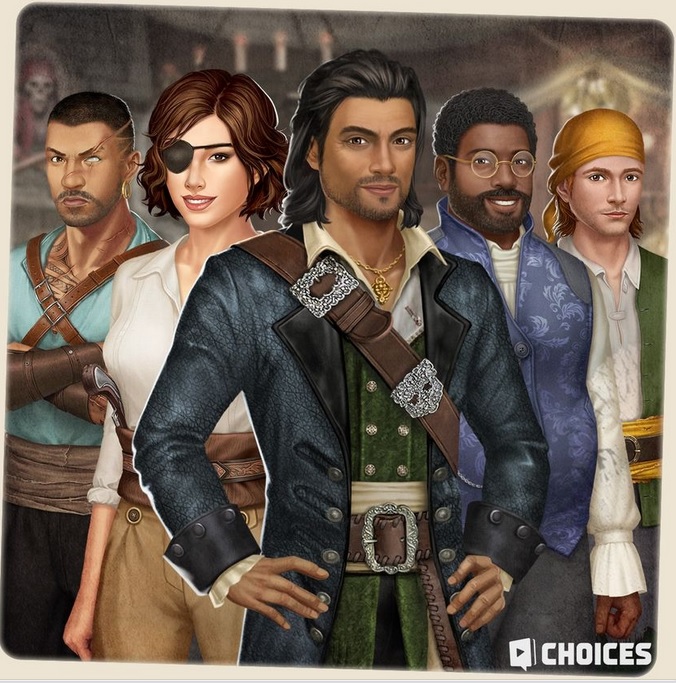 Summary:
You're auditioning for a role in a pirate movie when you step through a time rift directly into the past to a life of adventure on the high seas.
Additional Comments:
I appreciate what they tried to do with the scifi angle, but honestly, it probably would have been better as a true set-in-the-time period piece.
Characters are interesting. You're not meant to like Robert, but of the characters Choices has put out, he has a particularly punch-able attitude and face. I really liked Charlie. Edward was okay. He's kinda a little too full of himself for comfort. Side characters are just okay. Kendrick's annoying. The Twins are fun. Jones is typical hard-boiled softee when it comes to Ginny. Samuel kind of makes no sense. Henry's typical pirate. Oliver's just kind of their "shoot. We need another love interest option" add-on.
The extra scene's honestly not worth collecting the cabin pieces, though I probably would have collected most of the things anyway. I think the only extra scene that kinda seemed worthy was the Elementalists Book 1. As usual, I'm a sucker for pets and weapons.
Not my favorites Choices story. Not my least favorite (I don't think … think that goes to The Haunting of Braidwood Manor).
End kind of disappointed. Like the end of their other scifi adventure (Across the Stars), it just sort of fizzled out, like they hit their quota of chs and decided to put more effort into their VIP stories instead. I get it, they gotta make money, but still wish it was a stronger ending.
Conclusion:
Worth checking out, but in my opinion, not their finest piece.
Audiobook Promotions …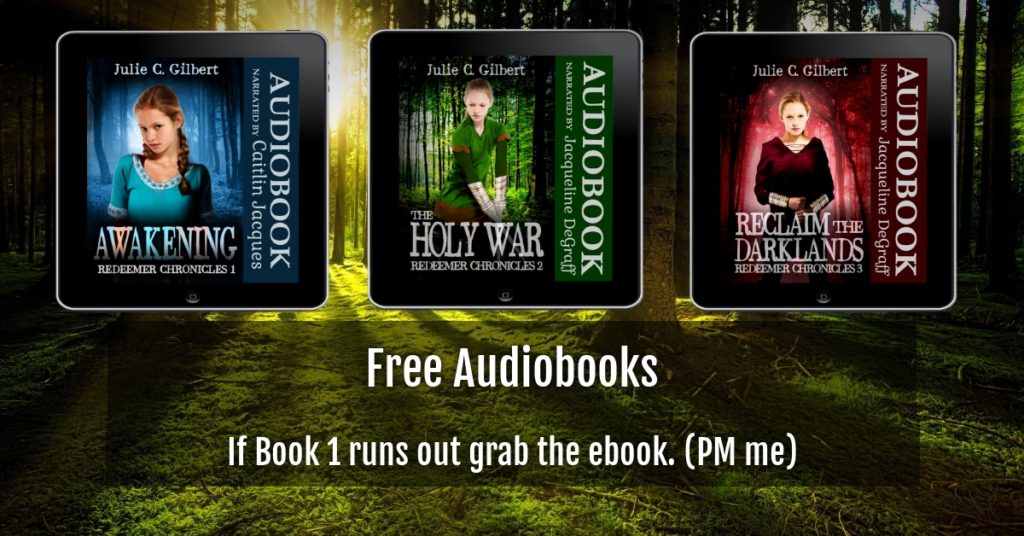 Many of my 42 audible titles are listed on Audiobooks Unleashed.
Whether you're looking for mystery or suspense or fantasy, I've got a title for you. Free codes are probably on audiobooks unleashed.
Normal links go to audible. *The Amazon labeled links are affiliate links. That means I get a very small payment from Amazon if you go through with a purchase.*
Note: Filter by US if you're looking for those codes as many titles are out.
Ones I think may still have US codes: Reshner's Royal Ranger, Never Again, Innova, The Golden City Captives, The Holy War, Reclaim the Darklands, Eagle Eyes, Treachery Makes it Tense, Ashlynn's Dreams Shorts, The Dark Side of Science, Ashlynn's Dreams, Nadia's Tears, Malia's Miracles, and Varick's Quest
There are plenty of UK codes, but not many US ones left.
Redeemer Chronicles (Fantasy)
Awakening – Redeemer Chronicles Book 1, MG fantasy (Amazon) (free codes)
The Holy War – Redeemer Chronicles Book 2, MG fantasy (Amazon) (free codes)
Reclaim the Darklands – Redeemer Chronicles Book 3, MG fantasy (Amazon) (free codes)
River's Edge Ransom – Prequel to Redeemer Chronicles (Amazon) (email devyaschildren @ gmail.com for free codes)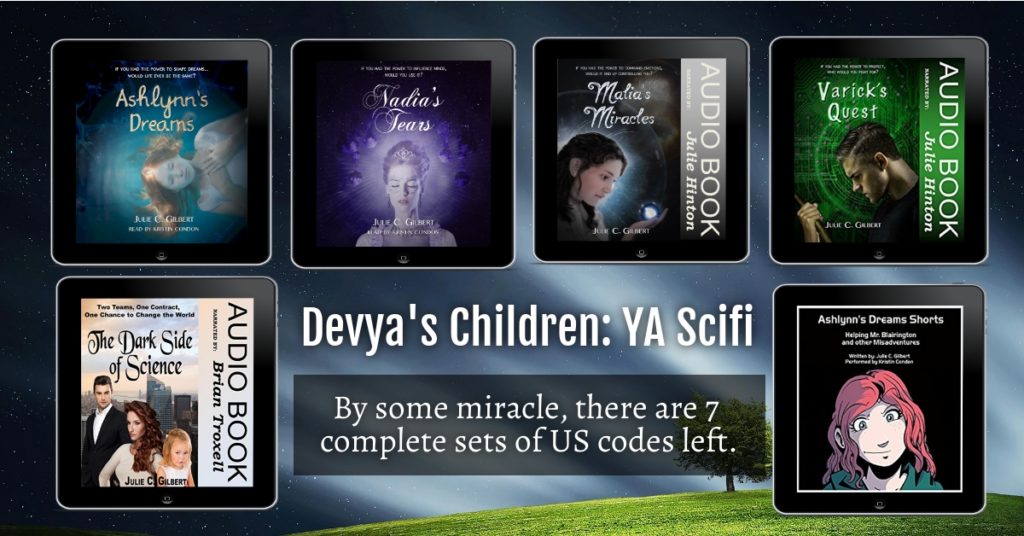 Devya's Children Series Links:
Ashlynn's Dreams Shorts – short stories featuring Jillian. (Amazon) (free codes)
The Dark Side of Science – official prequel to Devya's Children; Genetically altered kids fight for the right to live. (Amazon) (Please email devyaschildren @ gmail.com for free codes)
Ashlynn's Dreams – Genetically altered Dream Shaper learns her gift. (Amazon) (free codes)
Nadia's Tears – Jillian tries to awaken her sister, Nadia, from a coma. (Amazon) (free codes)
Malia's Miracles – Jillian and her siblings try to save a friend's mother. (Amazon) (free codes)
Varick's Quest – Jillian and Danielle get kidnapped. Nadia's also in trouble. (Amazon) (free codes)
More Scifi:
Reshner's Royal Ranger (epic sci-fi) just made it there. (Amazon) (free codes)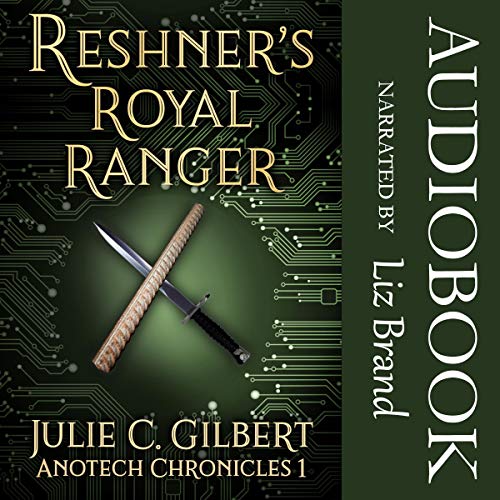 Guardian Angel Files:
Spirit's Bane – Allister and Mina are training to be Guardians. Satan's out to get them. (Amazon) (free codes)
Kindred Spirits – Mina's exiled to Earth. Allister's stuck in the Heavens. (Amazon) (free codes)