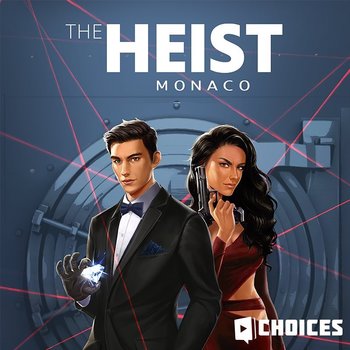 *Warning: Could be Spoilers
This song reminds me of the story.
Introduction:
I've been playing Choices stories for a while now. They're all designed to make you spend money by spending diamonds. I generally skip a lot of the diamond outfits and extra scenes that don't have an impact on the overall story, but sometimes, you just have to go all in.
Additional Comments:
The Heist: Monoco definitely has some Leverage vibes, right down to the music.
The cast of characters is pretty neat. It's a double edged sword that you can't play as all the characters at once, but that does give the game some great replay value.
Short who's who: Eris is a hard-edged demo expert. Rye's the preppy, details guy. As for the rest, first round, I chose Jones (muscle), Anton Edison (Hacker), Edison (Thief; diamonds), Fabien (driver), Miranda (Grifter; diamonds). Thankfully, they didn't make you pay for the whole cast.
Music: usually great, but this is exceptional and fitting for the mood.
I chose to go with a female lead first round. Named her Mel, which oddly enough, fit perfectly.
Conclusion:
This might be my favorite story to date from Choices.
Associate links to follow…
Amazon Prime
The Collins Case – 2 FBI agents track down a kidnapped family. Kid friendly.
If fantasy's more your thing, go Redeemer Chronicles. The first, Awakening, is available as an audiobook.
Ashlynn's Dreams Shorts – a kid deals with her parents' divorce, bullies, and the wonder of discovery.
Try The Dark Side of Science – Genetically altered kids fight for the right to live.
Beyond Broken Pencils – Contemporary literary tale of a school shooting. Ian unleashes his inner demons on his classmates and teachers…
Scratched Off – FBI agent vs a serial killer. When Sam Kerman sets out to hunt a serial killer, he has no idea how personal the case will become.

OR