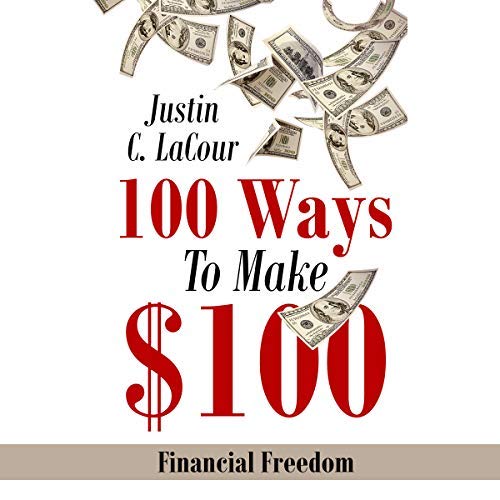 Summary:
Let's be clear, the average star rating is brought up by the narrator. She did a decent job. The book's just worthless.
Additional Comments:
This is a list of 90+ ways to earn $100. In reality, you'd probably earn a lot more than that doing each of these things because most are actual jobs that take skills and a license to do them correctly/legally.
Babysitting and dog walking are good ideas. He mentions that the first might be embarrassing to do as an adult, but it's more embarrassing not to be able to pay your bills. While I can't argue with that logic, there are also better and steadier jobs out there that come with insurance and whatnot.
At least 3, Bingo, Fantasy Football, and Slot Machines are straight up gambling. That's not exactly the sort of message you want to be touting in your "ways to make money" spiel. I think the only good advice he gave was know when to quit because the house eventually always wins.
Another whole slew of items started "tutor/ teach ___." It's absolutely true that you can make good money tutoring/teaching, but that should have been 1 item with a long-ish spiel about finding the right thing for you to tutor or teach.
Can't tell you how many of the items started with "grow ___" in your backyard. I just had to laugh. While it might be lucrative if you own the right land, you'll likely pay more for the tree saplings/seeds. Then, you have to wait for the plant to mature enough.
He lists buying stocks and then says, go watch youtube videos to learn how to do this well. Gee. Thanks. Never woulda thought of that.
Conclusion:
It's a quick audiobook. If you can snag a free code, go for it. You might find a treasure among the rubbish.
Associate links to follow…
Amazon Prime
The Collins Case – 2 FBI agents track down a kidnapped family. Kid friendly.
If fantasy's more your thing, go Redeemer Chronicles. The first, Awakening, is available as an audiobook.
Ashlynn's Dreams Shorts – a kid deals with her parents' divorce, bullies, and the wonder of discovery.
Try The Dark Side of Science – Genetically altered kids fight for the right to live.
Beyond Broken Pencils – Contemporary literary tale of a school shooting. Ian unleashes his inner demons on his classmates and teachers…
Scratched Off – FBI agent vs a serial killer. When Sam Kerman sets out to hunt a serial killer, he has no idea how personal the case will become.

OR