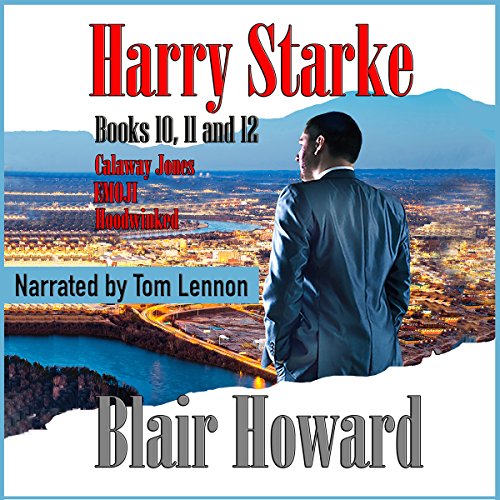 Narrated by Tom Lennon
Individual Ratings:
3/5 stars 10 Caloway Jones
3.5/5 stars 11 Emoji
3/5 stars 12 Hoodwinked
*possible spoilers in discussion
Summary:
Caloway Jones: Somebody's out to kill Harry and his friends.
Emoji: A killer haunts a college campus and plays games with the police.
Hoodwinked: Harry's on a mission to prove his best friend isn't a killer
Additional Comments:
Content Warning: I generally listen to clean stuff, so I'll include a content warning up front. If you removed the curse words, the book would be missing about 3 hours. If you removed the sex references as well, you'd be missing about 8 hours. Somewhere in there, you have a mystery. I think. If you took out alcohol references as well, heck, we'd be down to 3 hours.
This is my first exposure to this author and the character. They're okay. I'd probably give another set a go if the chance arose, but I could also do without and be fine.
The son of a crazy rich dude thing is okay.
Side characters: Kate's cool. The rest are just furniture, or horny furniture in the case of Amanda.
They're very different mysteries. Harry Starke leads a charmed life. The stories have a bit of a hardboiled detective shading. Harry's the best of the best PI's.
The mystery conclusions are somewhat frustrating, even though Harry always gets his man, so to speak.

Caloway: Really. The person used to throwdowns goes toe to toe with the bad guy and loses, then the person who never handled a gun ever saves the day?

Emoji: So, bad guy wins then decides to play a game with Harry to give him a sporting chance … and thus, loses.

Hoodwinked: I kind of like this twisted ending. That's a redeeming quality. But I'm sensing a theme here. Yet again, the bad guy wins, hands down… then shoots him mouth off and Harry wins.

Overall, they're not bad stories, but what keeps them from being good or even great is that the conclusions rely very heavily on the bad guys being incredibly dumb. I get it, criminals can be stupid, but these particular ones spend the whole book running circles around the cops … then, when they're home free, blather about it and lose.
The Caloway Jones conclusion was highly unsatisfying because the author spend 5+ hours building up this woman to be the best of the best, and she flubs it by playing silly games. Yeah, yeah, contract and so forth. If she'd really wanted him to suffer, she would have planted a bullet in his wife's skull then gone after the friends one by one.
The narration was fine until the man tried to tackle a Jamaican accent and ended up sounding vaguely Irish. I do play stuff fast, but I honestly thought Kate's last name began with K something. Lost that "g" somewhere.
Kate's an interesting character. I liked the interaction b/t her and Harry in the second story. I see that she has her own series. That could be interesting. I'll give those a go if the chance arises.
The first-person narration style was okay, but it got annoying because Harry's not a very reliable narrator. He says a lot of things like "but you don't need to know that" and "where was I."
Conclusion:
I'm kind of torn. There's a lot of potential, and the author is decent at describing things. The mysteries themselves are fairly formulaic. The characters keep things interesting. If you don't mind excessive cursing and rampant references to sex, check it out.
If you want to get 5 clean audio promos a month. Sign up here.
Audiobook Promotions …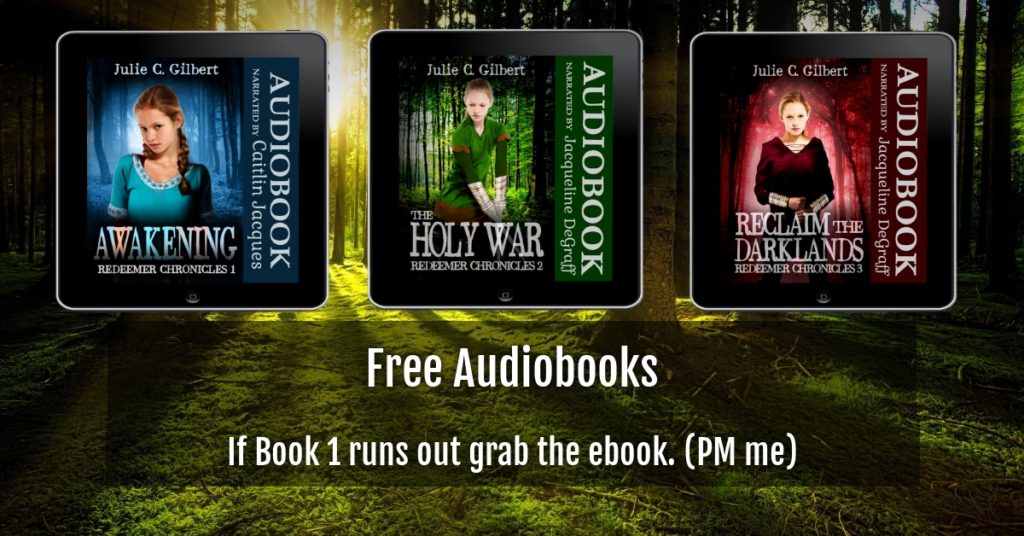 Many of my 50 audible titles are listed on Audiobooks Unleashed.
Whether you're looking for mystery or suspense or fantasy, I've got a title for you. Free codes are probably on audiobooks unleashed.
Normal links go to audible. *The Amazon labeled links are affiliate links. That means I get a very small payment from Amazon if you go through with a purchase.*
Note: Filter by US if you're looking for those codes as many titles are out.
Ones I think may still have US codes: Reshner's Royal Ranger, Never Again, Innova, The Golden City Captives, The Holy War, Reclaim the Darklands, Eagle Eyes, Treachery Makes it Tense, Ashlynn's Dreams Shorts, The Dark Side of Science, Ashlynn's Dreams, Nadia's Tears, Malia's Miracles, and Varick's Quest
There are plenty of UK codes, but not many US ones left.
Redeemer Chronicles (Fantasy)
Awakening – Redeemer Chronicles Book 1, MG fantasy (Amazon) (free codes)
The Holy War – Redeemer Chronicles Book 2, MG fantasy (Amazon) (free codes)
Reclaim the Darklands – Redeemer Chronicles Book 3, MG fantasy (Amazon) (free codes)
River's Edge Ransom – Prequel to Redeemer Chronicles (Amazon) (email devyaschildren @ gmail.com for free codes)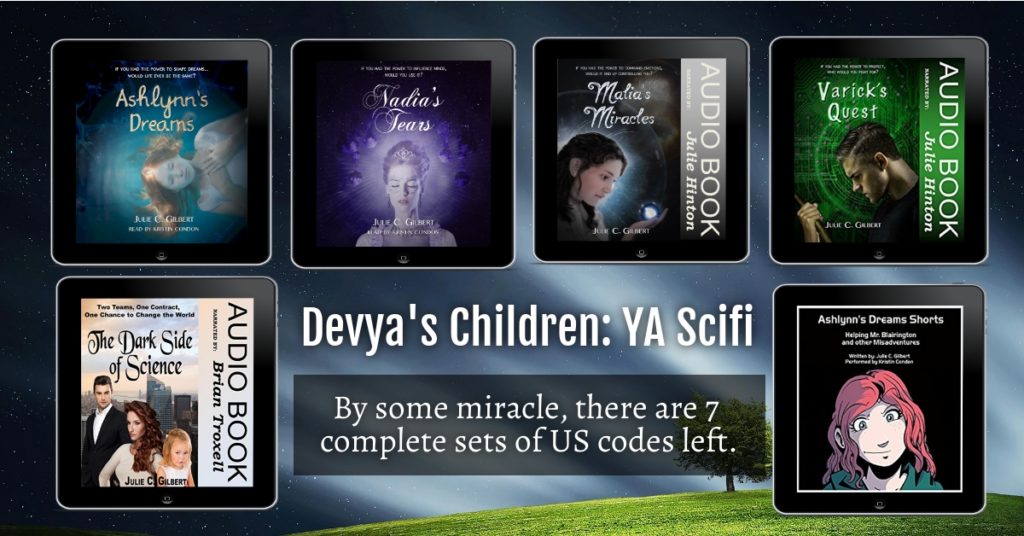 Devya's Children Series Links:
Ashlynn's Dreams Shorts – short stories featuring Jillian. (Amazon) (free codes)
The Dark Side of Science – official prequel to Devya's Children; Genetically altered kids fight for the right to live. (Amazon) (Please email devyaschildren @ gmail.com for free codes)
Ashlynn's Dreams – Genetically altered Dream Shaper learns her gift. (Amazon) (free codes)
Nadia's Tears – Jillian tries to awaken her sister, Nadia, from a coma. (Amazon) (free codes)
Malia's Miracles – Jillian and her siblings try to save a friend's mother. (Amazon) (free codes)
Varick's Quest – Jillian and Danielle get kidnapped. Nadia's also in trouble. (Amazon) (free codes)
More Scifi:
Reshner's Royal Ranger (epic sci-fi) just made it there. (Amazon) (free codes)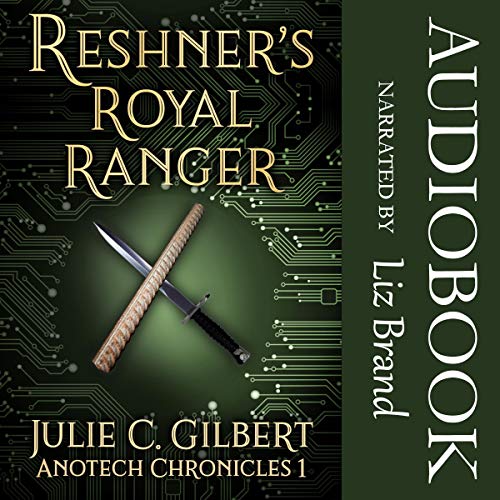 Guardian Angel Files:
Spirit's Bane – Allister and Mina are training to be Guardians. Satan's out to get them. (Amazon) (free codes)
Kindred Spirits – Mina's exiled to Earth. Allister's stuck in the Heavens. (Amazon) (free codes)