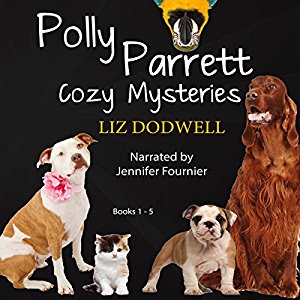 Predictable but Charming
Summary:
A series of short cozy mysteries (yeah, there are bodies but nothing's described in gruesome detail or anything.)
Additional Comments:
– Main character – Polly was basically Stephanie Plum lite – a clumsy disaster magnet with gorgeous boyfriend who saves her repeatedly.
– Side characters – including pets were very well fleshed out and added a nice layer to the story.
– I heard the audible version, which I definitely recommend over simple reading. Narrator did a decent job with the performance.
– I enjoyed how the stories built on one another. (Would not recommend reading the series out of order.)
– One thing that bothered me: the main character/narrator broke the fourth wall (talked to the reader; ala – "now, I know what you're thinking" style) numerous times. Once, I get (simple mistake/stylistic choice), but any more than that is just annoying.
– Plots ended up being unique if a little "convenient" from time to time, but that's sort of the nature of a mystery novella.
Conclusion:
If you're looking for short, fluff mysteries with minimal curses, this is a good choice.
As Always …
If you want the chance to get the audiobook for free, please join Audiobook Readers' Edge.
If you're an author (or a narrator) with an audiobook you'd like featured, sign up for Audiobook Authors' Edge.
Thanks for your time.
Sincerely,
Julie C. Gilbert
Audiobook Edge and it's Matchmaker Program are completely free now, but if you wanna donate anyway, go for it 😉
Er, just do it as a friend b/c otherwise, you're basically just paying paypal.
[paypal-donation]
Prime Student – Oh, how I wish I was still a student.
Kindle Unlimited
Free Kindle Reading App
Amazon Prime