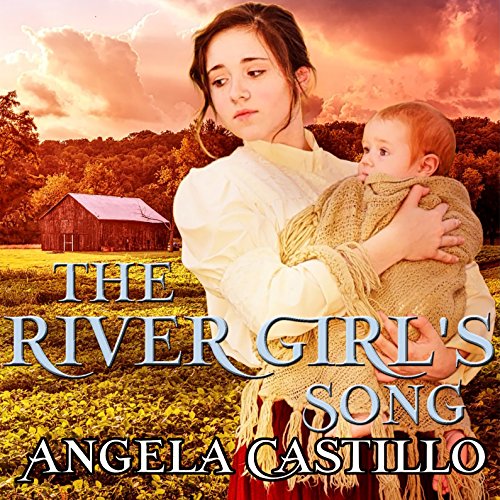 Narrated by J. Grace Pennington
Run Time: 4 hrs and 31 mins
Summary:
I must have a thing for stories with kids being abandoned. This is the second book in 2 days with that beginning. Zillia Bright ends up caring for her baby brother and a farm when her mother's good-for-nothing husband high-tails it soon after the kid is born.
Additional Comments:
3/5 stars Performance: It's decent. I've heard a lot of books read by this narrator. She has a nice, clear voice and good reading instincts. She does not have a very wide range of character voices though. She has 3-4 solid female voices and 1-2 solid male voices. She does a credible job with songs, though it is startling at 2.3x speed.
Normally, this kind of series can be read out of order, but I accidentally reversed books 1-2, and I believe they would have been much better read in order. The parts of book 2 featuring this character seemed very odd without having heard her story first.
Typical clean historical Christian fiction. I did like the very small taste of action near the end. Other than that, it's pretty much 4 hrs of this woman's daily life. Nothing earth-shattering, nothing terrible.
There aren't many in-betweens in stories like this. The characters are either paragons of light and purity or complete jerks.
Conclusion:
If you like clean, historical Christian fiction, this is a decent series.
Audiobook Promotions …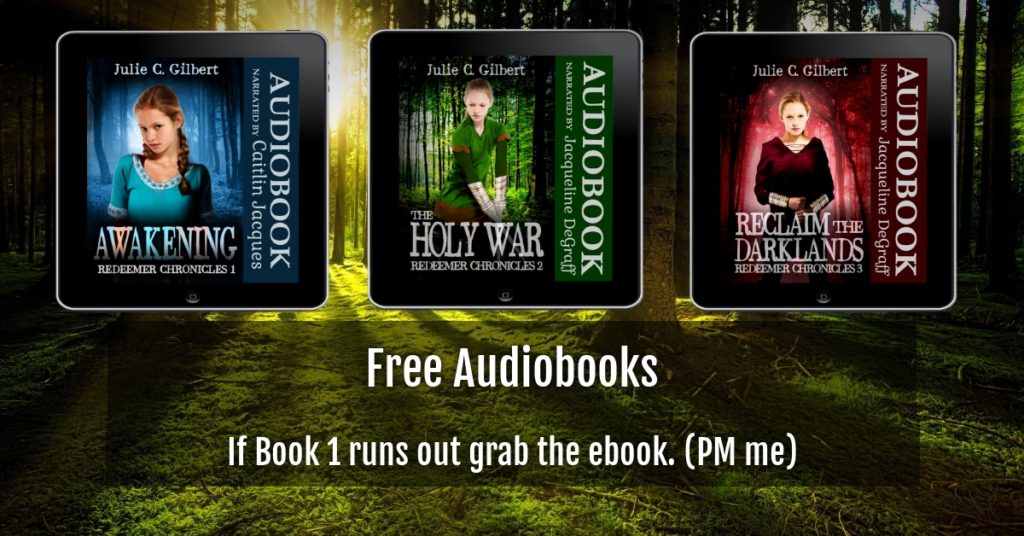 Many of my 44 audible titles are listed on Audiobooks Unleashed.
Whether you're looking for mystery or suspense or fantasy, I've got a title for you. Free codes are probably on audiobooks unleashed.
Normal links go to audible. *The Amazon labeled links are affiliate links. That means I get a very small payment from Amazon if you go through with a purchase.*
Note: Filter by US if you're looking for those codes as many titles are out.
Ones I think may still have US codes: Reshner's Royal Ranger, Never Again, Innova, The Golden City Captives, The Holy War, Reclaim the Darklands, Eagle Eyes, Treachery Makes it Tense, Ashlynn's Dreams Shorts, The Dark Side of Science, Ashlynn's Dreams, Nadia's Tears, Malia's Miracles, and Varick's Quest
There are plenty of UK codes, but not many US ones left.
Redeemer Chronicles (Fantasy)
Awakening – Redeemer Chronicles Book 1, MG fantasy (Amazon) (free codes)
The Holy War – Redeemer Chronicles Book 2, MG fantasy (Amazon) (free codes)
Reclaim the Darklands – Redeemer Chronicles Book 3, MG fantasy (Amazon) (free codes)
River's Edge Ransom – Prequel to Redeemer Chronicles (Amazon) (email devyaschildren @ gmail.com for free codes)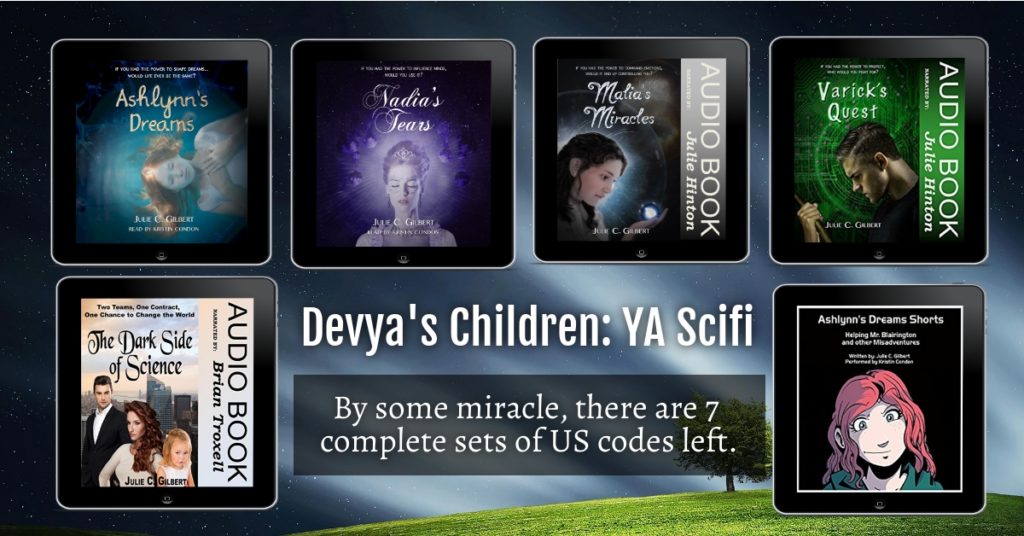 Devya's Children Series Links:
Ashlynn's Dreams Shorts – short stories featuring Jillian. (Amazon) (free codes)
The Dark Side of Science – official prequel to Devya's Children; Genetically altered kids fight for the right to live. (Amazon) (Please email devyaschildren @ gmail.com for free codes)
Ashlynn's Dreams – Genetically altered Dream Shaper learns her gift. (Amazon) (free codes)
Nadia's Tears – Jillian tries to awaken her sister, Nadia, from a coma. (Amazon) (free codes)
Malia's Miracles – Jillian and her siblings try to save a friend's mother. (Amazon) (free codes)
Varick's Quest – Jillian and Danielle get kidnapped. Nadia's also in trouble. (Amazon) (free codes)
More Scifi:
Reshner's Royal Ranger (epic sci-fi) just made it there. (Amazon) (free codes)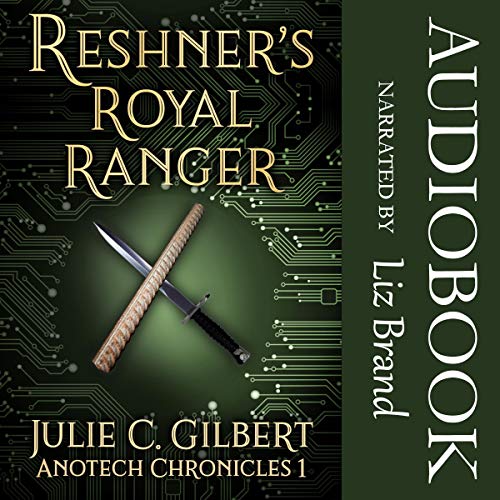 Guardian Angel Files:
Spirit's Bane – Allister and Mina are training to be Guardians. Satan's out to get them. (Amazon) (free codes)
Kindred Spirits – Mina's exiled to Earth. Allister's stuck in the Heavens. (Amazon) (free codes)