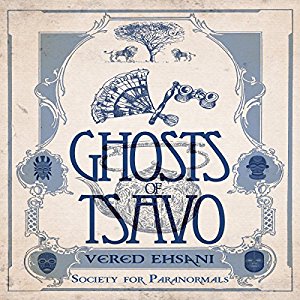 Introduction:
If you like Pride, Prejudice, and Zombies, then you'll probably enjoy the brand of weird presented here in Ghosts of Tsavo.
Summary:
Due to a change in financial fortunes, Beatrice Knight travels with her uncle and his family to Nairobi and becomes embroiled in a paranormal mystery. She's an investigator for a society that seeks to study paranormals while at the same time keeping their existence a secret. As fate would have it, she's also got the ghost of her dead husband Gideon following her.
Additional Comments:
Neutral:
– I'm guessing the way Bee speaks as a story narrator will evoke strong emotions. She's hilarious, yet she comments on everything.
– There are some plot threads that aren't resolved. This didn't bother me as much as it does in some books. It's balanced by the overarching fact that this episode of sorts wraps up nicely. There's definite lead into a new story but I got enough of a sense of closure to satisfy my need for it here.
– Fact vs fiction thing at the end. This one was good, but those bother me in general.
What I didn't like:
– Breaking the fourth wall – There's no reason to address the readers! It busts that nice little bubble of fantasy the author's weaving and yanks you out of the story.
What I liked:
– The narrator fit the story perfectly. This is definitely one of those stories where I believe the audiobook version is vastly superior to the written word. That's akin to book blasphemy I know.
– It's actually a rather simple story. What makes it funny is Bee's commentary. The story's the same brand of ridiculous as Pride, Prejudice, and Zombies. It's probably less gory than that book, but it's got the same obsession with old school British society and manners. (She points out things like how rude it is for ghosts to come through walls instead of using doors. Just because you're dead doesn't excuse one from having bad manners.)
Conclusion:
If you can handle weird, then you will likely enjoy this book.
Bonus:
This title is permanently free. Go grab a copy.
As Always …
If you want the chance to get the audiobook for free, please join Audiobook Readers' Edge.
If you're an author with an audiobook you'd like featured, sign up for Audiobook Authors' Edge.
Thanks for your time.
Sincerely,
Julie C. Gilbert
Audiobook Edge and it's Matchmaker Program are completely free now, but if you wanna donate anyway, go for it 😉
Er, just do it as a friend b/c otherwise, you're basically just paying paypal.
[paypal-donation]
Prime Student
Kindle Unlimited
Amazon Prime
Free Kindle Reading App
Audible