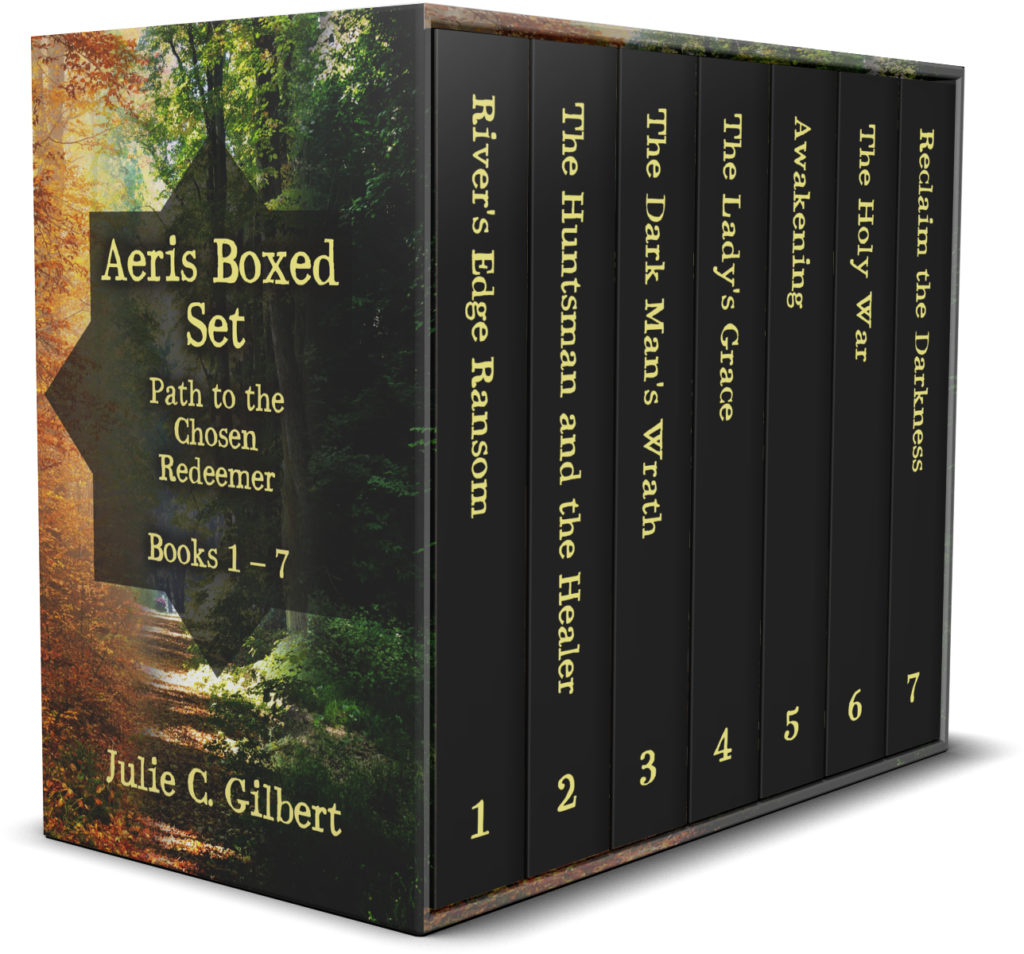 River's Edge Ransom, Aeris Legends Books 1-3, and Redeemer Chronicles
Note: There's no rating b/c these are my books.
Summary:
River's Edge Ransom tells the tale of what happened in the Bereft village of River's Edge. That incident sets many things into motion. Things that lead to Redeemer Chronicles. On the surface, it's a story about greed and sibling rivalry. It's got a little magic and mystery.
Aeris Legends Books 1-3 continues weaving the backstory for Marina Castaloni, Daniel Saveron, and Jackson Castaloni.
Redeemer Chronicles switches gears in several ways. The biggest, most notable switch is a flip to first person narration. Awakening picks up immediately after The Lady's Grace. Vic starts on her journey to find her father. It's also where we really start to get to know her, Katrina, Tellen, and Shadow. They show up in Aeris Legends as children, but those stories aren't truly theirs.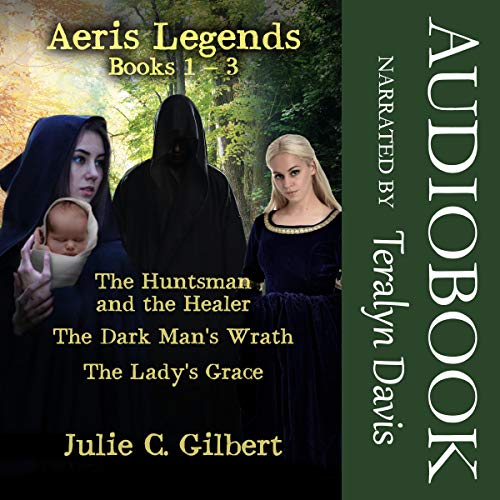 Additional Comments:
These are my books, so the rating's going to be extremely biased.
Teralyn Davis's performance was spectacular on all 4 of the first stories. She's got a very impressive range of voices in her. (Raelyn is one of my favorite voices.)
Caitlin Jacques was actually the first narrator hired to do one of the stories. Awakening was written first. I lost touch with her after that book though, so Jacqueline DeGraff picked up where Caitlin left off for The Holy War and Reclaim the Darklands. Both women did a stellar job with their assignments.
There are a few production (2-ish) mistakes that made it through to the final version of Aeris Legends, but I'm pretty sure people who aren't me and/or don't have a manuscript in front of their faces might only catch one of them.
Story: Aeris Legends is kid-safe, but the main characters aren't kids. The MCs in Redeemer Chronicles, which this was meant to lead to, are teenagers. Aeris Legends is the backstory for Vic's parents and scheming uncle.
If you're willing to review the book, I might still have a free code for some of these stories. I am likely out of Redeemer Chronicles unless you're willing to do Author's Direct codes. Audible ones are likely gone.
Conclusion:
I generally don't end books on cliffhangers, but this one was always meant to dump the reader right on Redeemer Chronicles' doorstep. If you want the full Aeris tale, you'll have to continue on to get Vic's tale (and the story for Shadow, Tellen, Sara, and Katrina) in Awakening, The Holy War, and Reclaim the Darklands.
Audiobook Promotions …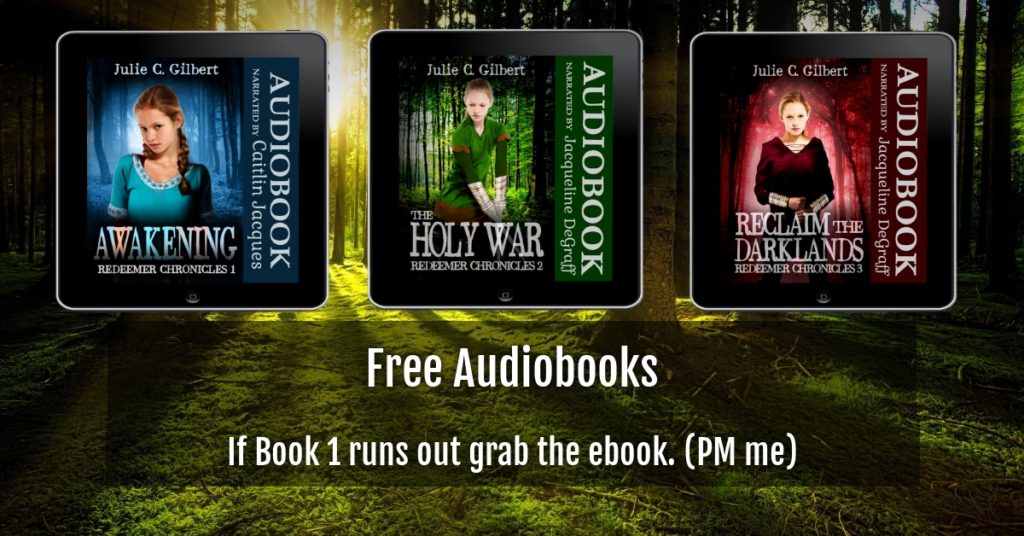 Many of my 50 audible titles are listed on Audiobooks Unleashed.
Whether you're looking for mystery or suspense or fantasy, I've got a title for you. Free codes are probably on audiobooks unleashed.
Normal links go to audible. *The Amazon labeled links are affiliate links. That means I get a very small payment from Amazon if you go through with a purchase.*
Note: Filter by US if you're looking for those codes as many titles are out.
Ones I think may still have US codes: Reshner's Royal Ranger, Never Again, Innova, The Golden City Captives, The Holy War, Reclaim the Darklands, Eagle Eyes, Treachery Makes it Tense, Ashlynn's Dreams Shorts, The Dark Side of Science, Ashlynn's Dreams, Nadia's Tears, Malia's Miracles, and Varick's Quest
There are plenty of UK codes, but not many US ones left.
Redeemer Chronicles (Fantasy)
Awakening – Redeemer Chronicles Book 1, MG fantasy (Amazon) (free codes)
The Holy War – Redeemer Chronicles Book 2, MG fantasy (Amazon) (free codes)
Reclaim the Darklands – Redeemer Chronicles Book 3, MG fantasy (Amazon) (free codes)
River's Edge Ransom – Prequel to Redeemer Chronicles (Amazon) (email devyaschildren @ gmail.com for free codes)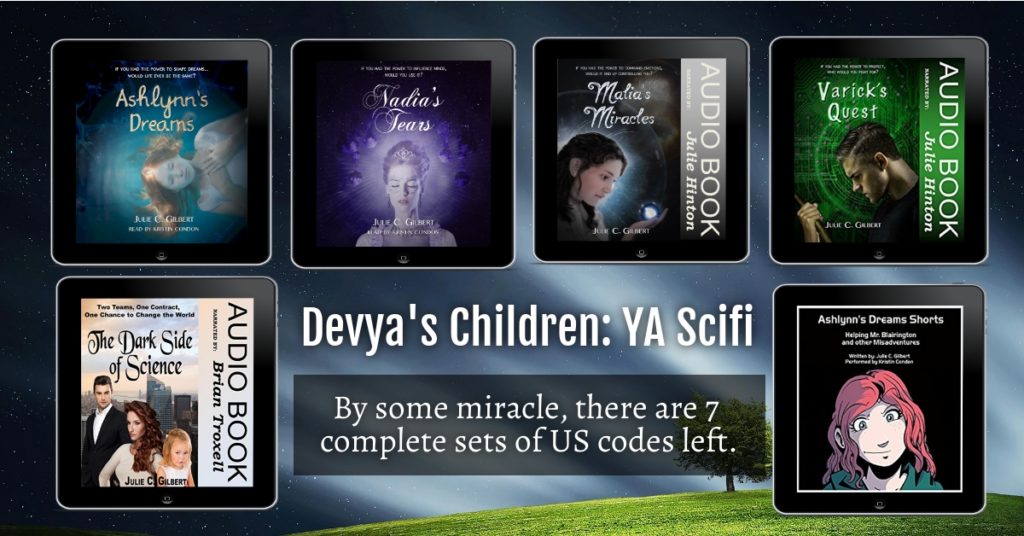 Devya's Children Series Links:
Ashlynn's Dreams Shorts – short stories featuring Jillian. (Amazon) (free codes)
The Dark Side of Science – official prequel to Devya's Children; Genetically altered kids fight for the right to live. (Amazon) (Please email devyaschildren @ gmail.com for free codes)
Ashlynn's Dreams – Genetically altered Dream Shaper learns her gift. (Amazon) (free codes)
Nadia's Tears – Jillian tries to awaken her sister, Nadia, from a coma. (Amazon) (free codes)
Malia's Miracles – Jillian and her siblings try to save a friend's mother. (Amazon) (free codes)
Varick's Quest – Jillian and Danielle get kidnapped. Nadia's also in trouble. (Amazon) (free codes)
More Scifi:
Reshner's Royal Ranger (epic sci-fi) just made it there. (Amazon) (free codes)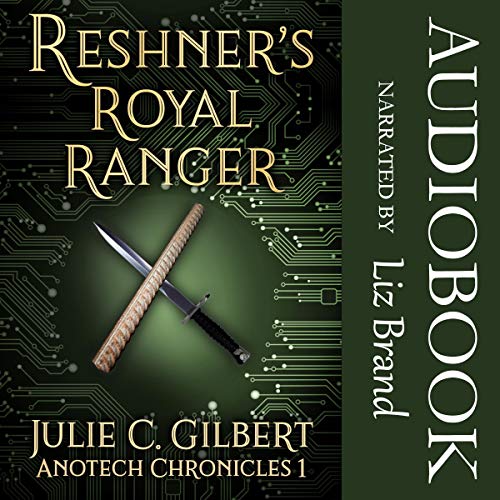 Guardian Angel Files:
Spirit's Bane – Allister and Mina are training to be Guardians. Satan's out to get them. (Amazon) (free codes)
Kindred Spirits – Mina's exiled to Earth. Allister's stuck in the Heavens. (Amazon) (free codes)