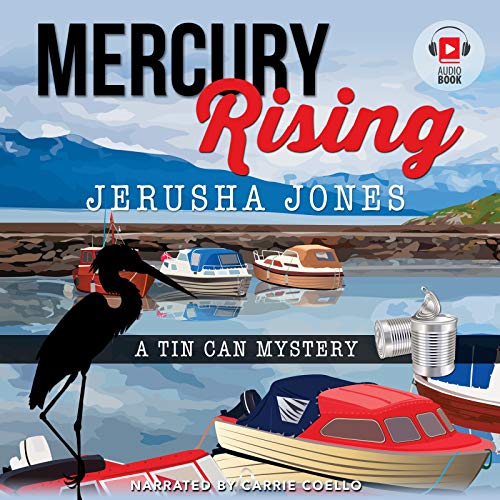 Narrated by Carrie Coello
Run Time: 7 hrs and 23 mins
Summary:
Typical cozy mystery with a likable if somewhat bumbling main character. Eva Fairchild moves across the country to settle down by her sister. She lives on a houseboat made from old shipping containers, which is where the series name comes from.
Additional Comments:
Eva's likable. Kind of a people magnet. People confide in her pretty easily. She's nosy but not stupidly so.
There are suitable side intrigues to fill in the space.
Random mentions of the main love interest smelling good.
Eva's sister's family is cute. They have a nice, hunky dory sort of relationship.
It would have helped if I cared more about the victim, but he's presented as a womanizing environmental crusader. That's a double-edge sword that also reads meddling whack-job.
The bad guys are development companies and crooked politicians. Who doesn't love to dump on politicians? The presentation of progress being all about money at the detriment of the environment was a pretty heavy-handed, preachy message in here, but as long as you concentrate on the characters and their charms, it's easy to ignore.
There's enough small town sort of charm and intrigue to keep me from mentally screaming: MAKE SOMETHING HAPPEN, which is sometimes the case with cozy mysteries.
Distinct lack of cats in the story. I think it's made up for by meddlesome mother figures and people in love with their hair dye.
There's so much other stuff going on that the title mystery is almost an afterthought. I generally don't nitpick titles, but it might have been better served with a cutesy cozy sort of name. The title just doesn't scream cozy mystery or have the feel of the story that's within.
Willow's cool. She's a good excuse for the MC to have random side adventures.
Performance is decent. I've got to hunt up some other books by Carrie Coello or I'm going to type cast her as always playing this sort of character – sweet but slightly clueless.
Conclusion:
Okay cozy. Worth a listen.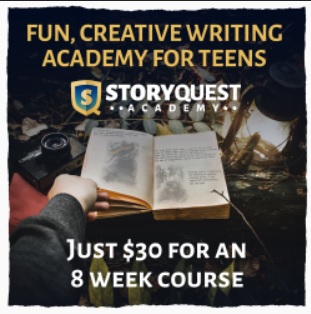 Audiobook Promotions …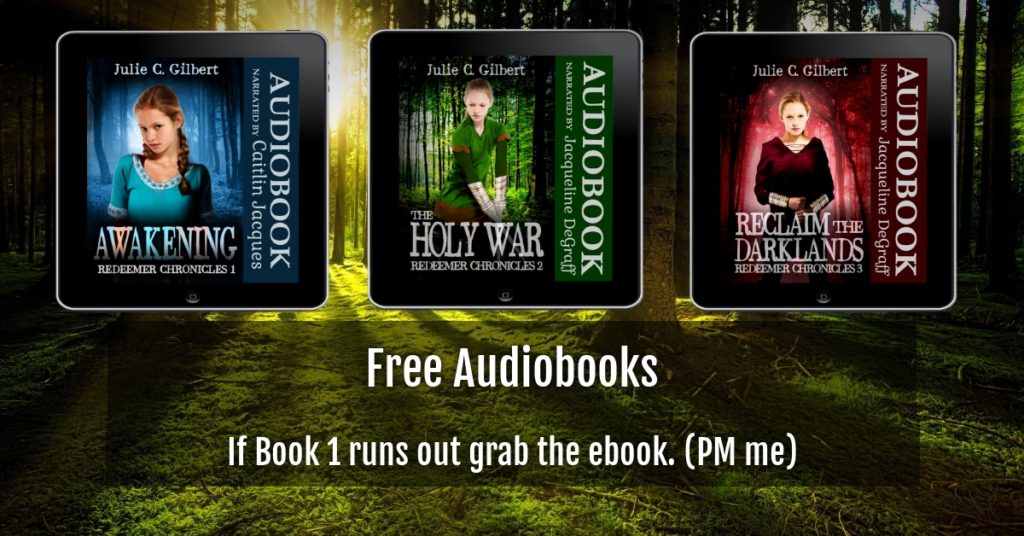 Many of my 42 audible titles are listed on Audiobooks Unleashed.
Whether you're looking for mystery or suspense or fantasy, I've got a title for you. Free codes are probably on audiobooks unleashed.
Normal links go to audible. *The Amazon labeled links are affiliate links. That means I get a very small payment from Amazon if you go through with a purchase.*
Note: Filter by US if you're looking for those codes as many titles are out.
Ones I think may still have US codes: Reshner's Royal Ranger, Never Again, Innova, The Golden City Captives, The Holy War, Reclaim the Darklands, Eagle Eyes, Treachery Makes it Tense, Ashlynn's Dreams Shorts, The Dark Side of Science, Ashlynn's Dreams, Nadia's Tears, Malia's Miracles, and Varick's Quest
There are plenty of UK codes, but not many US ones left.
Redeemer Chronicles (Fantasy)
Awakening – Redeemer Chronicles Book 1, MG fantasy (Amazon) (free codes)
The Holy War – Redeemer Chronicles Book 2, MG fantasy (Amazon) (free codes)
Reclaim the Darklands – Redeemer Chronicles Book 3, MG fantasy (Amazon) (free codes)
River's Edge Ransom – Prequel to Redeemer Chronicles (Amazon) (email devyaschildren @ gmail.com for free codes)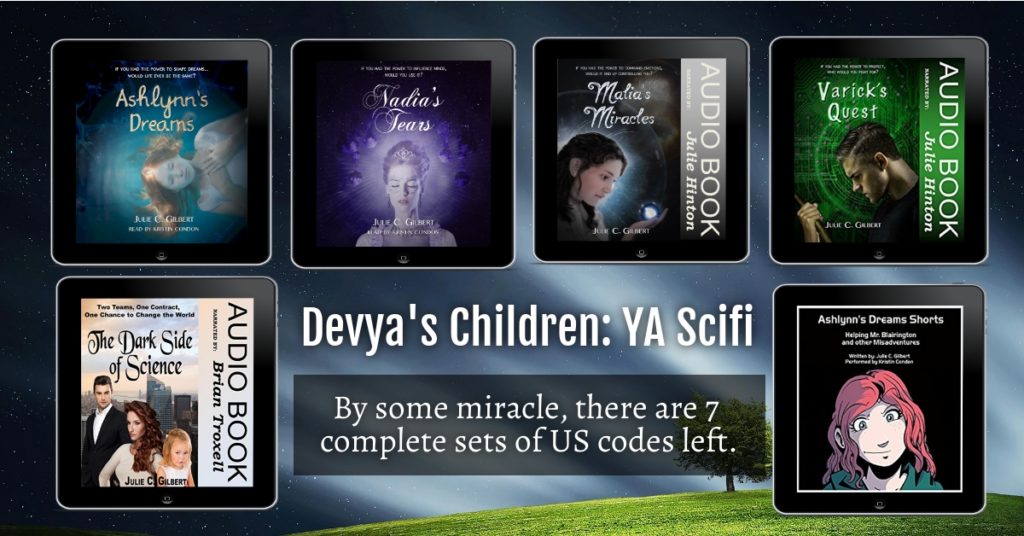 Devya's Children Series Links:
Ashlynn's Dreams Shorts – short stories featuring Jillian. (Amazon) (free codes)
The Dark Side of Science – official prequel to Devya's Children; Genetically altered kids fight for the right to live. (Amazon) (Please email devyaschildren @ gmail.com for free codes)
Ashlynn's Dreams – Genetically altered Dream Shaper learns her gift. (Amazon) (free codes)
Nadia's Tears – Jillian tries to awaken her sister, Nadia, from a coma. (Amazon) (free codes)
Malia's Miracles – Jillian and her siblings try to save a friend's mother. (Amazon) (free codes)
Varick's Quest – Jillian and Danielle get kidnapped. Nadia's also in trouble. (Amazon) (free codes)
More Scifi:
Reshner's Royal Ranger (epic sci-fi) just made it there. (Amazon) (free codes)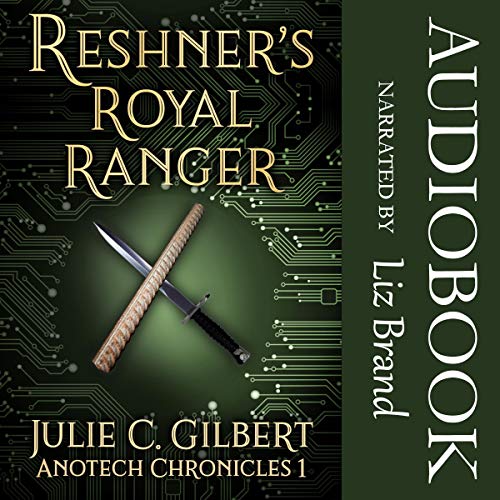 Guardian Angel Files:
Spirit's Bane – Allister and Mina are training to be Guardians. Satan's out to get them. (Amazon) (free codes)
Kindred Spirits – Mina's exiled to Earth. Allister's stuck in the Heavens. (Amazon) (free codes)