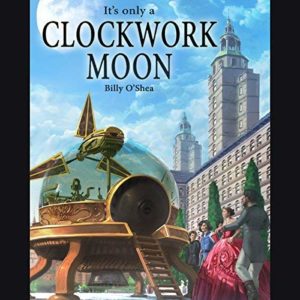 *Mild spoilers possible in the discussion*
Weird Twist on the Future Continues
Summary:
Karl Nielsen struggles to make ends meet fixing clocks in the countryside. So, when the king calls him back into service, he sort of has no choice but to take the job to deal with some debt that has accumulated over time. Meanwhile, there's a separate storyline with some monks on a dangerous mission.
Additional Comments:
This is a sequel to Kingdom of Clockwork, but it can be listened to on its own. Hearing the first will give you some background into Karl and his family though.
Characters 4/5: Christopher's a bit of a screwup when it comes to being a monk, but I'm guessing he's there as comic relief. Brother Joe has some cool inventions. Karl's a good character because he's not perfect. He's not a world class fighter. He's a clockmaker, an ordinary guy trying to make it in a world gone mad.
Plot 4/5: Following the two different storylines is a tad disorienting because half is told in first person and half is third. That's a find technique, but probably easier to take in when written down. I'm not entirely clear on the monks' top-secret mission. Karl's just trying to make it. The kingdom's in a bit of turmoil, the queen doesn't particularly like him, and the king's plans are a tad eccentric. The king demands Karl make several things, including a machine that can reach space and a giant clock.
Narration 4/5: The author/narrator knows his story best. He performs the singing parts with gusto.
World-building 4.5/5: Most of the heavy lifting for world-building was accomplished in book 1 of the series, but there is enough information for newcomers to jump in.
Conclusion:
Whether you have read/heard Kingdom of Clockwork or not, if you are a fan of steampunk, you should give the series a chance. It's one of those rare futuristic books that don't just turn everything high tech, it moves up backwards to something well out of the dark ages but still steeped in fantasy charm.
Associate links to follow…
This Book…

Amazon Prime
Audible – If you'd like some free codes, please email me at [email protected] with requests for any of my works.

OR