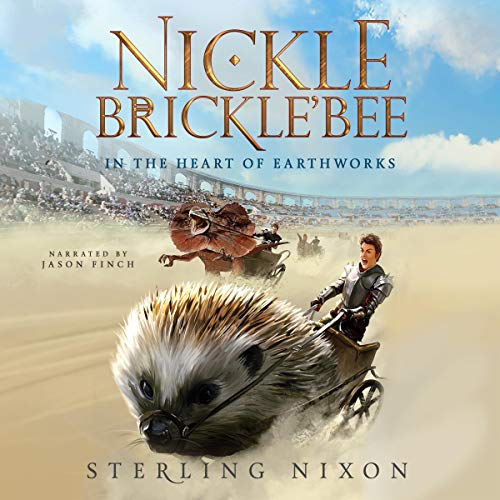 Narrated by Jason Finch
Run Time: 11 hrs and 19 mins
Summary:
A young dwarf finds himself in the middle of a power struggle.
Additional Comments:
Hits a lot of the classic fantasy tropes and hits them well.
4/5 Main character – Nickle's pretty much a Chosen One. There's even a prophecy about him in the prologue. He's also your typical, bumbling hero who comes through when it counts. He's obsessed with knowing more about his parents. He's respected because of his father. He doesn't really fit in where he was before he got swept off into the magical part of the world. He's not really good at most things, yet he picks up the right friends and can beat seasoned fighters in a pinch. The kid even inherits magic armor. His heritage gives him the ability to participate in animal pod races (essentially).
4/5 Performance – Voice variation was okay. I can't comment much on cadence since I was listening at 2.3 speed. There were a lot of minor characters who came and went.
3.5/5 side characters – Jason's kind of annoying. He's kind of a cross between the mentor figure and the sidekick. The elf chick sort of seemed an add-on as she had almost 0 role except to accompany the MC and the sidekick on a portion of the journey.
4/5 Most of the world-building works. It's a very neat world that weaves fantastic and the familiar. It's not completely seamless, but it's a valiant effort. The dynamics of the elves, dwarves, gnomes, and humans is interesting, though to be honest, the humans seemed like an afterthought. Some sections spent on building the world were essentially half-hour bunny trails (visiting the club, scouring the library, cleaning the camp, deciding to race random pigs, vampire chase, fight in the garden, trippy jaunt into the cursed city, etc).
If you enjoy modern classic fantasy, like Harry Potter, you may enjoy this.
3/5 Prologue – I'm not sure how that beginning part with Hector fit in. It felt completely disconnected from the rest.
4/5 End – A lot of things come together in the end. Even though many things are predictable, it's a satisfying conclusion with good balance between closure and enough room for more.
Conclusion:
This is a classic fantasy story suitable for middle grade readers. YA and adult fantasy fans may also enjoy it. Check out the sample and judge for yourself.
Audiobook Promotions …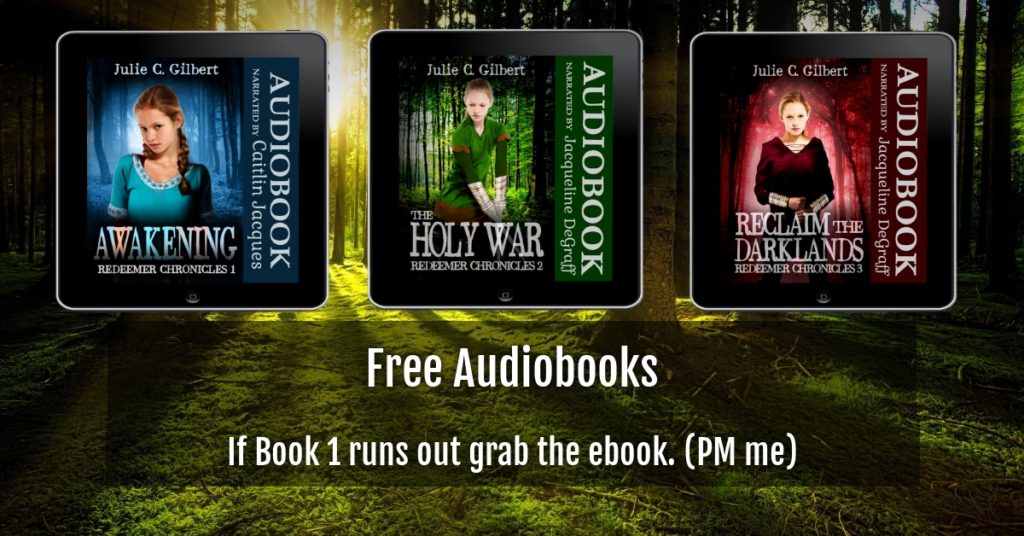 Many of my 42 audible titles are listed on Audiobooks Unleashed.
Whether you're looking for mystery or suspense or fantasy, I've got a title for you. Free codes are probably on audiobooks unleashed.
Normal links go to audible. *The Amazon labeled links are affiliate links. That means I get a very small payment from Amazon if you go through with a purchase.*
Note: Filter by US if you're looking for those codes as many titles are out.
Ones I think may still have US codes: Reshner's Royal Ranger, Never Again, Innova, The Golden City Captives, The Holy War, Reclaim the Darklands, Eagle Eyes, Treachery Makes it Tense, Ashlynn's Dreams Shorts, The Dark Side of Science, Ashlynn's Dreams, Nadia's Tears, Malia's Miracles, and Varick's Quest
There are plenty of UK codes, but not many US ones left.
Redeemer Chronicles (Fantasy)
Awakening – Redeemer Chronicles Book 1, MG fantasy (Amazon) (free codes)
The Holy War – Redeemer Chronicles Book 2, MG fantasy (Amazon) (free codes)
Reclaim the Darklands – Redeemer Chronicles Book 3, MG fantasy (Amazon) (free codes)
River's Edge Ransom – Prequel to Redeemer Chronicles (Amazon) (email devyaschildren @ gmail.com for free codes)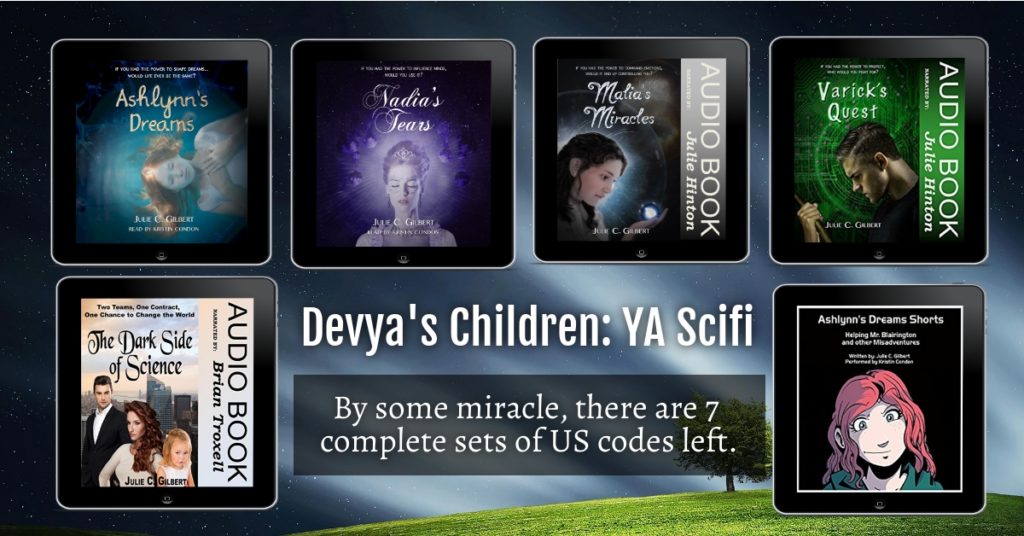 Devya's Children Series Links:
Ashlynn's Dreams Shorts – short stories featuring Jillian. (Amazon) (free codes)
The Dark Side of Science – official prequel to Devya's Children; Genetically altered kids fight for the right to live. (Amazon) (Please email devyaschildren @ gmail.com for free codes)
Ashlynn's Dreams – Genetically altered Dream Shaper learns her gift. (Amazon) (free codes)
Nadia's Tears – Jillian tries to awaken her sister, Nadia, from a coma. (Amazon) (free codes)
Malia's Miracles – Jillian and her siblings try to save a friend's mother. (Amazon) (free codes)
Varick's Quest – Jillian and Danielle get kidnapped. Nadia's also in trouble. (Amazon) (free codes)
More Scifi:
Reshner's Royal Ranger (epic sci-fi) just made it there. (Amazon) (free codes)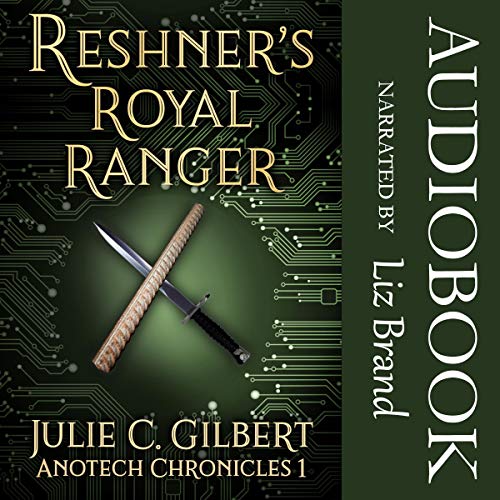 Guardian Angel Files:
Spirit's Bane – Allister and Mina are training to be Guardians. Satan's out to get them. (Amazon) (free codes)
Kindred Spirits – Mina's exiled to Earth. Allister's stuck in the Heavens. (Amazon) (free codes)