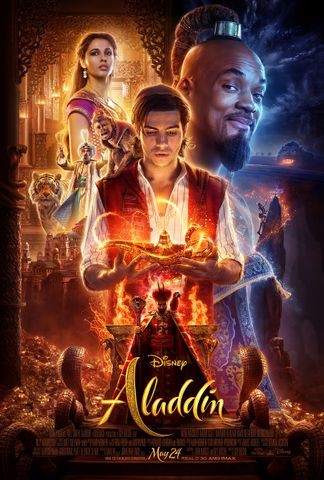 Summary:
A poor boy with a pure heart finds a magic lamp and wishes himself into a prince so he can see the Sultan's daughter, Princess Jasmine.
Additional Comments:
A valiant effort for rebooting a classic tale.
I still think the animated version is better, but they handled the beloved story with love.
Casting fit pretty well, though personally I think Naomi Scott had a stronger singing voice than Mena Massoud. They both did fine though. Will Smith put in an admirable performance as the genie. Nasim Pedrad gave life to a new character, Dalia, handmaiden to the princess. She was hilarious. Hands-down, my favorite new character. Alan Tudyk also did a nice job with Iago.
Comparison to the old version: I miss Gilbert Godfried's Iago and Robin Williams's genie. The new ones were fine but just not the same.
They definitely added some new songs and overall smacked the production with Bollywood style. They also kept some of the old classics and the basics of the storyline. I hadn't seen the animated one in forever, so I forgot how things played out.
Were the additions worth it? Not really. They're fine, but the movie doesn't come close to the wow factor I had as a kid. That could partly be because I'm not a kid anymore, but I'm left with a feeling of "yeah, it was good." Maybe the issues is my expectations were too high because the original left a very high bar to reach.
Conclusion:
Decent in its own right, but I'm still not convinced Disney needs to keep digging into its archives to find worthy stories to tell.
Associate links to follow…
Amazon Prime
The Collins Case – 2 FBI agents track down a kidnapped family. Kid friendly.
If fantasy's more your thing, go Redeemer Chronicles. The first, Awakening, is available as an audiobook.
Ashlynn's Dreams Shorts – a kid deals with her parents' divorce, bullies, and the wonder of discovery.
Try The Dark Side of Science – Genetically altered kids fight for the right to live.
Beyond Broken Pencils – Contemporary literary tale of a school shooting. Ian unleashes his inner demons on his classmates and teachers…
Scratched Off – FBI agent vs a serial killer. When Sam Kerman sets out to hunt a serial killer, he has no idea how personal the case will become.

OR