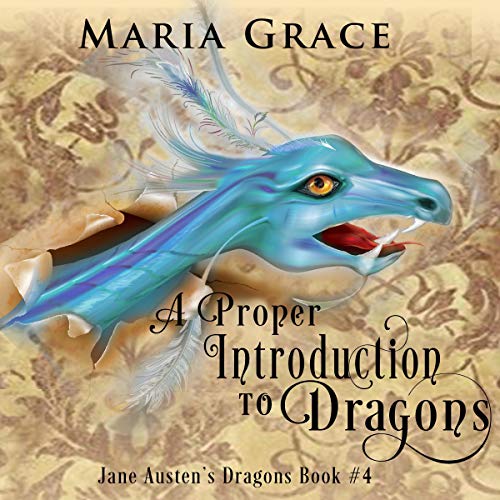 Jane Austen's Dragons Book 4
Narrated by Benjamin Fife
4/5 Stars Performance Notes:
Very well performed overall.
I still hate fairies with a passion. In every single book I've heard a fairy (or in this case fairy dragon) voiced, I've wanted to strangle the creature. It's always a squeaky and annoying as all heck voice. Some are gonna call it cute. I do not. This is a personal preference, not a reflection of the narrator's skill. He has pretty good range for both male and female characters.
There's a lovely variety of dragons in here, and thankfully, not too much of that annoying little twit of a fairy (April).
3/5 Stars Story Summary:
13-ish-year-old Elizabeth Bennet is the daughter of a Dragon Keeper. (I heard the audio, so I don't know if it's capitalized, but it sounds important enough to be capitalized.) She saves a clutch of fairy dragons from freezing to death and meets some cool dragons. That's about it.
Additional Comments:
3/5 Stars World-building: It's an awesome world. There are a lot of very cool ideas here. Maria Grace jumped hard on the bandwagon of Jane Austen spinoffs and manages to weave in a world of dragons and dragon lore within the early 19th century. I'm not sure if the series was meant to be read out of order, but there's a LOT of background. Several sections almost read like the author's notes on the topics. There are okay integrations, but I'd venture to say at least a third of the story is on the borderline of world-building infodumps.
2/5 Stars plot: Maybe I spend more time with action-filled books, but it seemed like nothing happened. Entire conversations revolved around fleshing out the world, which is cool to a point but slows things down by a LOT. In a story like this, where because of the Jane Austen style of writing it takes 30 words to say 3, that messes with pacing. (That worked in Pride, Prejudice, and Zombies because you had periods of slowness punctuated by pitched battles. Here, you don't have pitched battles to help you make up lost ground.)
I kind of don't understand the obsession with Jane Austen. I liked Pride and Prejudice well enough, but there are practically cults sprung up over her.
It took me a while to realize that Elizabeth's only 13-ish in this book. That might just be because of experiencing the books out of order.
Content Rating: Clean.
3/5 Stars Old Characters: Fairly true to Jane Austen's molds of the characters – Lizzie is sensible, Jane is beautiful, Mrs. Bennet nags Mr. Bennet, etc.
4/5 Stars New Characters: The dragons have unique personalities.
There's 0 action in here. I say that because most dragon containing stories have some sort of action. This might as well be a tea party to discuss dragons.
Conclusion:
If you're absolutely obsessed with Jane Austen, give the series a go. I honestly can't tell if this is going to tick you off because of the additions to sacred lore, or if you'll enjoy it immensely because it gives you a chance to experience old friends in a new light. If you're a dragon fan, you may like this take. Then again, you could be disappointed because the dragons are AWESOME and get to do nothing.
It's certainly a worthy series to check out on your own and decide.
Audiobook Promotions: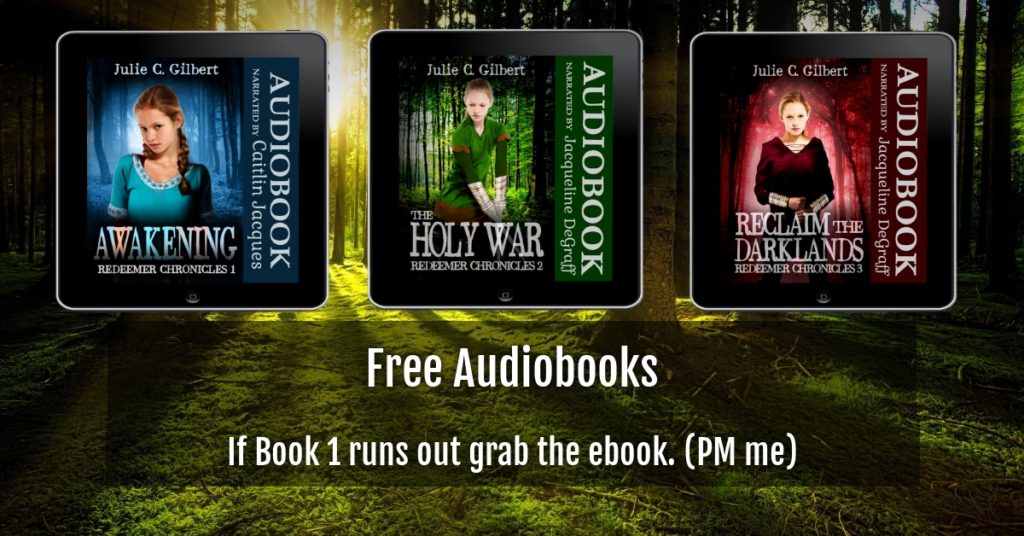 33 of my 36 audible titles are listed on Audiobooks Unleashed.
Whether you're looking for mystery or suspense or fantasy, I've got a title for you. Never Again (mystery, suspense) and Reshner's Royal Ranger (epic sci-fi) just made it there.
Note: Filter by US if you're looking for those codes as many titles are out.
Ones I think may still have US codes: Reshner's Royal Ranger, Never Again, Innova, The Golden City Captives, The Holy War, Reclaim the Darklands, Eagle Eyes, Treachery Makes it Tense, Ashlynn's Dreams Shorts, The Dark Side of Science, Ashlynn's Dreams, Nadia's Tears, Malia's Miracles, and Varick's Quest
Devya's Children Series Links:
Ashlynn's Dreams Shorts – short stories featuring Jillian.
The Dark Side of Science – official prequel to Devya's Children; Genetically altered kids fight for the right to live.
Ashlynn's Dreams – Genetically altered Dream Shaper learns her gift.
Nadia's Tears – Jillian tries to awaken her sister, Nadia, from a coma.
Malia's Miracles – Jillian and her siblings try to save a friend's mother.
Varick's Quest – Jillian and Danielle get kidnapped. Nadia's also in trouble.