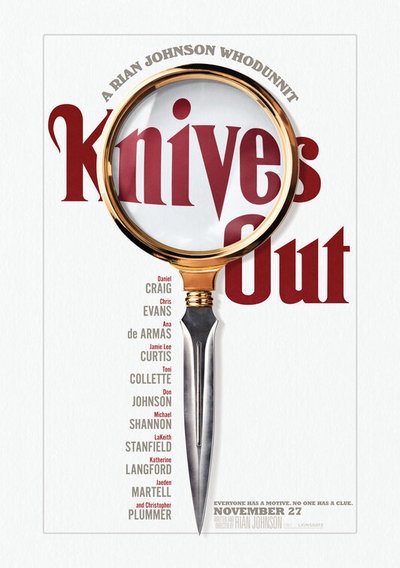 *will attempt to keep spoiler free until after ads
Starring:
Daniel Craig, Chris Evans, Ana de Adams, Jamie Lee Curtis, Michael Shannon, Christopher Plummer
Summary:
On the surface, a Clue-like whodunnit. Deeper a twisty tale of murder and family mayhem. Deeper still a tedious social commentary. Don't go too deep! And you will enjoy it.
Additional Comments:
Star-studded cast. Well acted.
Characters were delightfully 2-D. Marta's a saint. The family members to a man or woman are selfish, manipulative, back-stabbing jerks pretty much without one redeeming quality. Except Nana.
The music is weird but fitting. The beginning shots are going for the creepy, Hound of the Baskervilles, vibe. 
The detective was well acted but the lines he was given are long-winded and full of babbles. By design.
Would be more satisfying if 90% of the characters were even remotely likeable.
I appreciate the number of twists they went for, but knowing they sought to throw you made it predictable in most spots.
Conclusion:
An interesting movie to watch. Won't ever make it to my top 20, but it passes the entertain-me test.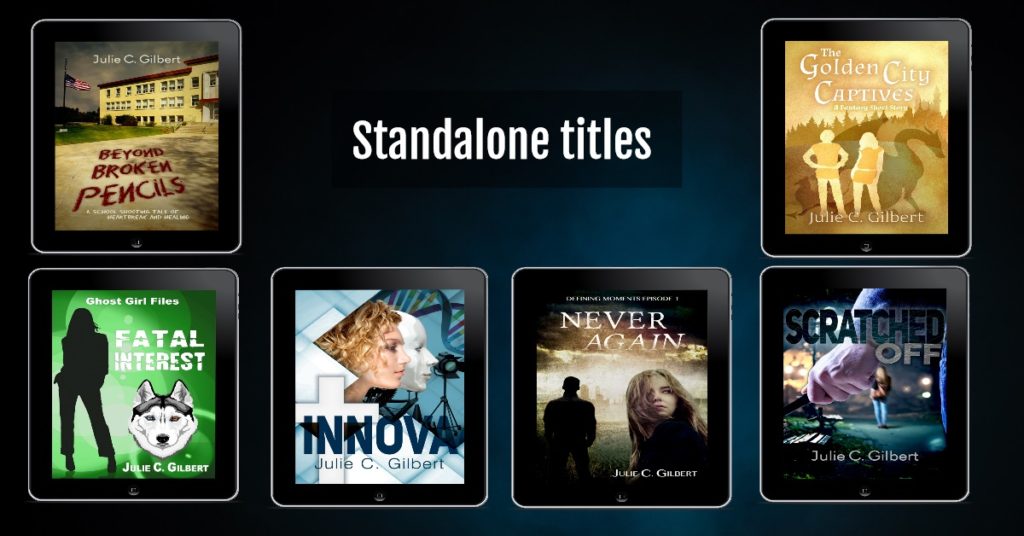 Associate links to follow…
Note: I'm starting to use a few ad sites for audiobooks, so codes are disappearing quickly.
Available Audiobooks: I have free codes for almost everything. That will change very soon.
New Release: The Shadow Council Series 1: Money Makes it Deadlier – An FBI agent gets caught up in a robbery gone wrong.
Shadow Council Book 2: Revenge Makes it Sweeter – A midnight summons calls FBI Special Agent Megan Luchek into a fight for a young girl's life.
Shadow Council Book 3: Christmas Makes it Chaos – The FBI agent gets a strange ally in the quest to prevent chaos from rocking a lot of people's holiday season.
Shadow Council Book 4: Treachery Makes it Tense – The agent and the assassin have to team up if they want to survive.
Shadow Council is also available as a ~13 hr bundle.
The Collins Case – 2 FBI agents track down a kidnapped family. Kid friendly.
If fantasy's more your thing, go Redeemer Chronicles. The first, Awakening, is available as an audiobook.
Ashlynn's Dreams Shorts – a kid deals with her parents' divorce, bullies, and the wonder of discovery.
Try The Dark Side of Science – Genetically altered kids fight for the right to live.
Beyond Broken Pencils – Contemporary literary tale of a school shooting. Ian unleashes his inner demons on his classmates and teachers…
Scratched Off – FBI agent vs a serial killer. When Sam Kerman sets out to hunt a serial killer, he has no idea how personal the case will become.
Spoilers:
Marta's inability to lie was fantastic.
I have a feeling there are a few families in the world that can relate.
The subtle bit about nobody in the family knowing where Marta is from was interesting. They said at least 3 different countries.
The little Tie-in's like the trick knife comment and the coffee mug were nice touches.
kind of wish Marta has at least some flaws so she could be more realistic.
The tricking Ransom into a confession thing was nice… predictable but nice.