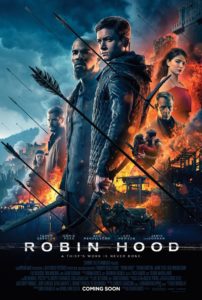 Summary:
A faithful if predictable retelling of the Robin Hood tale. It's got all the names you remember from ages past. This shows a bit more of the backstory between Robin and Little John (Jamie Foxx). This time Marian (Eve Hewson) is a commoner. Robin (Taron Egerton) is a noble. Friar Tuck (Tim Minchin) is part of the church but not very happy with what it has become in Nottingham.
Additional Comments:
– Over the years there have been countless retellings of the Robin Hood story. This particular one picks the darker road. It's not as fun as the old cartoon fox one (still my favorite). Or as irreverent and silly as Robin Hood Men in Tights. My favorite live action retelling is actually the BBC television series.
– the sheriff is played by the same guy who portrays Krennic (Ben Mendelsohn) in Rogue One. It's almost the same character, a powerful crazy, evil guy willing to go to great lengths to gain more power.
– Fight scenes satisfied for sheer action, but the drawn out horse cart chase throughout the mines was rather pointless.
– The end twist is quite a stretch and just about as blatant a shameless plug for a sequel as I have ever seen.
– I might end up seeing it again because one of my friends couldn't make it the first time, but it's not a must-see-multiple-times movie.
– I am glad to have seen it.
– Jaime Dornan's character (Will Scarlet – not sure I knew that in the movie) came  across as largely useless.
– Marian's side story didn't make much sense. It worked out in the end though. I am not sure how a woman in her position would even know to look for what she was searching the castle for.
– The training sequences filled space and made the transition between lord and outlaw more believable.
– Costuming seemed odd. The Sherriff's coat and Marian's leather jacket and red shirt both looked way too modern for the story.
Conclusion:
Worth seeing once or twice. Not sure a theater is necessary if you own a decent sized television.
Associate links to follow…
(If you click through and buy something, there's the chance I'll earn like $0.04 … not kidding, that's basically it.)
Amazon Prime
The Collins Case – 2 FBI agents track down a kidnapped family. Kid friendly.
If fantasy's more your thing, go Redeemer Chronicles. The first, Awakening, is available as an audiobook.
Ashlynn's Dreams Shorts – a kid deals with her parents' divorce, bullies, and the wonder of discovery.
Try The Dark Side of Science – Genetically altered kids fight for the right to live.

OR