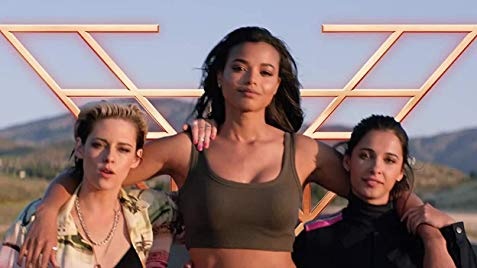 Directed by Elizabeth Banks.
Starring: Ella Balinska, Kristen Stewart, and Naomi Scott
Summary:
Standard girl-power sort of action flick. Premise is that the next high-tech gadget ready to light up the world has a flaw, meaning it could be turned into a weapon. Contrary to many action flicks, I don't think it's the blow-up-the-world type. It's more of a perfect-assassin's-tool.
Additional Comments:
– 95% of the soundtrack is pop-esque. I appreciated the fact that occasionally the music matched the country. It might have done so more often and I just didn't catch it. Haven't downloaded it yet, but I got a code from an AMC promo. I enjoyed most of the music.
– I liked that they attempted some interesting twists.
– Pretty sure it involved some cursing, but it didn't rely on hard language to carry a non-existent plot, which I appreciated.
– Aside: I did not remember Scott was also Princess Jasmine in the latest Disney money grab reboot of one of its classic animated movies.
– Plot 3.5/5: I'm pretty sure it's on par with most action movies. Lots of sleek tech, people trying to kill the heroines, fighting, etc. Strangely, all the globetrotting slowed the movie down.
– Characters 4/5: The trio of leading ladies works with the stereotypes. You have a tough girl (Jane Kano played by Ella Balinska), the maverick (Sabina Wilson played by Kristen Stewart), and the newbie (Elena Houghlin played by Naomi Scott). Incidentally, there is decent character development which I appreciate. Also, Kristen Stewart successfully rocks the short hair look as Sabina.
– A few scenes probably could have been safely cut, but it's still entertaining overall.
– The movie has a strong, over-the-top, feminist message that sort of backfires. It might have been a better show if it had a good balance of characters.
– Passes the Entertain-me test.
Conclusion:
Not bad for a reboot. It's a fun movie to see in theaters with the larger-than-life screens. Most action movies miss something when they're played back on a itty-bitty phone screen. A home theater system might suffice. Charlie's Angels is worth seeing once on a big screen and maybe once later on Netflix or TV.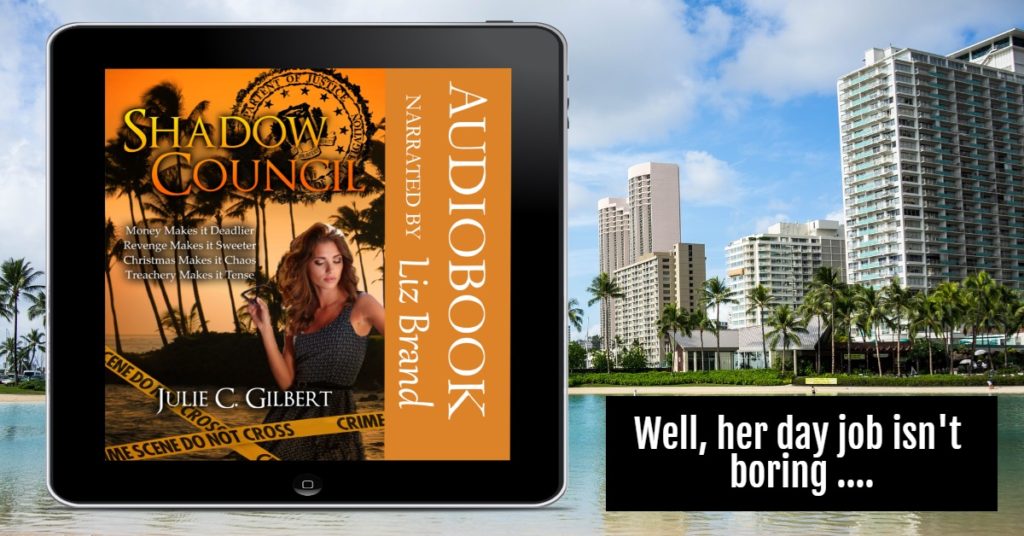 Associate links to follow…
Note: I'm starting to use a few ad sites for audiobooks, so codes are disappearing quickly.
Available Audiobooks: I have free codes for almost everything. That will change very soon.
New Release: The Shadow Council Series 1: Money Makes it Deadlier – An FBI agent gets caught up in a robbery gone wrong.
Shadow Council Book 2: Revenge Makes it Sweeter – A midnight summons calls FBI Special Agent Megan Luchek into a fight for a young girl's life.
Shadow Council Book 3: Christmas Makes it Chaos – The FBI agent gets a strange ally in the quest to prevent chaos from rocking a lot of people's holiday season.
Shadow Council Book 4: Treachery Makes it Tense – The agent and the assassin have to team up if they want to survive.
Shadow Council is also available as a ~13 hr bundle.
The Collins Case – 2 FBI agents track down a kidnapped family. Kid friendly.
If fantasy's more your thing, go Redeemer Chronicles. The first, Awakening, is available as an audiobook.
Ashlynn's Dreams Shorts – a kid deals with her parents' divorce, bullies, and the wonder of discovery.
Try The Dark Side of Science – Genetically altered kids fight for the right to live.
Beyond Broken Pencils – Contemporary literary tale of a school shooting. Ian unleashes his inner demons on his classmates and teachers…
Scratched Off – FBI agent vs a serial killer. When Sam Kerman sets out to hunt a serial killer, he has no idea how personal the case will become.