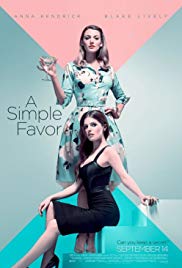 Summary:
On the surface, a simple case of a worried single mother trying to find her missing friend. Deeper, full of twist and turns and secrets that make the story quite a soap opera.
Aside: I liked Henry Golding better in Crazy Rich Asians. He's still good here, but his character is less likable.
This is a movie with a simple title and very complicated setup.
Additional Comments:
– The three main actors/actresses, Anna Kendrick (Stephanie), Blake Lively (Emily), and Henry Golding (Sean) all did stellar jobs through the ups and downs of this story.
– Odd genre compilation: It's super dark one minute and light and fluffy the next.
– Story 4/5: I did enjoy most of the twists in the story. I liked that it kept you guessing.
– End 3.5/5: The text that simulates true story documentaries was kind of a cliché touch. The text itself didn't take itself seriously, but I think there are like 40 seconds of black screen with text about the "where are they now" stuff.
– The two young actors who play Nicky and Miles are adorable…and handled their roles well. Still (soap box moment for me) I'm not a fan of any movie that has a 5/6 year old portrayed dropping f-bombs. That's just sad.
– Dark comedy: The movie contains quite a few moments of dark humor.
– Content Warnings: Definite for adults. This one dropped so many f-bombs within the first few minutes and sustained that pace throughout. There are some adult scenes, relatively tastefully presented both in flashback and current state of being.
Conclusion:
Not my usual fare, but interesting to watch once.
Associate links to follow…
(If you click through and buy something, there's the chance I'll earn like $0.04 … not kidding, that's basically it.)
Amazon Prime
If you're looking for slightly cleaner and a different kind of twisted, check out Scratched Off. An FBI agent squares off with a serial killer. New Release!