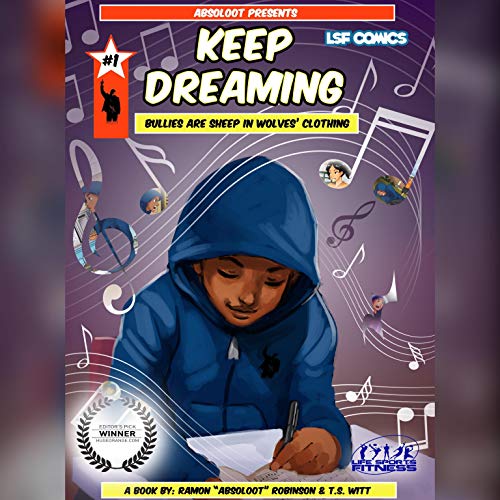 Narrated by Joseph A. Batzel
Run time: 22 minutes
*Spoiler possible in discussion
Summary:
Leron, a high school freshman, gets bullied at school. He's a talented composer who eventually takes the pain of being bullied and turns it into a beautiful song.
Additional Comments:
Pretty sure the book description tells the entire story, start to finish. It's a tad confusing because it mentions Leron's Song, which I'm guessing may be an alternate title??
22 minutes, with 3 something minutes being the song, means that the story itself is about 4K words. The cover and description give the impression that this was made from a comic book. Although I considered turning one of my comics into an audiobook, I elected to go with the full ebook instead of the comic adaptation since that medium relies heavily upon the illustrations.
The story itself is fairly standard kid-being-bullied tale. However, the cover kind of made me think middle school not high school. Also, bullying certainly happens, but with the climate of today, I don't buy that nothing happened to the bullies. They would have at least been suspended. Many high schools have cameras.
Also, I guess it could happen, but it'd be a rarity for a civics class to have both freshman and "older" kids, at least all 3 of the bullies. One, sure. Kids transfer in and then have to make up a class. Social studies classes in general typically go by grade level though. It'd be more believable if it were a science class since those are offered in different order depending on the district. So, a physics class with mostly freshmen at one place could conceivably have a junior or senior taking it.
Narration's decently done. The story itself didn't demand much in the way of character variety due to the brevity of the story.
The song at the end is a nice touch. But if the MC is meant to be the one singing, the "voice" definitely doesn't fit. It's a beautiful song, but I'm not sure a high school freshman would have a singing/rapping voice that's that deep. Senior, maybe.
Not sure I entirely agree with the take home message. The MC internalizes the pain of being bullied and uses it as a catalyst to make his music sing out his problems all the louder. While that's beautiful and can easily be pegged as realistic, I was hoping for a bit more of a here's-how-you-get-help-if-you're-in-that-situation message.
Conclusion:
A nice short story meant to be inspirational.
Audiobook Promotions …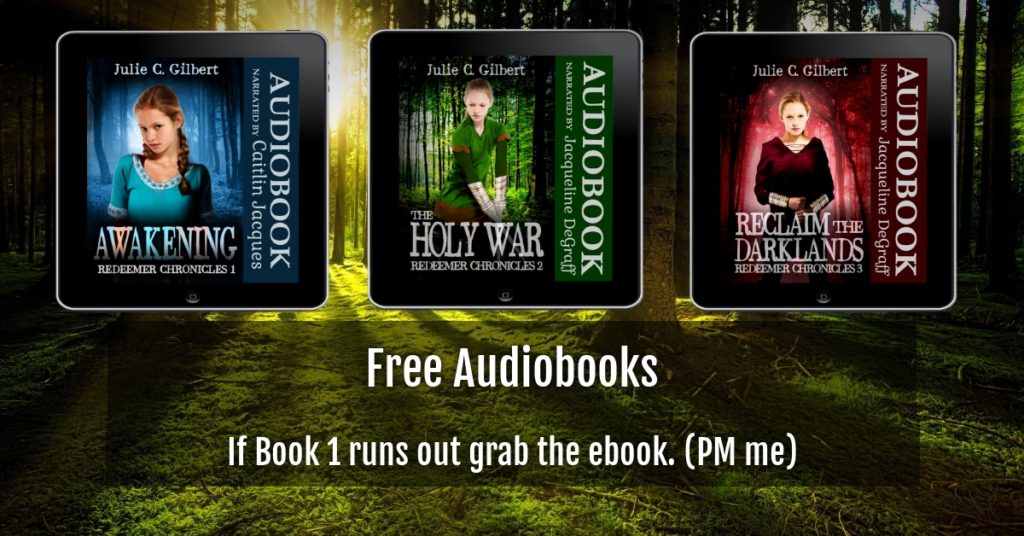 Many of my 44 audible titles are listed on Audiobooks Unleashed.
Whether you're looking for mystery or suspense or fantasy, I've got a title for you. Free codes are probably on audiobooks unleashed.
Normal links go to audible. *The Amazon labeled links are affiliate links. That means I get a very small payment from Amazon if you go through with a purchase.*
Note: Filter by US if you're looking for those codes as many titles are out.
Ones I think may still have US codes: Reshner's Royal Ranger, Never Again, Innova, The Golden City Captives, The Holy War, Reclaim the Darklands, Eagle Eyes, Treachery Makes it Tense, Ashlynn's Dreams Shorts, The Dark Side of Science, Ashlynn's Dreams, Nadia's Tears, Malia's Miracles, and Varick's Quest
There are plenty of UK codes, but not many US ones left.
Redeemer Chronicles (Fantasy)
Awakening – Redeemer Chronicles Book 1, MG fantasy (Amazon) (free codes)
The Holy War – Redeemer Chronicles Book 2, MG fantasy (Amazon) (free codes)
Reclaim the Darklands – Redeemer Chronicles Book 3, MG fantasy (Amazon) (free codes)
River's Edge Ransom – Prequel to Redeemer Chronicles (Amazon) (email devyaschildren @ gmail.com for free codes)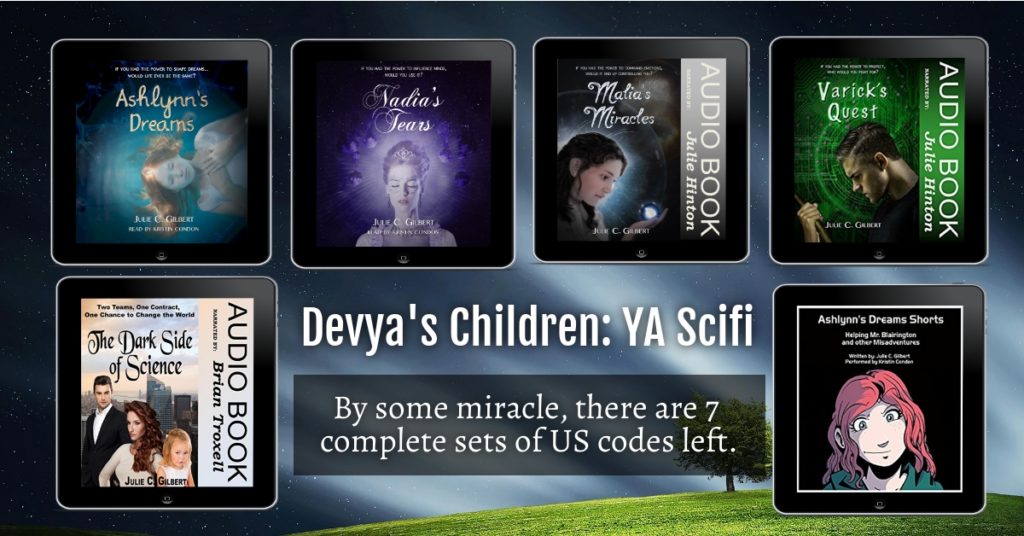 Devya's Children Series Links:
Ashlynn's Dreams Shorts – short stories featuring Jillian. (Amazon) (free codes)
The Dark Side of Science – official prequel to Devya's Children; Genetically altered kids fight for the right to live. (Amazon) (Please email devyaschildren @ gmail.com for free codes)
Ashlynn's Dreams – Genetically altered Dream Shaper learns her gift. (Amazon) (free codes)
Nadia's Tears – Jillian tries to awaken her sister, Nadia, from a coma. (Amazon) (free codes)
Malia's Miracles – Jillian and her siblings try to save a friend's mother. (Amazon) (free codes)
Varick's Quest – Jillian and Danielle get kidnapped. Nadia's also in trouble. (Amazon) (free codes)
More Scifi:
Reshner's Royal Ranger (epic sci-fi) just made it there. (Amazon) (free codes)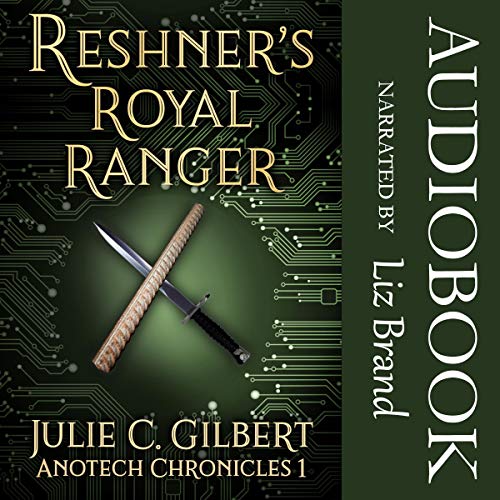 Guardian Angel Files:
Spirit's Bane – Allister and Mina are training to be Guardians. Satan's out to get them. (Amazon) (free codes)
Kindred Spirits – Mina's exiled to Earth. Allister's stuck in the Heavens. (Amazon) (free codes)