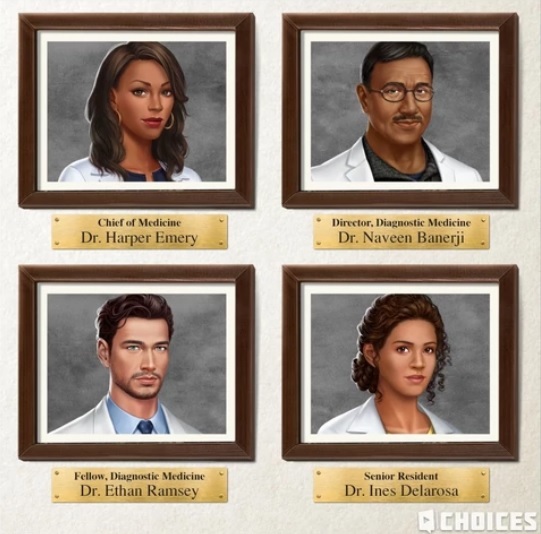 Genre: Medical Mystery
Summary:
You're a hotshot intern at a hospital. Fresh out of med school, flat broke, but idealistic and determined to change the world.
Additional Comments:
I named my character Rachel Collins after one of the side characters in Heartfelt Cases. I kinda like naming the people in these stories after characters who fit that mode. The limited hair and faces even let me get sorta close to how I'd envisioned the characters, so score.
I didn't spend as many diamonds as I did in that silly horror story (It Lives Beneath), but I enjoyed the story a lot more than I thought I would. Sometimes, I start these things and then let it languish for a while. This was not the case. I think it took me 3 days to finish the book.
Side Characters: Jackie (roomie, possible love interest; girl's got a competitive streak), Landry, Elijah Green (I didn't realize he was in a wheelchair for like 15 chs), Sienna (sweetie; okay, so I had to spend diamonds to get the girl to kick her idiot boyfriend to the curb, but it was well worth it.) Bryce (possible LI, hotshot surgeon; scalpel jockey; arrogant but lovable), Rafael (EMT), Auora Emery; Ethan Ramsey (everybody's idol basically), Naveen, Dr. Harper Emery, Ines and Zaid (the senior residents; ones a sweetheart, the other is kinda crusty). Yikes, there were a lot of characters in this one.
While I did buy a lot of diamonds to unlock some scenes, I did not spring for keys, so it's a waiting game. (Free key every 2 hrs.) Fortunately, that guarantees you have a life outside of these stories.
Anyway, the twists and turns to this one didn't matter so much, but the story's still compelling. I love where they took the character development.
The music fit the story but it wasn't as compelling as some of their other themes.
Conclusion:
This little medical drama was short and sweet. I am looking forward to book 2. Highly recommended.
Side note on spending diamonds:
Most of the time, the diamond outfits are a waste. If you want the abbreviated version of the story, don't use any diamonds. Some games are designed to make you drop a LOT of diamonds (and therefore spend a lot of money) on them. This one is fairly low in that regard. If you really need to see all the side scenes, there's probably a youtube video of them. It's a trade off for the company. I'm sure a lot of people are like me and watch videos instead of spending diamonds on some scenes. Then again, I'd have probably quit and therefore not spent any money on diamonds for other games, if I didn't have that opportunity.
Associate links to follow…
Amazon Prime
The Collins Case – 2 FBI agents track down a kidnapped family. Kid friendly.
If fantasy's more your thing, go Redeemer Chronicles. The first, Awakening, is available as an audiobook.
Ashlynn's Dreams Shorts – a kid deals with her parents' divorce, bullies, and the wonder of discovery.
Try The Dark Side of Science – Genetically altered kids fight for the right to live.
Beyond Broken Pencils – Contemporary literary tale of a school shooting. Ian unleashes his inner demons on his classmates and teachers…
Scratched Off – FBI agent vs a serial killer. When Sam Kerman sets out to hunt a serial killer, he has no idea how personal the case will become.

OR