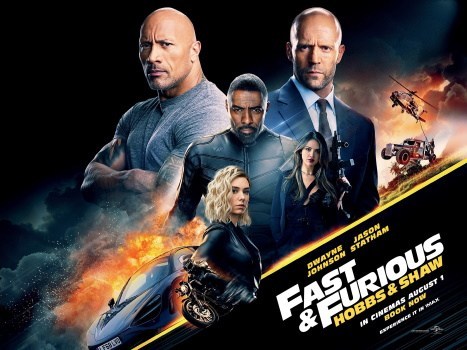 *very mild spoilers
Summary:
Action packed with liberal doses of crude comedy laced throughout, this movie is pretty much everything it set out to be. It's typical big-budget action movie fare. You get lots of big explosions, several awesome chase scenes, a standard save-the-world plot, and some lovely characters. None of that should be spoilers if you've ever watched an action movie.
Additional Comments:
The work on the side characters was mostly awesome. I absolutely loved Helen Mirren as Shaw's mother. Vanessa Kirby and Idris Elba pulled off their roles as Shaw's sister and the bad guy, respectively. Brixton's self-claim of being Black Superman cracked me up.
Side note: They kind of stunk at letting you know the character's names. I didn't know Hattie until I looked it up on Bing today. The one time I think I heard it in the film, I thought it was Annie.
During the first few minutes they showed the audience side-by-side pieces of Hobbs and Shaw on their home turf doing normal morning activities. That part was awesome. Hobbs drank like a dozen raw eggs. Shaw made a spectacular omelet. Stuff like that. It was quick, but perfectly suited for showing the differences in their personalities.
The banter back and forth between them didn't always land, but it landed enough times to work.
Conclusion:
Closest we've come to a summer blockbuster worth watching. Might even be worth seeing twice.
Associate links to follow…
Available Audiobooks: I have free codes for almost everything.
The Collins Case – 2 FBI agents track down a kidnapped family. Kid friendly.
If fantasy's more your thing, go Redeemer Chronicles. The first, Awakening, is available as an audiobook.
Ashlynn's Dreams Shorts – a kid deals with her parents' divorce, bullies, and the wonder of discovery.
Try The Dark Side of Science – Genetically altered kids fight for the right to live.
Beyond Broken Pencils – Contemporary literary tale of a school shooting. Ian unleashes his inner demons on his classmates and teachers…
Scratched Off – FBI agent vs a serial killer. When Sam Kerman sets out to hunt a serial killer, he has no idea how personal the case will become.
Nonfiction:
5 Steps to Surviving Chemistry – A primer for chemistry students. Breaks down concepts into simple terms.
5 Steps to Better Blurbs – A book for writers looking to improve their book descriptions