Starring: Tom Hardy, Woody Harrelson, Naomie Harris, and Michelle Williams
Summary:
Venom is an alien living inside Eddie Brock, a down on his luck in life journalist. The symbiotes have a spat and go their separate ways for a time, which almost turns out disastrously. A serial killer gets a hold of part of the alien creature, developing his own mayhem inducing ability. Carnage ensues.
Additional Comments:
This is a sequel, but you can probably watch it without having seen the first. You'll likely enjoy it more if you have seen Venom though.
It's definitely got some slow points, but the setup is worth it.
I enjoyed the drama side where Venom and Eddie were having an emotional crisis.
It's open to a third movie, but there is enough closure that you feel you have an entire story.
As typical of these kinds of superhero/supervillain movies, there's massive CGI destruction of property and even a thrilling chase sequence.
The part with Frances Barrister being locked away sort of didn't make sense to me, but that could be because I haven't experienced the comics.
Conclusion:
Worth seeing on a big screen.
If you want to get 5 clean audio promos a month. Sign up here.
Audiobook Promotions …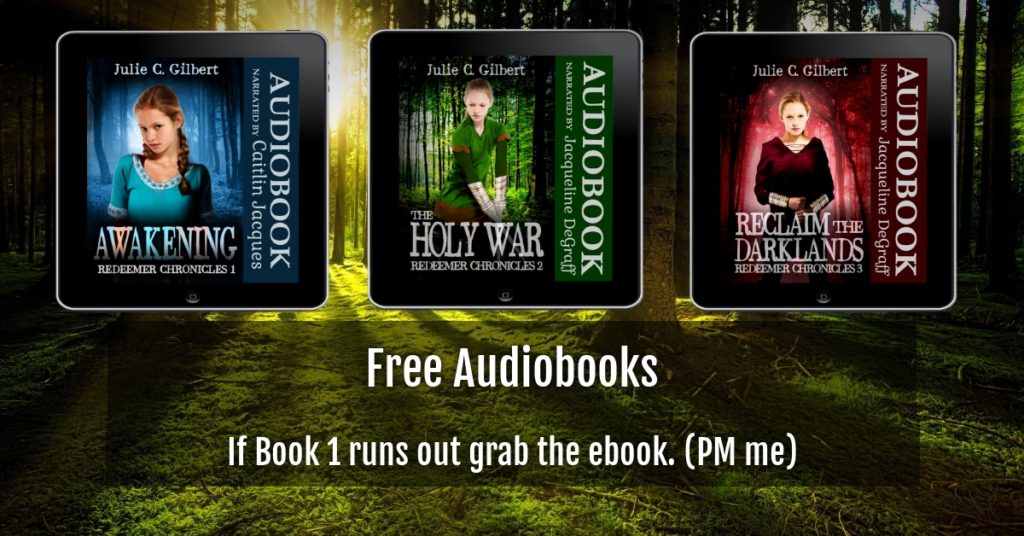 Many of my 50 audible titles are listed on Audiobooks Unleashed.
Whether you're looking for mystery or suspense or fantasy, I've got a title for you. Free codes are probably on audiobooks unleashed.
Normal links go to audible. *The Amazon labeled links are affiliate links. That means I get a very small payment from Amazon if you go through with a purchase.*
Note: Filter by US if you're looking for those codes as many titles are out.
Ones I think may still have US codes: Reshner's Royal Ranger, Never Again, Innova, The Golden City Captives, The Holy War, Reclaim the Darklands, Eagle Eyes, Treachery Makes it Tense, Ashlynn's Dreams Shorts, The Dark Side of Science, Ashlynn's Dreams, Nadia's Tears, Malia's Miracles, and Varick's Quest
There are plenty of UK codes, but not many US ones left.
Redeemer Chronicles (Fantasy)
Awakening – Redeemer Chronicles Book 1, MG fantasy (Amazon) (free codes)
The Holy War – Redeemer Chronicles Book 2, MG fantasy (Amazon) (free codes)
Reclaim the Darklands – Redeemer Chronicles Book 3, MG fantasy (Amazon) (free codes)
River's Edge Ransom – Prequel to Redeemer Chronicles (Amazon) (email devyaschildren @ gmail.com for free codes)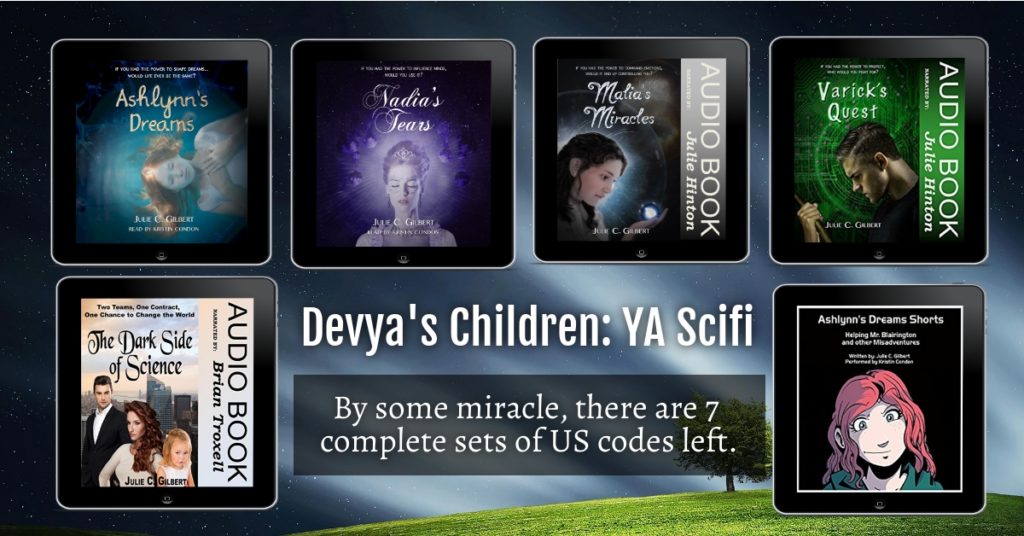 Devya's Children Series Links:
Ashlynn's Dreams Shorts – short stories featuring Jillian. (Amazon) (free codes)
The Dark Side of Science – official prequel to Devya's Children; Genetically altered kids fight for the right to live. (Amazon) (Please email devyaschildren @ gmail.com for free codes)
Ashlynn's Dreams – Genetically altered Dream Shaper learns her gift. (Amazon) (free codes)
Nadia's Tears – Jillian tries to awaken her sister, Nadia, from a coma. (Amazon) (free codes)
Malia's Miracles – Jillian and her siblings try to save a friend's mother. (Amazon) (free codes)
Varick's Quest – Jillian and Danielle get kidnapped. Nadia's also in trouble. (Amazon) (free codes)
More Scifi:
Reshner's Royal Ranger (epic sci-fi) just made it there. (Amazon) (free codes)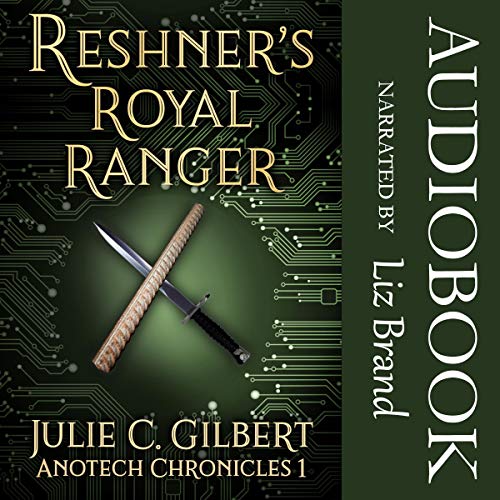 Guardian Angel Files:
Spirit's Bane – Allister and Mina are training to be Guardians. Satan's out to get them. (Amazon) (free codes)
Kindred Spirits – Mina's exiled to Earth. Allister's stuck in the Heavens. (Amazon) (free codes)