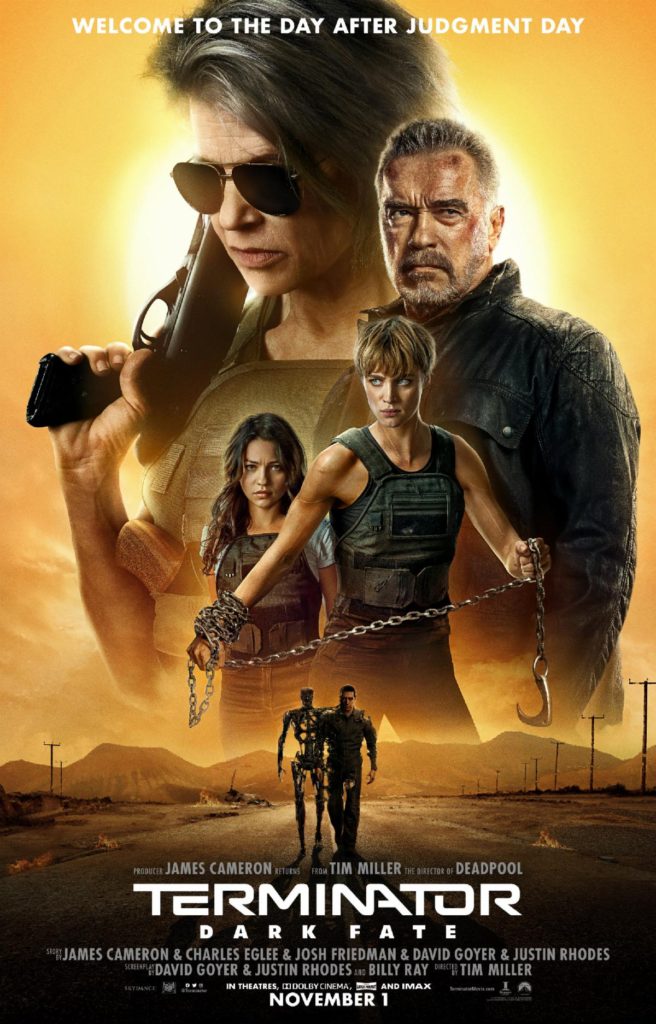 *I'll attempt to keep Spoiler Free until after ads
Starring:
Linda Hamilton, Arnold Schwarzenegger, Mackenzie Davis, Gabriel Luna, Natalia Reyes
Summary:
Grace (Mackenzie Davis) and a fancy model of a Terminator (Gabriel Luna) both get sent back in time. Grace is an augmented super soldier sent from a grim future. Her orders are to protect Dani Ramos at all costs. The Terminator played by Luna has orders to kill Dani.
Disclaimer:
I have not seen any of the other Terminator movies, so I can't compare to how it lines up with them. I'm making my observations as if it were any other movie.
Additional Comments:
They used flashbacks to good effect. I enjoyed the fact that they would show you a scene and it would give you one perspective but later they show you a little more of that scene so that you gain more info (big reveals). They're predictable reveals but still satisfying.
Even for an action movie there's a lot of fight scenes. The nearly non-stop nature of the action makes the slow parts a tad more painful though.
Character development might be nearly nonexistent but it doesn't necessarily have to be there. (Dani might be the exception.) Everybody else is set in their ways: good, bad, tough, etc.
Humor is few and far between but awesome when it lands.
Story 4/5: Predictable but still entertaining.
Random observation: Either Linda Hamilton and Natalia Reyes are super small or Mackenzie Davis is really tall.
Recommended: Watch on a big screen. The action will be more satisfying that way.
I'm wondering how many cars were destroyed CGI style and how many were KO'd for real. The budget must have been out the roof if any of that was real.
Would I see it again? Maybe. Not exactly a deep thinker of a movie, but it ticks off the entertaining button.
Conclusion:
The movie passes my bar: "entertain me while I'm watching you". It's worth seeing on a big screen because it relies heavily on the action movie money makers – car chases and fight scenes.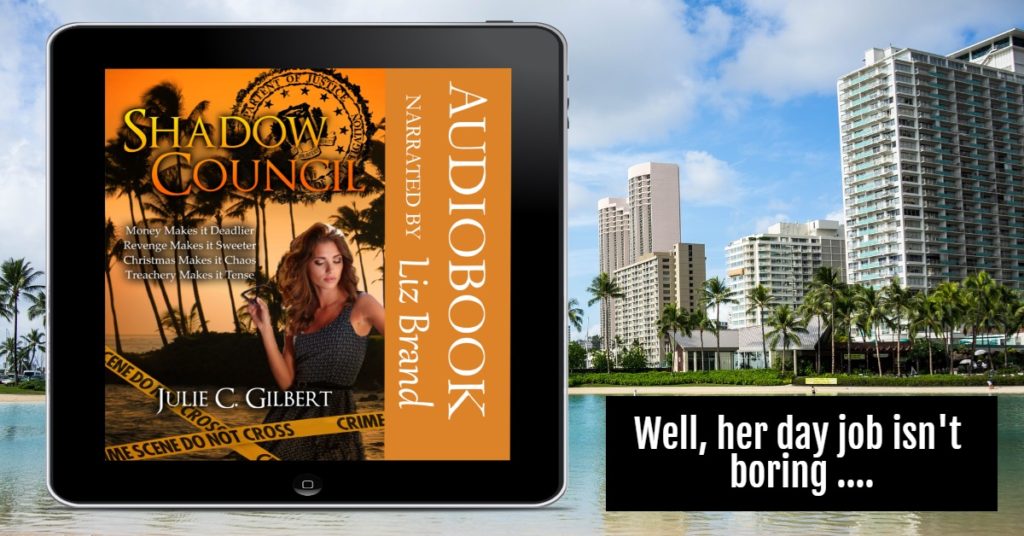 Associate links to follow…
Available Audiobooks: I have free codes for almost everything.
New Release: The Shadow Council Series 1: Money Makes it Deadlier – An FBI agent gets caught up in a robbery gone wrong.
Shadow Council Book 2: Revenge Makes it Sweeter – A midnight summons calls FBI Special Agent Megan Luchek into a fight for a young girl's life.
Shadow Council Book 3: Christmas Makes it Chaos – The FBI agent gets a strange ally in the quest to prevent chaos from rocking a lot of people's holiday season.
Shadow Council Book 4: Treachery Makes it Tense – The agent and the assassin have to team up if they want to survive.
Shadow Council is also available as a ~13 hr bundle.
The Collins Case – 2 FBI agents track down a kidnapped family. Kid friendly.
If fantasy's more your thing, go Redeemer Chronicles. The first, Awakening, is available as an audiobook.
Ashlynn's Dreams Shorts – a kid deals with her parents' divorce, bullies, and the wonder of discovery.
Try The Dark Side of Science – Genetically altered kids fight for the right to live.
Beyond Broken Pencils – Contemporary literary tale of a school shooting. Ian unleashes his inner demons on his classmates and teachers…
Scratched Off – FBI agent vs a serial killer. When Sam Kerman sets out to hunt a serial killer, he has no idea how personal the case will become.
Spoiler Section:
I have a problem with stories that involve time-travel in general, but the story won't work without that aspect. It's still satisfying that Grace is able to save the woman who saved her. There's a nice cycle to the end moment with Sarah and Dani watching young Grace from afar. Hard to remember sometimes that the timetravel bit was only supposed to be 22 years.
Dani's pain over losing her family isn't really felt. That might be because she's consumed by surviving, but one can pretty easily forget that her brother died with her and her father died earlier that morning. She is probably the character who undergoes the most development start to finish.
I was surprised by how much the trailer focused on the first section of the movie. It's always intriguing to see how trailers line up with the finished product.
Funny Moments:

Sarah: "Doesn't she realize you weigh 400 lbs?"

Terminator (Schwarzenegger): "And I'm extremely funny." (deadpan delivery)

Grace: "If you're Mother Mary, why do I still want to beat the **** out of you?"