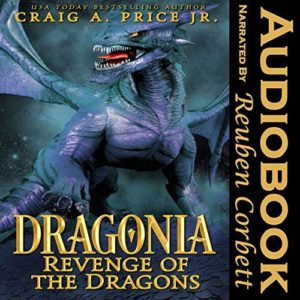 Summary:
This story picks right up from where the first in the series left off. (And it ends much the same way, with a wrap-up of this part but leaving things wide open for a sequel.) The Resistance has won their first major battle against the evil empire. No, this isn't Star Wars. It's slightly more traditional fantasy, less space-y.
Additional Comments:
– Having heard the first one, it was nice to get to know the sister a little better.
– It's been a while. I think it might have been more enjoyable if I remembered who was who going into the story.
– World-building 4/5: Intriguing extension on the first story where the wyvern and dragon blood and oil makes a big difference in the battles.
– The story has quite a few interesting characters, but I feel like we don't really get to know some of them.
– Battles 4/5: Well-described, suitably desperate.
– Plot 4/5: Good guys have been betrayed and need to survive the onslaught of the evil empire.
– Ending 3.5/5 The ending felt good until the final twist which basically just opened it back up to a big, fat To Be Continued sign. I'm just not a fan of the tactic. It's not quite as bad as a true cliffhanger, but the sentiment is there.
– Narration 4.5/5: I like Reuben Corbett's voice. Pretty sure he did the first book in the series too, so there's consistency between the works, which is nice.
Conclusion:
If you like dragons and epic adventure sort of fantasy, this is a great series to consider trying.
Associate links to follow…
(If you click through and buy something, there's the chance I'll earn like $0.04 … not kidding, that's basically it.)
Amazon Prime
The Collins Case – 2 FBI agents track down a kidnapped family. Kid friendly.
If fantasy's more your thing, go Redeemer Chronicles. The first, Awakening, is available as an audiobook.
Ashlynn's Dreams Shorts – a kid deals with her parents' divorce, bullies, and the wonder of discovery.
Try The Dark Side of Science – Genetically altered kids fight for the right to live.

OR