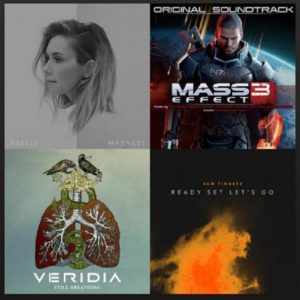 Introduction:
The tradition started last year. One of my friends got me into making Spotify lists, so it seemed natural to create a list for my current students. As we approach the end of the first quarter, I feel like I know them well enough to at least attempt putting the list together. It won't be done until June 2019, but this is what's currently here. The post is going to focus on the first 1/3 or ½, depending on how much I gotta say. I'm probably going to be adding random commentary as I go. The lyrics pasted in are my favorites. Sometimes, I include them because they just sound cool and sometimes, they have deep meaning.
(Links should go to Youtube. I will try to embed a few as well.)
Opening Songs …
Game of Survival by Ruelle (album = Madness)
Sometimes I pick songs for the lyrics, and other times, I go for the whole feel or even just the title. This song has a little bit of everything. Life in general is a game of survival. You've got to learn to balance work and play. Being a teenager's not easy, and I definitely don't envy those who have to grow up now.
Ready Set Let's Go by Sam Tinnesz (from Ready Set Let's Go)
I love this upbeat song. It could totally be used for a cheerleading squad's routine.
"We're death defyin'
Coming in like lightnin'
Look out, we're strikin'
Ready set, ready set, let's go"
Stand Strong, Stand Together by Christopher Lennertz (from Mass Effect 3)
A beautiful and sweeping score that conveys the idea of solidarity. Some people might discount or dislike video game music, but in the past few decades, some of the most moving themes have been featured on games. You don't have to play the games to appreciate the emotions being conveyed. I forget where exactly this song pops up in ME3. I think it's near the very end before you head into the final confrontation. Video games are rather violent in many cases. Ones like this usually reach a do or die moment where winning is the only option.
Still Breathing by Veridia (Still Breathing)
Some events in life hit harder than others. If you're still breathing, you can make it through to a better moment in time. Life's full of darkness and light, but you are never truly alone in any of your struggles. I hope you remember that.
"Every moment every day is a gift you gave
And I can't believe I'm still breathing."
"Let the monsters come
Not gonna be afraid
Cause I know that I'm not alone
I've got giants on my side."
Unstoppable by The Score
The basic message of the song is great: always strive for the very best. As mentioned previously, there are things in life that hit you very hard, but in the end, you're unstoppable (if you don't give up.)
"Keep your silver, give me that gold
You'll remember when I say
We can be heroes everywhere we go
Keeping us down is impossible
Cause we're unstoppable"
First Class by Henry Jackman (X-Men: First Class)
Another score that conveys ideas of solidarity and drawing together to face hardship. My class is NOT hardship, but there are times where I expect you to work together to overcome the challenges you're faced with.
Elements by Lindsey Stirling
This woman has one of the most unique sound qualities I've ever heard. Besides, how could I turn down the opportunity to insert a song with such a fitting title for us in chemistry? It's also lovely, if a tad on the long side. It would make a great soundtrack to viewing something at the microscopic/atomic level. The geometric shapes you'd see if you got down that small would be amazing. There's order to matter, but chemical reactions and matter interactions have a chaotic quality to them.
Never Give Up by Sia (from "Lion" Soundtrack)
Probably not most of our stories, but the sentiments in the song ring true. I really don't expect bad things to happen right now, but that's just the nature of some of life's nasty surprises. Never give up is a pretty straightforward message. You can overcome anything. I also like that this song is all about finding one's way home. Family can be a huge support and comfort in all times.
"I'll keep gettin' up when I hit the ground
Oh, never give up, no, never give up no, no, oh"
Never Going Back by The Score
"I've already hit the low, oh, oh, oh, oh
I've already felt the cold, oh, oh, oh, oh
So I'm never giving up, never gonna crack
Never giving in, never going back"
Taking a Stand by Henry Jackman (given the cover, I'm gonna guess it's from Captain America: The Winter Soldier)
Score time. Never give up on your friends. Certainly, don't let them lead you down a dark path, but stand by them when you can. Cap doesn't give up on Bucky.
Can't Stop Me Now by Oh the Larceny
This song is so clear with its message it actually comes across as arrogant. Not sure I agree with quite everything here, but the sentiment of never stopping is still applicable.
"Ain't afraid to bare my soul, ain't afraid to walk on coals
Hear the thunder when I step, you know where to place your bet"
Take Flight by Lindsey Stirling
Parts of this song soar high while others dip. There's a lot of movement here. Like Elements, this music feels like a great representation of what we do. Chemistry is about studying matter and its interactions. There's a great deal of mystery and excitement. Ha, I can tell I haven't convinced you all of that quite yet, but maybe one day.
Conclusion to Part I:
That's as good a stopping point as any. Lindsey's a gem. Lots more to come. To get the full effect, hear the whole list start to finish. The placement of each song was something I messed with for quite some time.
Associate links to follow…
(If you click through and buy something, there's the chance I'll earn like $0.04 … not kidding, that's basically it.)
Amazon Prime
The Collins Case – 2 FBI agents track down a kidnapped family. Kid friendly.
If fantasy's more your thing, go Redeemer Chronicles. The first, Awakening, is available as an audiobook.
Ashlynn's Dreams Shorts – a kid deals with her parents' divorce, bullies, and the wonder of discovery.
Try The Dark Side of Science – Genetically altered kids fight for the right to live.

OR