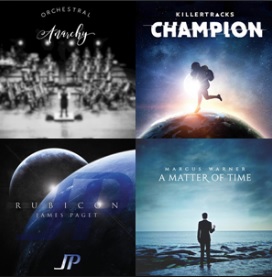 Introduction:
This is the third year for picking songs for my incoming Chemistry class. The list changes over the year, but I like to take a moment to explain the initial choices. This year, I did something different with the order, I put all the instrumental songs first and then put songs with lyrics. The order may not be set in stone. There might be some repeats from past student lists.
Older Student Lists:
Instrumental Selections:
Prepare for Mayhem by Rosa Phelpson
Started off my personal list of songs for 2019 with this one too. It's a lively, fun tune that's delightfully predictable. The notes have a nice flow up and down. Hope this school year starts off well for you.
Back in Action by Alexander Hitchens, Mark Petrie
There's a nice steady beat in the background of this song. It's a good prep sort of theme. Hopefully, you get the message, you can overcome and conquer anything your classes throw at you.
Together as One by James Paget
For some reason, this song speaks to me about endurance or time travel. I'm gonna go with endurance though as the reason for inclusion in this list.
A Matter of Time by Marcus Warner
Very slow start to this one. I think that's kind of the point. To make you wait and wonder about what's to come.
Gambling with Fate by Tommee Profitt
Yet another song that starts you off with slow, steady sort of beats. I love the part where it begins to pick up the pace.
Cartwheel by Kevin Penkin
I picked it 'cause it's pretty. Sometimes, you just need some pretty in your life.
Throw Off the Bowlines by James Paget
One of my current favorites. It starts out with light, airy notes before picking up the pace a bit.
Bravestone by Two Steps from Hell
More music to work by. This one starts soft, then turns to epic sort of get-your-behind-in gear kind of feel to the music.
Soul Searcher by Tom Player
Quiet, contemplative, thoughtful.
Magic of Love by Thomas Bergersen, Two Steps from Hell
Lovely, epic, sweeping music. Very calming.
Winterstorm by IMA score
Another broad spectrum, relaxing type song.
Believe by James Paget
A very pretty song.
Here to Win by Alexander Hitchens, Mark Petrie
Would make great running music.
Two Souls by Peter Crowley
A surprisingly light-hearted theme. Also, very beautiful music.
I Am the Machine (Dead Cells Animated) by Yoann Laulan
Don't understand the title at all, but it's a cool song.
I was the Sun (Before it Was Cool) by Curtis Schweitzer
I think this song teases in the beginning. When it changes pace for the second time around 1:08, it's very catchy.
Roundtable Rival by Lindsey Stirling
A list wouldn't be complete without a dash of Lindsey Stirling, that violin wielding odd soul. Her style can only be described as lively and unique.
Songs with Lyrics:
We All Lift Together by Freya Catherine, Jack Green
Okay, so not the happiest of lyrics, but I do like these lines:
Making peace to build our future
Strong, united, working 'till we fall
I love the title too. It's a stretch, but chem will require us to work together to master.
Technicolour Beat by Oh Wonder
One of the most unique songs I've ever heard. Can't make the lyrics make much sense, but it is pretty. I'm gonna go with this being a celebration of the uniqueness of life.
Ready Set Let's Go by Sam Tinnesz
This reminds me of a good song to do cheerleading moves to. It's upbeat. More of a rallying cry.
Fight Song by Rachel Platten
My favorite lines from the song may not be the best ones for a Chemistry class.
I might only have one match
But I can make an explosion
The lines that explain the heart of the song are great too.
And I don't really care if nobody else believes
'Cause I've still got a lot of fight left in me
That's my hope for each student. Life can and will get hard, but I hope you can always say there's a lot of fight left in you.
Walk Through the Fire by Zayde Wolfe
It's a good cautionary, sad song. I originally picked it for a book about a school shotting. Mass murder incidents are a part of our modern world. Mourn the peace lost, but don't be afraid to live.
Did we light too many matches?
Turn ourselves into these ashes?
Did we throw it all away?
We Could be the Heroes by Young Summer
Heroes are ordinary people put in extraordinary situations. They just happen to shine through the darkness. Heroes can go unsung. I hope you can lift each other up through hard times. Hopefully, chem class isn't considered a hard time, but there's help for many situations available.
doesn't feel right
to turn a blind eye
Take it All by Valley of Wolves
Another rallying cry kinda song.
Unbreakable. Unstoppable. I push to the edge and take it all.
Beside You by Cameron James
The song has kind of a supernatural feel to it. I like that it's basically about sticking beside a friend through some tough times.
I'll be with You, in the heat of battle
I'll stick closer to You, than Your shadow
Who Are You (Russ Macklin Remix) by Svrcina, Russ Macklin
I know this is a repeat song from other lists. I think it's a question many people have, not just students. High school is a great time to discover yourself, but don't be afraid to raise questions.
Caught in the Fire by Tommee Profitt, Sam Tinnesz
Another survival theme. Hopefully, not needed literally, but figuratively, many things could happen to rattle you. You'll make it through.
They've rattled, our hearts
But survival is ours
We'll make it out alive
Man or a Monster by Sam Tinnesz, Zayde Wolfe
This can apply to women as well. Everybody has the power to do good or evil. Choose your side very carefully with every action.
You can't take back the damage you've done
You can hide but you can't run.
…
Afraid of what you might become.
Can't Hold Us Down by Tommee Profitt and Sam Tinnesz
I like the general message of the song. No matter what lies ahead for you, the message rings true. Sometimes, you'll need friends and family to help you through, but ultimately, nothing can hold you down.
You can't hold us down.
No. You can't hold us down.
Every day's a battlefield between the light and the dark.
…
Heavy on our shoulders is the weight of the world.
…
Never give up.
Walking through the fire and the flame
Can't hold us down.
Born to Bring the Light by Cameron James
Things can come up quickly. I seem to be on a kick with songs that have a similar message. You were born to bring light.
I wasn't lookin' for a fight,
But the fight found me
Conclusion:
Yikes, I picked quite a bit darker themes in the lyrics section. If you want to stick with lighter, stay in the non-lyric section. That's arranged that way so you can use it while you study. I may play parts of this during class. Happy new school year. I look forward to working with each of you.
Associate links to follow…
Available Audiobooks: I have free codes for almost everything.
New Release: The Shadow Council Series 1: Money Makes it Deadlier – An FBI agent gets caught up in a robbery gone wrong.
The Collins Case – 2 FBI agents track down a kidnapped family. Kid friendly.
If fantasy's more your thing, go Redeemer Chronicles. The first, Awakening, is available as an audiobook.
Ashlynn's Dreams Shorts – a kid deals with her parents' divorce, bullies, and the wonder of discovery.
Try The Dark Side of Science – Genetically altered kids fight for the right to live.
Beyond Broken Pencils – Contemporary literary tale of a school shooting. Ian unleashes his inner demons on his classmates and teachers…
Scratched Off – FBI agent vs a serial killer. When Sam Kerman sets out to hunt a serial killer, he has no idea how personal the case will become.
Nonfiction:
5 Steps to Surviving Chemistry – A primer for chemistry students. Breaks down concepts into simple terms.
5 Steps to Better Blurbs – A book for writers looking to improve their book descriptions