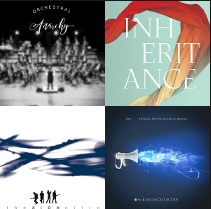 Introduction:
This list is certainly not done yet, but I think it's a decent start to what I'm feeling for the new year. 2019 should be about stepping out into the various things I was gifted in. In short, having more boldness and caring less about what others think or attaining success as the world defines it. That's gonna be difficult, but I'm game to try.
Here's the link to the Songs for 2019 playlist.
Most of my playlists end up being a tad longer, but I'm going to assume there's room for a lot of growth. My 2018 list ended up being 48 songs and 3 hours 5 minutes. Pretty sure it was about 28 songs when I wrote the explanation post. Actually, many of the end songs for 2018 do carry over.
Song Explanations:
Prepare for Mayhem by Rosa Phelpson
I love this song for the beginning because there's a mysterious, cool quality to the general song flow. It doesn't need words to be a good "gear up for what's coming" song.
Be Thou My Vision by Audrey Assad
Audrey Assad didn't write it, but I love her version of the classic hymn. She's got a nice, clear, angelic voice that comes across as very soothing. The hymn itself is ones of my favorite. I'm not sure why, but I've always enjoyed it.
Believe by The Sidh
A lovely, soft, contemplative sort of song. "Believe" is a nice follow up to "Be Thou My Vision". It's instrumental and inspirational. I sometimes pick songs for their titles. This one has a very fitting title.
Joy. (Fransis Derelle & Jinco Remix) By For King and Country
The focus of this song is that joy's sometimes a choice. It's also catchy and has some pretty powerful lyrics.

"Gotta get that fire fire back in my bones. Before my heart heart turns into stone."
"Oh hear my prayer tonight … give me strength to testify"
"Time's come to make a choice. And I choose joy."
"Let it move you. Let it move you. Let it move you."
The Silk Road by The Sidh
This starts slow, but picks up around 0:15 with the entry of the wind instrument and then 0:30 with the entry of the drums. Not sure about the title's meaning, but the song itself is fun. You could imagine it being the soundtrack to a journey montage if this were a movie.
High Hopes by Panic! At the Disco
Don't think all the lyrics fit here, but here are some I gravitate to.
"Didn't have a dime, but I always had a vision.
"I was gonna be that one in a million."
"Always had high high hopes."

Guess the general message is dream big.
Hiraeth by Jo Blankenburg
Had to look up what the word meant. Google via Wikipedia says that it's a Welsh concept of homesickness or longing for home. I just thought it was pretty, but that too fits. From a certain point of view, every Christian has a different home and it would be natural to feel a sense of loss and longing for it.
Shouldn't Be Sorry by Cards, Sita
Once again, I am not certain that I gravitate to every single one of the lyrics here, but I do like the general message about being bold.

"You shouldn't feel sorry when you speak your mind,"
"You shouldn't be sorry…"
"Shouldn't feel wrong cause you put it right."
Becoming a Legend by John Dreamer
I tried to mix in instrumental and songs with lyrics. This is a good "in between" song. It's steady and pretty.
Show You by Cameron James
This is a fairly bold song.
"Don't underestimate. I'm more than meets the eye."
"I was born to born to break through."
"Show you. Show you I can."
Emma by Steve Price
I didn't think I saw the movie Fury, but I actually think I did and forgot all about it. The song is both soothing and haunting. Perfect war movie music. Not expecting life to turn as hellish as the events of the movie, but the music fits a "hey, prepare yourself" theme.
Reeloading by The Sidh
The more I listen to this one, the more I think it's probably the most hands-down fun on the list.

Around 0:15 there's a quickening of pace. It stays fast throughout most of the rest of the song. I dare you to try to listen to the whole thing without tapping your foot. I have no idea about the title
Higher Ground by Wildwood Kin
Wildwood Kin would probably sound good singing anything. They have a nice, smooth sound.
"Worlds keep on turning. Cause it won't be too long."
"Powers keep on lying while your people keep on dying."
"So glad I know more than I knew then"
"Believers keep on believing."
"Gotta keep on trying until I reach my highest ground."
In essence, life goes on. Pretty sure I don't know what some of the middle line means "So darn glad he let me try it again."
Human Legacy by Ivan Torrent
Interesting title on this one. Slow and gentle throughout. It's on the longer side at just shy of 5 minutes. Changes around 1:30. Reminds me of a good "roll credits" musical piece.
A Taste of Freedom by Antti Martikainen
Really couldn't decide where I wanted to place this one. It's got the feel of a "continuing credits" song. I love the title. Just a taste of freedom is enough to spark a revolution. You can pick up that concept from most epic stories. There's an overall triumphant feel to this song.
Good to Be Alive by Jason Gray
I didn't want to end with all instrumental songs.
"Every breathe that I take, You've given."
"I want to live like there's no tomorrow. Love like I'm on borrowed time. It's good to be alive."

Simple but powerful.
Final Frontier by Thomas Bergersen
Some of you probably thought we made it through the whole list without one Thomas Bergersen because he shows up in quite a few of my playlists. What can I say? He does journey music awesomely. My favorite part starts a little over the one minute mark.
All We Are by Marcus Warner
Starts out with drums. It's a good place to end with the beginning of the list. There's a promise of more in here. You think the song's about to end right in the middle. Once again, it's on the chunky side at 3 seconds side of 5 minutes. At 2:30 something, it continues by starting on a new section. Aside from being moving and inspirational, there's strength and even courage tucked into the chords of the song. I think this pairs well even when it loops around and plays you Prepare for Mayhem again.
Conclusion:
If I've accurately picked music for the year, it's gonna be an amazing time filled with growth and new paths on the life journey. I'm excited to see what happens.
Associate Links:
(If you click through and buy something, there's the chance I'll earn like $0.04 ….)
Amazon Prime
The Collins Case – 2 FBI agents track down a kidnapped family. Kid friendly.
If fantasy's more your thing, go Redeemer Chronicles. The first, Awakening, is available as an audiobook.
Ashlynn's Dreams Shorts – a kid deals with her parents' divorce, bullies, and the wonder of discovery.
Try The Dark Side of Science – Genetically altered kids fight for the right to live.
OR