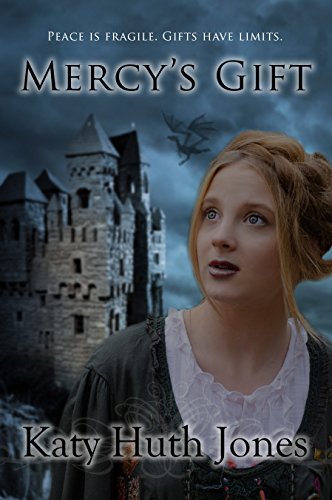 Summary:
Prince Valerian and his new wife, Merry, settle into married life and their new roles. The first threat has been dealt with, but troubles brewing in the southern section of the kingdom.
Additional Comments:
I don't often read books these days, but unfortunately, this one hasn't yet made the journey into audiobook. Still, it's worth the effort to read. Took me a few months to finish, but that has more to do with the amount of time I have to read than my interest level in the book.
Plot 4/5: There's decent balance between the goings-on of the heroes and the villains, even though it's probably way more focused on the good guys.
Main Characters 4/5: Merry's Healing gift makes her somewhat useful so she's a tad more than just the prince's good little wife-y. Otherwise, everything's focused on Prince Valerian's exploits (preparation for tournament, tournament, trip to see father, etc). They're young. Like super young, but I suppose that's accurate for the time period. Kieran's a cool character. Valerian only had a few moments that made me wanna smack the irrational jealousy out of him. His Sight gift is kinda awesome.
Side Characters 4/5: Gwen is a little more fleshed out than Drew. The king and queen are barely mentioned, but fulfill their function well enough. Cormack's awesome. I guess Kieran and Tristam could be considered side characters since they don't rate a blurb spot, but they're in it enough to make them at least semi-main characters.
End twist worked very well. 4/5.
Dragons – yay.
Closure 4/5: Even though you know there's a lot more to come, it feels like this part of the story has an end.
Content Warning: Medieval violence. A LOT of medieval violence. Lots of implied marital relations. Nothing's described in detail. I'd definitely still categorize this as a clean book, but if you're squeamish about blood and violence, it might not be the right series for you.
Conclusion:
It's a solid entry in a long, long, long series, but so far, well-worth reading.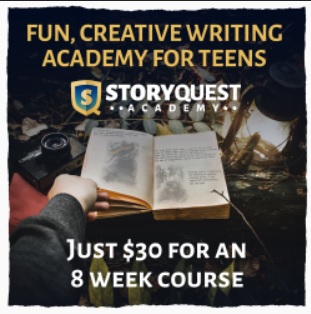 Interested in a fun writing course designed for teens? Check out Storyquest Academy. (Note: affiliate link – if you sign up for the class through this link, I earn a commission … you get a great deal – win-win 😉 … seriously, most writing courses are a LOT more expensive.)
Audiobook Promotions …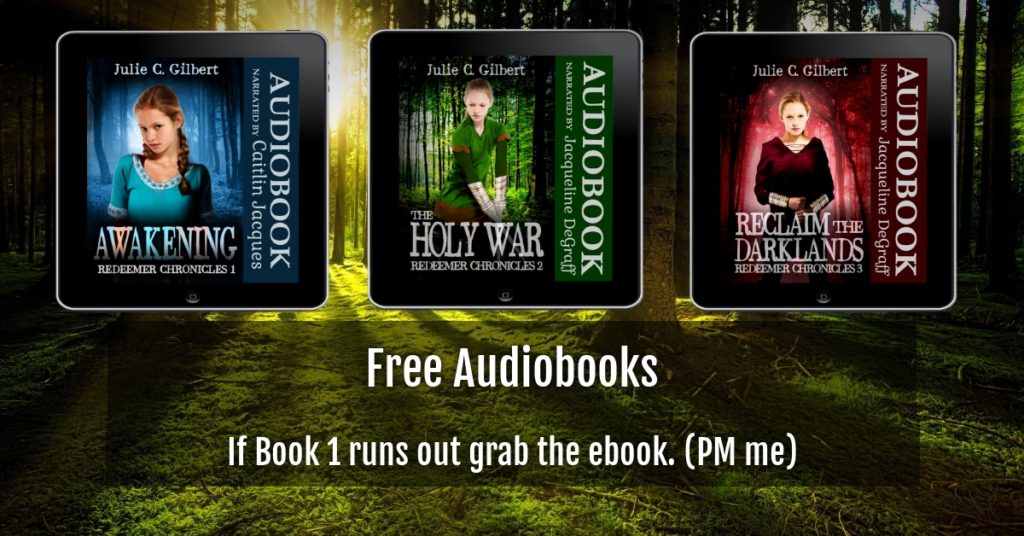 Many of my 44 audible titles are listed on Audiobooks Unleashed.
Whether you're looking for mystery or suspense or fantasy, I've got a title for you. Free codes are probably on audiobooks unleashed.
Normal links go to audible. *The Amazon labeled links are affiliate links. That means I get a very small payment from Amazon if you go through with a purchase.*
Note: Filter by US if you're looking for those codes as many titles are out.
Ones I think may still have US codes: Reshner's Royal Ranger, Never Again, Innova, The Golden City Captives, The Holy War, Reclaim the Darklands, Eagle Eyes, Treachery Makes it Tense, Ashlynn's Dreams Shorts, The Dark Side of Science, Ashlynn's Dreams, Nadia's Tears, Malia's Miracles, and Varick's Quest
There are plenty of UK codes, but not many US ones left.
Redeemer Chronicles (Fantasy)
Awakening – Redeemer Chronicles Book 1, MG fantasy (Amazon) (free codes)
The Holy War – Redeemer Chronicles Book 2, MG fantasy (Amazon) (free codes)
Reclaim the Darklands – Redeemer Chronicles Book 3, MG fantasy (Amazon) (free codes)
River's Edge Ransom – Prequel to Redeemer Chronicles (Amazon) (email devyaschildren @ gmail.com for free codes)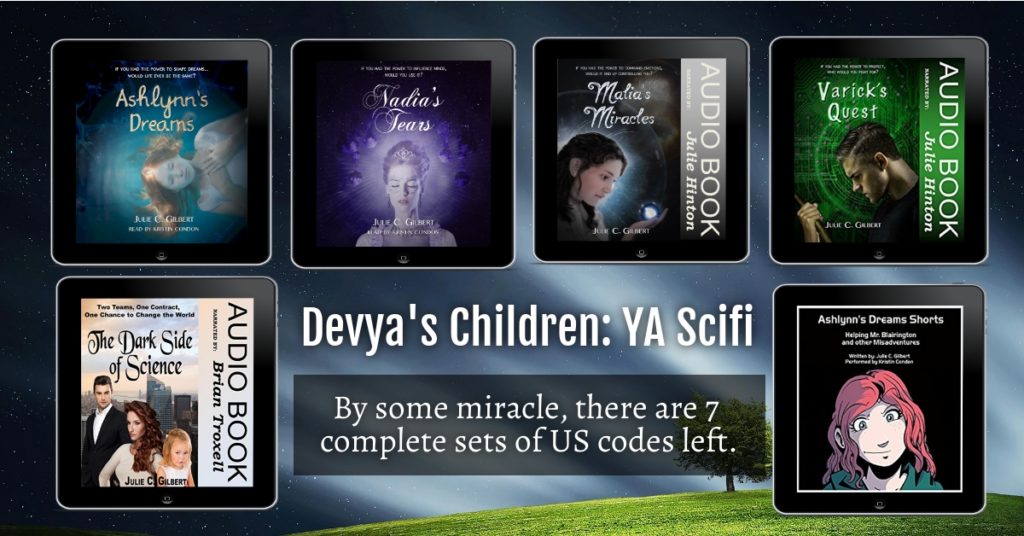 Devya's Children Series Links:
Ashlynn's Dreams Shorts – short stories featuring Jillian. (Amazon) (free codes)
The Dark Side of Science – official prequel to Devya's Children; Genetically altered kids fight for the right to live. (Amazon) (Please email devyaschildren @ gmail.com for free codes)
Ashlynn's Dreams – Genetically altered Dream Shaper learns her gift. (Amazon) (free codes)
Nadia's Tears – Jillian tries to awaken her sister, Nadia, from a coma. (Amazon) (free codes)
Malia's Miracles – Jillian and her siblings try to save a friend's mother. (Amazon) (free codes)
Varick's Quest – Jillian and Danielle get kidnapped. Nadia's also in trouble. (Amazon) (free codes)
More Scifi:
Reshner's Royal Ranger (epic sci-fi) just made it there. (Amazon) (free codes)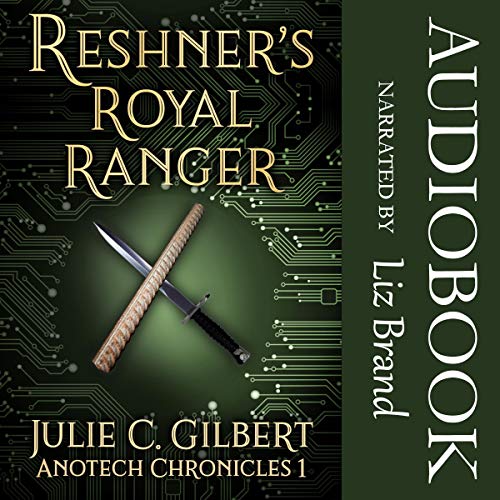 Guardian Angel Files:
Spirit's Bane – Allister and Mina are training to be Guardians. Satan's out to get them. (Amazon) (free codes)
Kindred Spirits – Mina's exiled to Earth. Allister's stuck in the Heavens. (Amazon) (free codes)