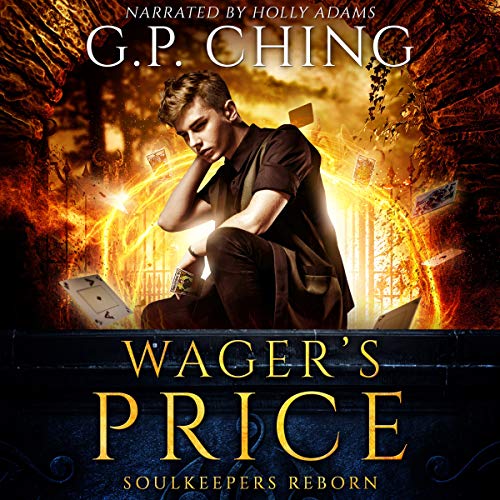 Narrated by Holly Adams
Run Time 11 hrs and 44 mins
*mild spoilers possible in discussion
Summary:
Finn and Hope end up at Revelations, a unique reform school.
Additional Comments:
Main Characters 4/5 Stars: Even though the blurb focuses on Finn Wager, the book struck me more as Hope's book through about 70% of it. He's not particularly good at anything, which fits his ordinary persona quite well. (Yet, he still has zero problem getting Wendy to like him.) Hope kind of annoyed me, inducing a few times where I wish I could reach in and tell her to quit whining and do her job.
Side Characters 3/5 Stars: Most of the sidekicks blurred or became a stereotype. Jayden. Mike. Evil chick enforcer. Evil sadistic hunter enforcer dude. Literal guardian angel. Even the good guys didn't seem fleshed out enough/likable to the point where I really cared about their fate one way or the other. Except Ms. D. Kinda liked her.
Plot 4.5/5: Intriguing. Took a long, long, long while to get there and quite a few long-winded infodumping sessions, but it's quite an imaginative journey. A few things were a tad convenient, but that happens.
Closure 3/5: Yes, this story arc closes, but the end felt like a blatant pitch for a sequel.
Unique 4/5: Props for the circus angle.
Performance 4.5/5: Nicely handled. It's a very long story. Characters are distinguishable. I think I liked the magician's voice best.
General observation: The book kind of had a hard time deciding what it wanted to be. It was part Raiders of the Lost Ark gone wrong, part typical Gifted kids go to a cool, dangerous academy tale, and part where the Star Wars Expanded Universe lost it's dang mind and went all fantasy-based paranoia road story.
Side note: I have a slight issue with the idea of a Soulkeeper—supposed servant of God—practicing reiki. I 100% get that this is pure fantasy, but that is some serious mixing of ideas. You want your immortal, reluctant Soulkeeper to heal people, awesome, do it, but make up a term for it or just stick with generic healing.
Content Warning: Quite a bit of cursing. Some gruesome descriptions of violence.
Conclusion:
Interesting opening to a YA fantasy series very, very loosely based on angels and demons.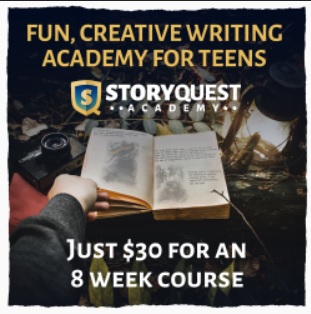 Interested in a fun writing course designed for teens? Check out Storyquest Academy. (Note: affiliate link – if you sign up for the class through this link, I earn a commission … you get a great deal – win-win 😉 … seriously, most writing courses are a LOT more expensive.)
Audiobook Promotions …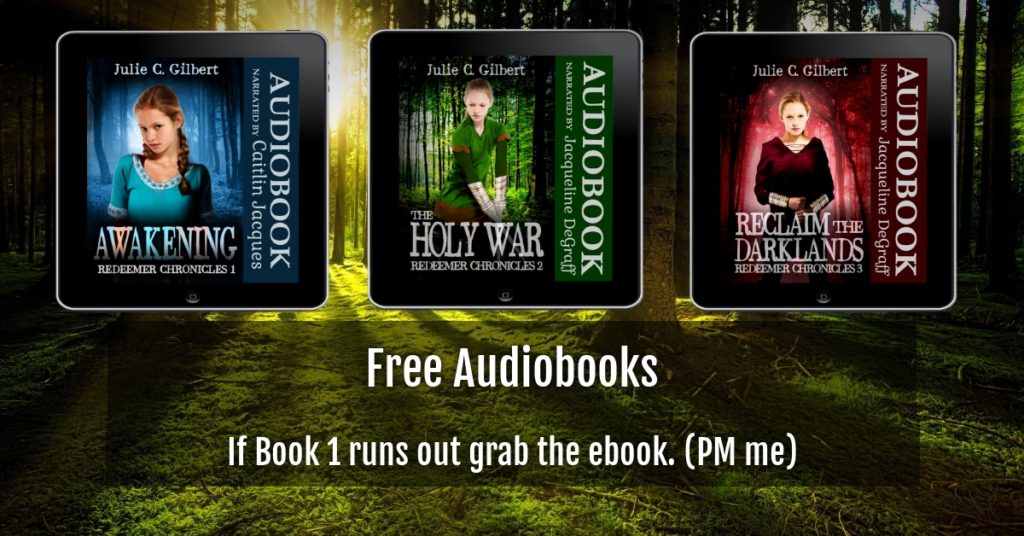 Many of my 44 audible titles are listed on Audiobooks Unleashed.
Whether you're looking for mystery or suspense or fantasy, I've got a title for you. Free codes are probably on audiobooks unleashed.
Normal links go to audible. *The Amazon labeled links are affiliate links. That means I get a very small payment from Amazon if you go through with a purchase.*
Note: Filter by US if you're looking for those codes as many titles are out.
Ones I think may still have US codes: Reshner's Royal Ranger, Never Again, Innova, The Golden City Captives, The Holy War, Reclaim the Darklands, Eagle Eyes, Treachery Makes it Tense, Ashlynn's Dreams Shorts, The Dark Side of Science, Ashlynn's Dreams, Nadia's Tears, Malia's Miracles, and Varick's Quest
There are plenty of UK codes, but not many US ones left.
Redeemer Chronicles (Fantasy)
Awakening – Redeemer Chronicles Book 1, MG fantasy (Amazon) (free codes)
The Holy War – Redeemer Chronicles Book 2, MG fantasy (Amazon) (free codes)
Reclaim the Darklands – Redeemer Chronicles Book 3, MG fantasy (Amazon) (free codes)
River's Edge Ransom – Prequel to Redeemer Chronicles (Amazon) (email devyaschildren @ gmail.com for free codes)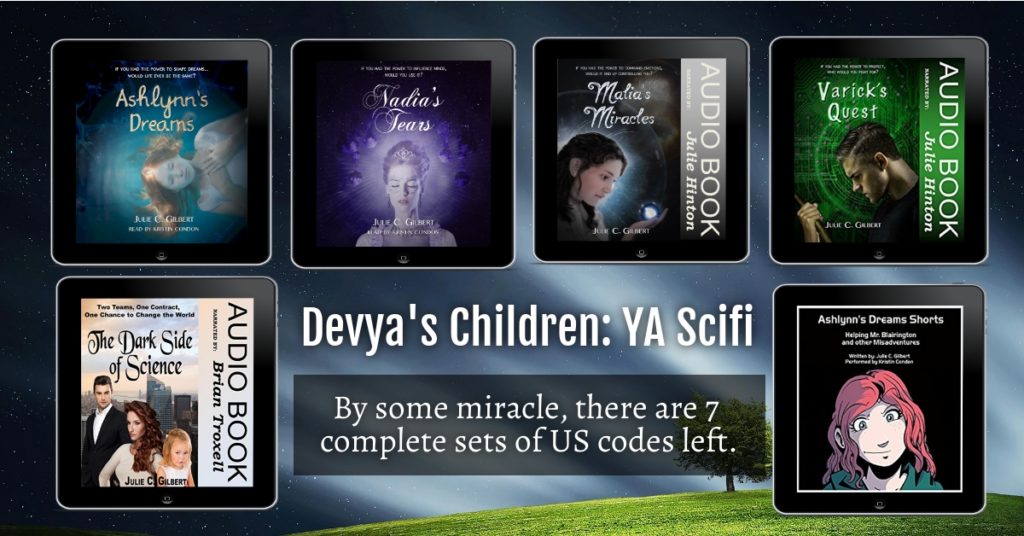 Devya's Children Series Links:
Ashlynn's Dreams Shorts – short stories featuring Jillian. (Amazon) (free codes)
The Dark Side of Science – official prequel to Devya's Children; Genetically altered kids fight for the right to live. (Amazon) (Please email devyaschildren @ gmail.com for free codes)
Ashlynn's Dreams – Genetically altered Dream Shaper learns her gift. (Amazon) (free codes)
Nadia's Tears – Jillian tries to awaken her sister, Nadia, from a coma. (Amazon) (free codes)
Malia's Miracles – Jillian and her siblings try to save a friend's mother. (Amazon) (free codes)
Varick's Quest – Jillian and Danielle get kidnapped. Nadia's also in trouble. (Amazon) (free codes)
More Scifi:
Reshner's Royal Ranger (epic sci-fi) just made it there. (Amazon) (free codes)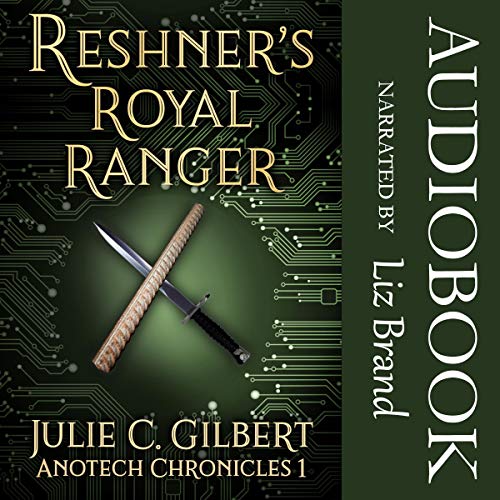 Guardian Angel Files:
Spirit's Bane – Allister and Mina are training to be Guardians. Satan's out to get them. (Amazon) (free codes)
Kindred Spirits – Mina's exiled to Earth. Allister's stuck in the Heavens. (Amazon) (free codes)