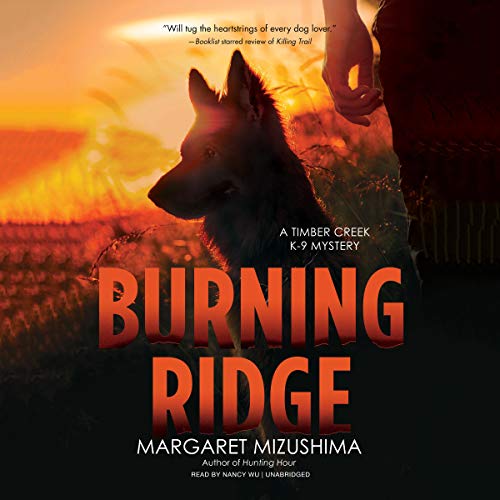 A Timber Creek K-9 Mystery Book 4
Narrated by Nancy Wu
Run time: 9 hrs and 40 min
Summary:
Mattie and Robo stumble across more bodies. One has a personal connection to her.
Additional Comments:
Although the premise stretches believability a tad, a lot of setup in earlier books begins to pay off.
This is one of the best mystery series I've heard in a long time. (To be fair, I don't listen to all that many because I'm usually reviewing and that hits multiple genres.) I may even spend that freebie credit Audible gave me around Christmas to get book 6, which isn't a part of the Plus catalog.
The closest series I can think to this is Joe Pickett. I think the connection for me is the rugged terrain.
This is the first time our MC has faced mortal danger because of being targeted, not just the cop at the wrong place at the right time.
The story turns deeply personal for Mattie. Although you can read them out of order, I think it's more satisfying in order.
Cole and Mattie's relationship is kind of beyond slow, slow burn, but it's making incremental gains.
Side note: Authors are mean to their characters.
We are sort of getting to the point where the plot is spinning to grasp-at-straws to find the bad guys.
Conclusion:
The series has small town appeal, police procedural quirks and danger, and really strong characters. This entry is no exception.
*Found on Audible plus. The one book I saw said it was there until Dec 2024.
If you want to get 5 clean audio promos a month. Sign up here.
Have You Tried Kindle Vella Yet?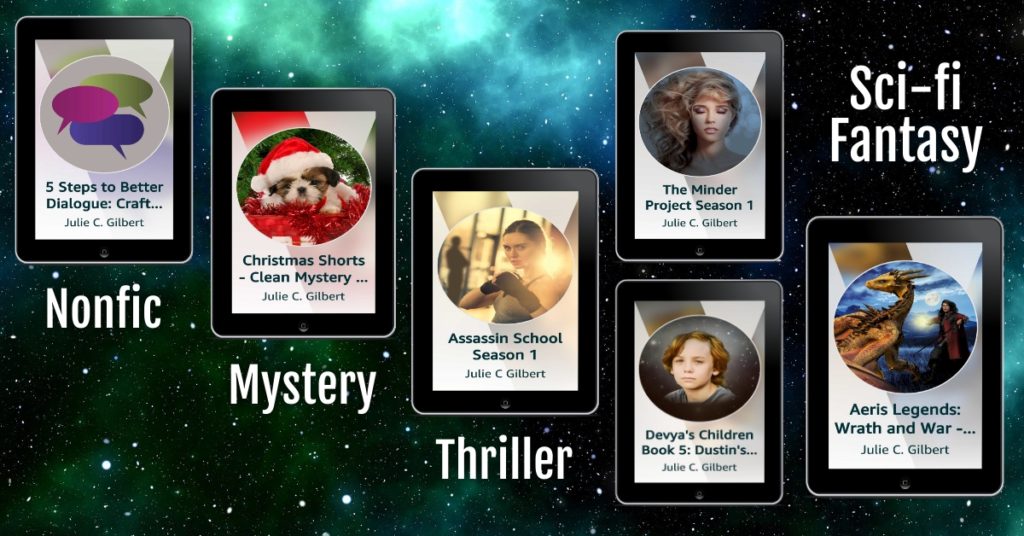 5 Steps to Better Dialogue – (nonfiction, writing skills; Complete) I feel like nonfiction titles should come with spoiler tags. This is a book for writers seeking to learn more about the creation of realistic characters and dialogue.
Christmas Shorts – (Mystery, thriller, Christian, suspense; Ongoing; story 1 is complete) Only one story right now, but will be a collection of short stories with characters from across my series. Typically, FBI agents with personal drama. Might feature an abundance of cute puppies.
Assassin School Season 1 – (thriller, YA; Complete) Teen spies try to survive the rigorous training and other drama as powerful people battle to control the Ghost children.
The Minder Project Season 1 – (scifi, genetic engineering, superpowers; shares characters with Dustin's Decision, Updated Wednesdays) The government gave her genetic Gifts. Now, it wants what it paid for from the program.
Dustin's Decision Devya's Children Book 5 – (YA scifi, shares characters with The Minder Project; Complete) Genetically altered teens struggle to navigate the murky world and control their Gifts.
Aeris Legends – Wrath and War (LitRPG, gaming, fantasy) This takes a box-of-chocolate approach to providing lore entries (creatures, quest descriptions, game mechanics) and short stories for a fantasy world.
Earth's Melody – A Light Scifi Romantic Comedy Donatella Velargo, an actress on the run, must choose between anonymity and a desperate (handsome) rebel's cause to save his sister and his planet.
Trials, Tribulations, and Trust Issues (Superheros, superpowers) A young woman who can access almost any superpower gets manipulated into testing them for the government.