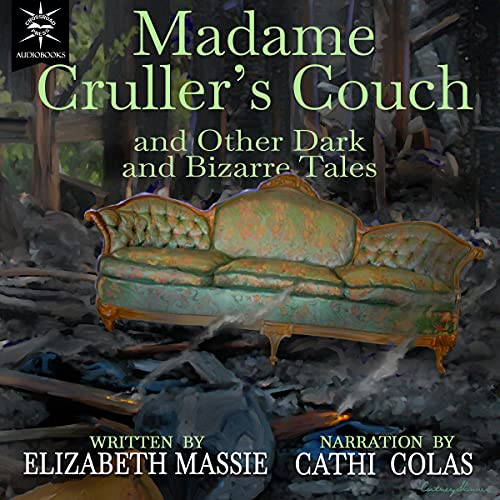 Narrated by Cathi Colas
Stories average 2.47/5
Performance 4/5 stars
*Will attempt to keep this spoiler free, but some discussion is going to preclude that.
Summary:
A collection of well-written, well-performed, sometimes great, sometimes highly annoying "short" stories.
Additional Comments:
Some stories are indeed short, but others, like the last one dragged on forever (2+ hours in audio)
Any short story collection is going to have some clunkers and some charmers. This had more clunkers to me, but that's completely subjective and could be skewed by the last one.
4/5 Performance of actual stories was very strong. Spewed those curses with conviction. Had a few fantastic voices for side characters, like the Evil House.
Audio complaint: It was very difficult to tell the transitions to some of the stories. They weren't numbered and the end one rambled on and on forever, including a LOT of made up articles that had titles. I thought this was like 19 stories until I looked it up and realized that the end one took up almost a fifth of the audio time.
Content warning: Pervasive strong language. Some crude content. Some disturbing content. A lot of morally questionable content.
Story 1 4/5 "Madame Cruller's Couch" – Predictable. Interesting concept. Fun. Odd. Quirky.
Story 2 3/5 "Squatters" – disturbing, gross, oddly satisfying but forgettable. It's only been a few days and I have no idea what happened in that story. I had to look up the titles.
Story 3 5/5 "Fly Away Home" – Probably my favorite of the mix. Imaginary friend. Classic horror. Fantastic ending.
Story 4 4/5 "Lucky and Poop Tail" Cows' pov. Lucky. Poop Tail. Actually a happy story.
Story 5 2/5 "Dee in the Dark" – Paula and her baby. Certifiably bad mother. Time skips. D and boy. Child possession. Interesting. Disturbing.
Story 6 3/5 "Down and Out on Poplar Street" – Donna the hoarder. Has a dog. Weird but ok. Lots of cursing. A little sad.
Story 7 2.5/5 "Fixtures of Matchstick Men and Joo" – Murder never so satisfying. Long. Rambling.
Story 8 3/5 "Not-so-Fun House" – Jordan (he) and sister Jamie. Creepy house might be my favorite voice of the book. Short and sweet. I'm glad this one was short because too much of that would have flipped to annoying.
Story 9 3.5/5 "Christmas at the Pattersons" – Creepy lady with a Christmas obsession. Small, creepy town.
Story 10 2.5/5 "Willy Wonka and the L. Walker BioFair" – Science experiments. Highly disturbing. Still intriguing.
Story 12 1/5 "Smiles" – Smiles. Poem. I have no idea what happened.
Story 13 1/5 "Just Two Good Old Boys" – don't remember what happened.
3/5 No idea on number because somehow I forgot it or mixed them up. They weren't numbered. "Scarves" – scarf maker. Definitely dystopian. Super interesting until end. Then just lame. Would have been my favorite if the ending wasn't a complete copout.
2/5 Story 14 "The Quarrel" It was ok. I think it featured talking old meat.
There was a random one about a dog freezing to death or something. That was sad.
0/5 Story 15 Eating cancer. Depressing. Random weird articles. pandemic. Main character were Harbor, Leo, Douglas Dill. Reporter. Leo. Pandemic. Leo's narration style is annoying. The writing not the reading. Drags on and on. Got slightly better when it turned into a zombie prequel. Worldview is always a thing, and satire writing relies on extremes, but I find this last one both heavy-handed and annoying.
Conclusion:
If you're into disturbing stories, there are some good ones in the mix.
If you want to get 5 clean audio promos a month. Sign up here.
Have You Tried Kindle Vella Yet?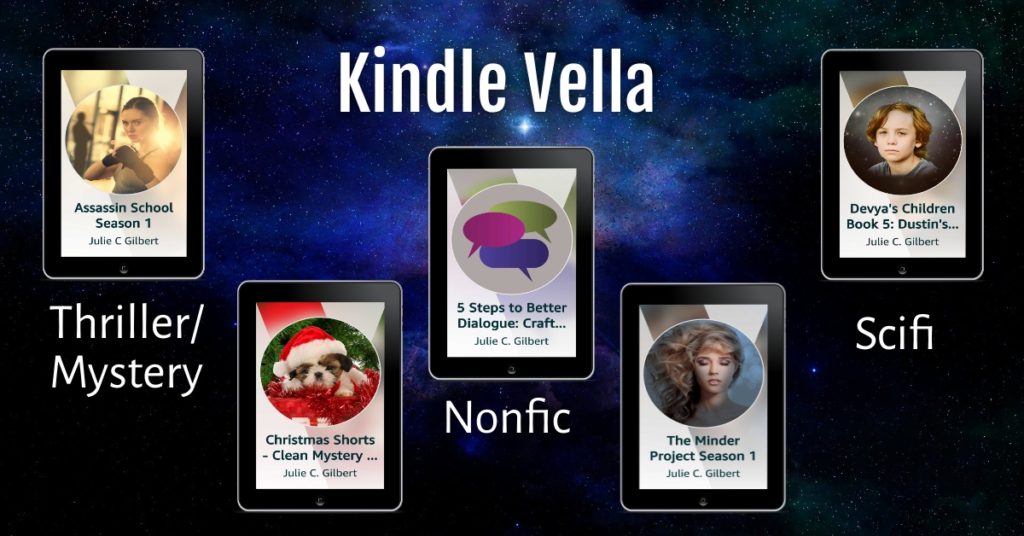 Christmas Shorts – (Mystery, thriller, Christian, suspense; Ongoing; story 1 is complete) Only one story right now, but will be a collection of short stories with characters from across my series. Typically, FBI agents with personal drama. Might feature an abundance of cute puppies.
The Minder Project Season 1 – (scifi, genetic engineering, superpowers; shares characters with Dustin's Decision, Updated Wednesdays) The government gave her genetic Gifts. Now, it wants what it paid for from the program.
5 Steps to Better Dialogue – (nonfiction, writing skills; Complete) I feel like nonfiction titles should come with spoiler tags. This is a book for writers seeking to learn more about the creation of realistic characters and dialogue.
Assassin School Season 1 – (thriller, YA; Complete) Teen spies try to survive the rigorous training and other drama as powerful people battle to control the Ghost children.
Dustin's Decision Devya's Children Book 5 – (YA scifi, shares characters with The Minder Project; Complete) Genetically altered teens struggle to navigate the murky world and control their Gifts.