Introduction:
Findaway Voices is letting people run a large audiobooks sale. It runs all of Q2, which I believe is April, May, June. I think it's set to end on 6/30/22.
If you've never tried one of my audiobooks, this is the perfect time to check 'em out. I still have free codes for Cyber League Crimes titles. If you get caught up and have an interest in the 3rd trilogy, you can track me down on Facebook.
I'm really liking Chirp's layout. You can also look these up by title. Please note, the sale does NOT extend to audible. They march to their own drummer. Here's the general link to my titles there.
If audio ain't your thing, a lot of these titles are also available on Kindle Unlimited.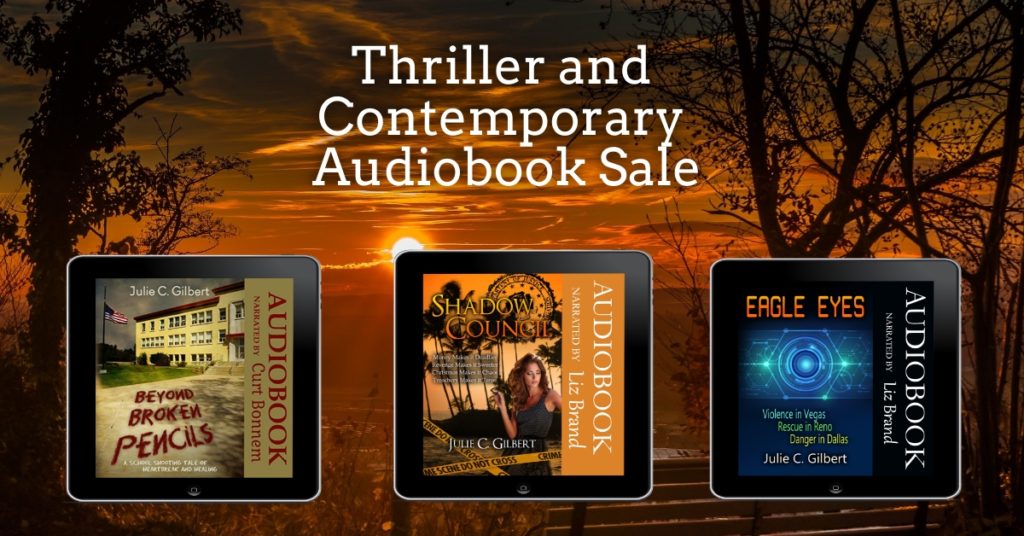 General Fiction:
Shadow Council Books 1-4 (Thriller, Mystery; an FBI agent finds plenty of trouble) – $2.99 or $3.99 (I think it depends on the retailer)
Eagle Eyes Books 1-3 (Thriller, Mystery, takes place after Shadow Council) – $1.99
Beyond Broken Pencils (Fiction, Contemporary, Literary, school shooting) – $1.99
Christian Fiction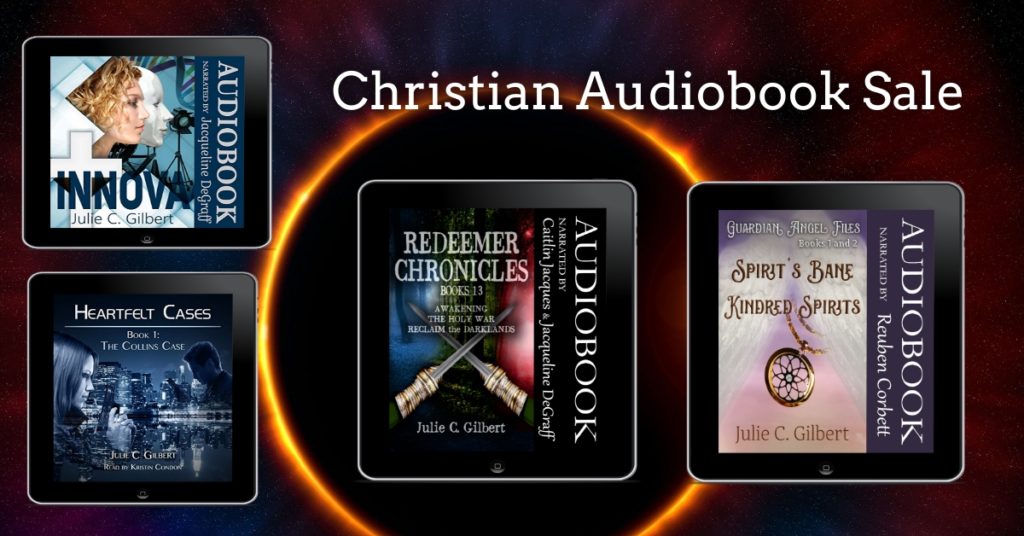 Redeemer Chronicles Books 1-3 (Christian, Middle Grade, Fantasy; a girl and her friends try to save a world)
Guardian Angel Files Books 1 and 2 (Christian Fantasy, 2 guardian angels in training run afoul of Satan and co) – $2.99
The Collins Case (Christian Mystery) – $0.99; 2 FBI agents scramble to save a family.
Innova (Christian dystopia, short story) – $0.99; Religion is outlawed; Jenna Hall finds that out the hard way.
Nonfiction: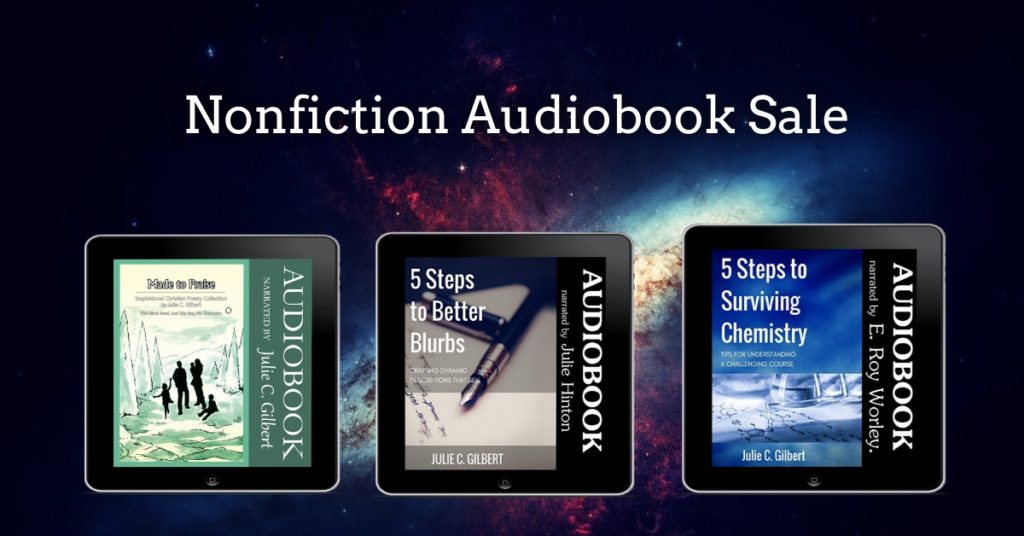 5 Steps to Better Blurbs (Nonfiction, writing help) – $0.99 Find out how to write tighter blurbs with snappy taglines.
5 Steps to Surviving Chemistry (Nonfiction, school help) – $1.99; Need chem help?
Made to Praise (Christian Poetry; inspirational) – $0.99
If you want to get 5 clean audio promos a month. Sign up here.
Have You Tried Kindle Vella Yet?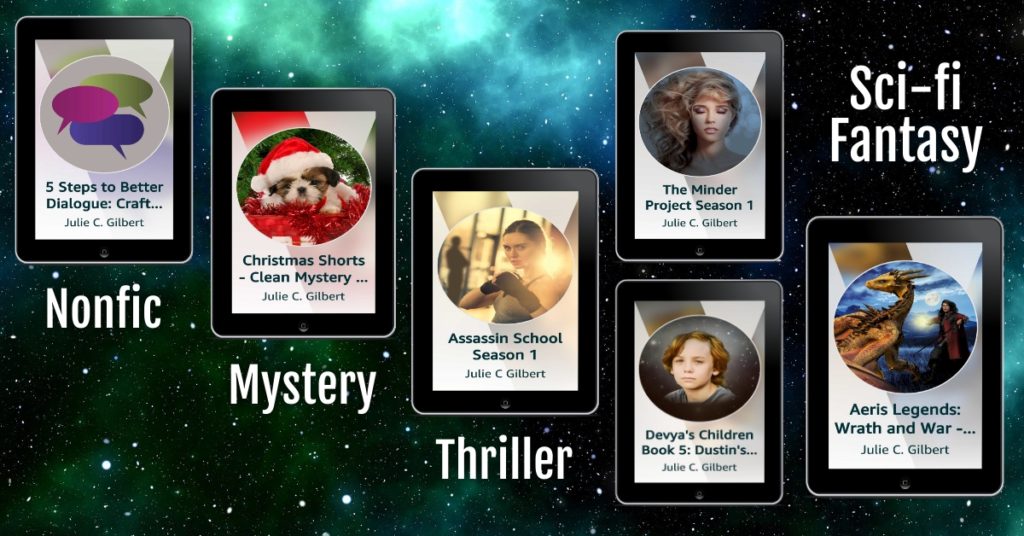 5 Steps to Better Dialogue – (nonfiction, writing skills; Complete) I feel like nonfiction titles should come with spoiler tags. This is a book for writers seeking to learn more about the creation of realistic characters and dialogue.
Christmas Shorts – (Mystery, thriller, Christian, suspense; Ongoing; story 1 is complete) Only one story right now, but will be a collection of short stories with characters from across my series. Typically, FBI agents with personal drama. Might feature an abundance of cute puppies.
Assassin School Season 1 – (thriller, YA; Complete) Teen spies try to survive the rigorous training and other drama as powerful people battle to control the Ghost children.
The Minder Project Season 1 – (scifi, genetic engineering, superpowers; shares characters with Dustin's Decision, Updated Wednesdays) The government gave her genetic Gifts. Now, it wants what it paid for from the program.
Dustin's Decision Devya's Children Book 5 – (YA scifi, shares characters with The Minder Project; Complete) Genetically altered teens struggle to navigate the murky world and control their Gifts.
Aeris Legends – Wrath and War (LitRPG, gaming, fantasy) This takes a box-of-chocolate approach to providing lore entries (creatures, quest descriptions, game mechanics) and short stories for a fantasy world.
Trials, Tribulations, and Trust Issues (Superheros, superpowers) A young woman who can access almost any superpower gets manipulated into testing them for the government.