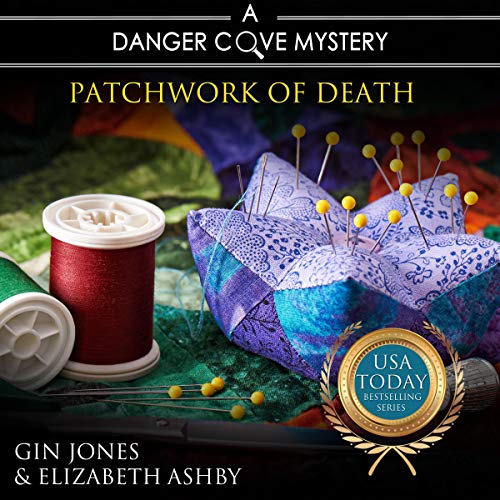 A Danger Cove Mystery Book 4-ish
Narrated by Theresa Bakken
Run Time: 7 hrs and 53 mins
Summary:
Keely Fairchild's new career as a quilt appraiser is just getting started. Then, somebody up and gets themselves murdered and skyrockets the stress surrounding the main character.
Additional Comments:
It's normal for a cozy mystery, though a tad on the slow-moving side. There's no action until the last half hour of the audiobook.
It would have been better with a cat. Hear me out. Cozies thrive on quirky characters and pets or cookie recipes or witches. Okay, so the last is paranormal cozies. A pet would have provided enough antics to break up the frequent mentions of Keely passing out, almost passing out, or feeling her stress levels spike. (And cats are somewhat lower maintenance than dogs.)
The main character's syncopy makes her relatively unique among characters. That said, it did not have to be mentioned every 4th page. I heard the audiobook, but I'm pretty sure if one searched the manuscript, they'd find the times it's mentioned tops dozens. Basically, she passes out if under stress. It's an interesting concept and a lot revolved around it, but it also got old quick.
Performance was good. The narrator successfully brough Keely and company to life.
The murder victim wasn't very likable. I get that people who get murdered often aren't everybody's best friend. There's a disconnect between him being portrayed as a savvy businessman will a killer strong contacts list and the few minutes we experience of him, which present us with a highly unpleasant guy. This disconnect made it hard to feel any sympathy for him when he's offed.
Bad guy was 100% predictable, but it's still a satisfying conclusion.
Matt seemed to be there as the potential love interest. This is my first experience with the series, so I don't know if he returns in a future book. If yes, okay. If no, there are some random loose ends surrounding his character.
Fred the cupcake-scarfing cop was a darling. (Somebody you could genuinely feel sorry for.)
Wolfe was needlessly annoying. I guess that makes him realistic, but his devotion to doing his job poorly seemed over-the-top.
Gil was interesting, especially the singing part. I find it interesting that Keely would recognize every song Gil sings part of.
The solution to Lindsey's work troubles didn't strike me as particularly believable. I can't say more without spoilers, but the problem itself would tend to make people more careful not less.
The thread with the lighthouse keeper's descendant sort of fizzled.
The biggest mystery was why the series has a fictious author. I guess it's so the publisher can then tie them together with multiple authors as the "co-author." Still, it's just odd, unless it was them angling to have an A last name to get the books filed first on shelves.
What the series has going for it is a heroine you can like and a charming small town. The quilting aspect was new to me and handled well.
Conclusion:
If you adore cozies, this tends to hit most of the genre expectations.
If you want to get 5 clean audio promos a month. Sign up here.
Have You Tried Kindle Vella Yet?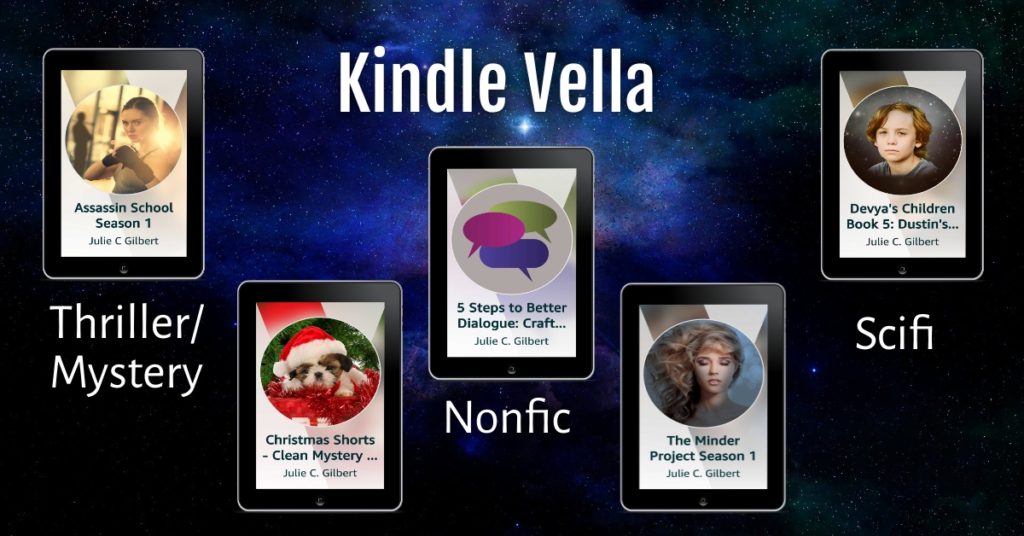 Christmas Shorts – (Mystery, thriller, Christian, suspense; Ongoing; story 1 is complete) Only one story right now, but will be a collection of short stories with characters from across my series. Typically, FBI agents with personal drama. Might feature an abundance of cute puppies.
The Minder Project Season 1 – (scifi, genetic engineering, superpowers; shares characters with Dustin's Decision, Updated Wednesdays) The government gave her genetic Gifts. Now, it wants what it paid for from the program.
5 Steps to Better Dialogue – (nonfiction, writing skills; Complete) I feel like nonfiction titles should come with spoiler tags. This is a book for writers seeking to learn more about the creation of realistic characters and dialogue.
Assassin School Season 1 – (thriller, YA; Complete) Teen spies try to survive the rigorous training and other drama as powerful people battle to control the Ghost children.
Dustin's Decision Devya's Children Book 5 – (YA scifi, shares characters with The Minder Project; Complete) Genetically altered teens struggle to navigate the murky world and control their Gifts.