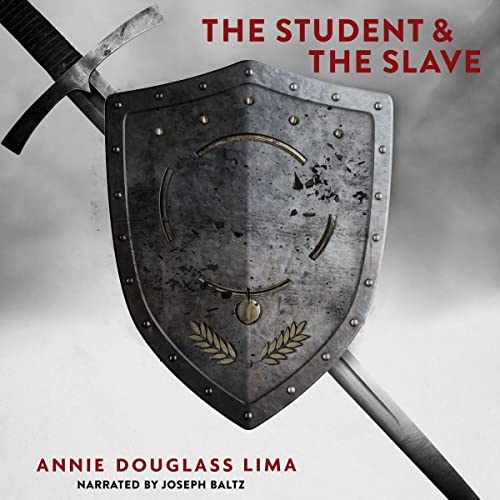 The Krillonian Chronicles Book 3
Narrated by Joseph Baltz
Run Time: 11 hrs and 11 mins
Genre: Dystopian, Adventure, Drama, Young Adult
Note: Discussion will contain spoilers for previous entries in the series. Highly recommended that you start with book one.
Summary:
Bensin struggles to get a job and use his newfound freedom well.
Meanwhile, Steene deals with life as a green slave (someone not born to it). He's given to a thirteen-year-old young man with an interest in martial arts.
Additional Comments:
I don't often give out 5 stars, but this is an exceptional series.
Part of the middle of this story dragged, but the end wrapped up nicely on several fronts.
Raymond probably has the strongest character development arc.
I love how the story focuses on family dynamics as well as working within the dystopian system created. There's bravery and honor and such, but it's not a let's-fix-the-empire book.
If you want to look deeper at themes on slavery, good vs. evil, money not fixing problems, and so forth, you can find it.
The main characters aren't perfect, but they're learning and adapting and all the more realistic for their flaws.
There are two separate storylines for 98% of the book. That's interesting to track, but there was decent page balance between the two.
It's a little hard to pin down the genre. It's basically an alternate world where slavery is an accepted way of life. Collars (slaves) have some rights but are basically property. But this isn't set in history. It's a world with email and jet planes and motorboats and martial arts tournaments. Dystopian is as close as I can come, though most of those are about changing the messed up world, not preserving one family.
The writing's very strong.
The performance is also very strong. Ellie's letters were endearing.
The end's a tad convenient, but it fits so well I don't even care about the coincidences.
Conclusion:
I'm surprised the series isn't more popular. The books are long with some meandering but highly satisfying overall. Grab the trilogy and dig in.
If you want to get 5 clean audio promos a month. Sign up here.
Have You Tried Kindle Vella Yet?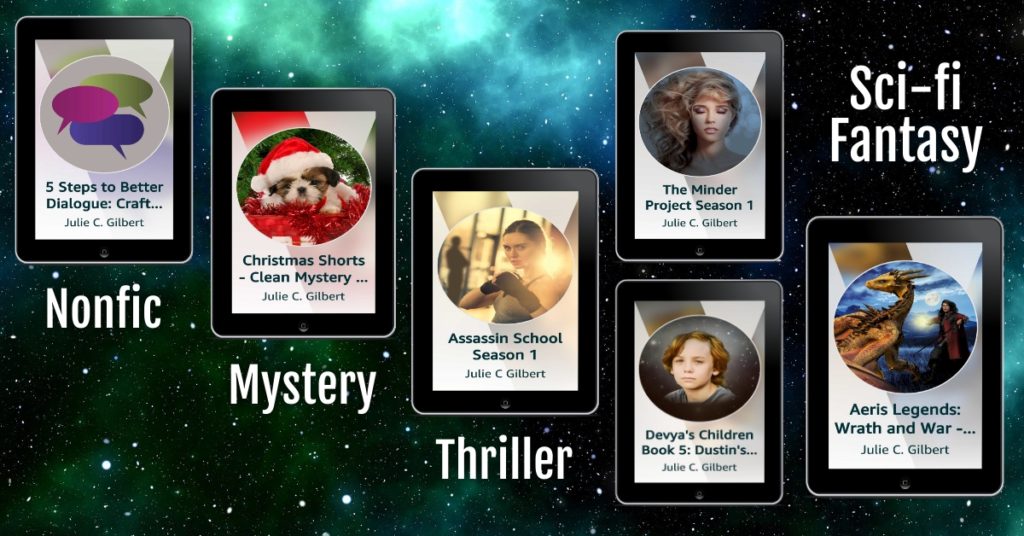 5 Steps to Better Dialogue – (nonfiction, writing skills; Complete) I feel like nonfiction titles should come with spoiler tags. This is a book for writers seeking to learn more about the creation of realistic characters and dialogue.
Christmas Shorts – (Mystery, thriller, Christian, suspense; Ongoing; story 1 is complete) Only one story right now, but will be a collection of short stories with characters from across my series. Typically, FBI agents with personal drama. Might feature an abundance of cute puppies.
Assassin School Season 1 – (thriller, YA; Complete) Teen spies try to survive the rigorous training and other drama as powerful people battle to control the Ghost children.
The Minder Project Season 1 – (scifi, genetic engineering, superpowers; shares characters with Dustin's Decision, Updated Wednesdays) The government gave her genetic Gifts. Now, it wants what it paid for from the program.
Dustin's Decision Devya's Children Book 5 – (YA scifi, shares characters with The Minder Project; Complete) Genetically altered teens struggle to navigate the murky world and control their Gifts.
Aeris Legends – Wrath and War (LitRPG, gaming, fantasy) This takes a box-of-chocolate approach to providing lore entries (creatures, quest descriptions, game mechanics) and short stories for a fantasy world.
Trials, Tribulations, and Trust Issues (Superheros, superpowers) A young woman who can access almost any superpower gets manipulated into testing them for the government.