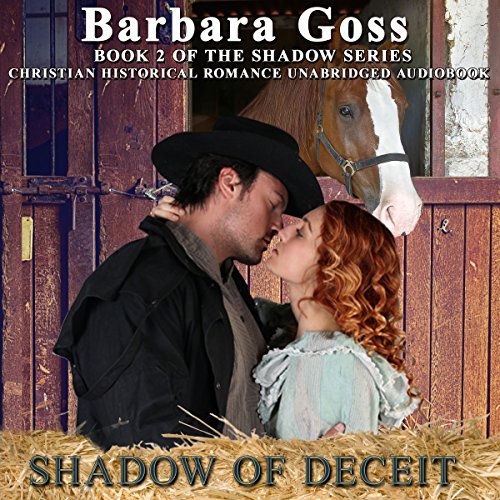 Narrated by Tom Jordan
Run Time: 3 hrs and 34 mins
Genre: Christian Historical Fiction
*spoiler in discussion
Summary:
Caleb gets duped into paying a LOT of money. Julia needs the money to save her brother, but she comes to care for the guy she scams.
Additional Comments:
These stories are always fluff pieces, but this plot is more of a stretch than usual.
I liked the characters, but they were dumb and didn't always have realistic reactions.
Forgiveness is a powerful thing, but I have serious issues with a guy who has legit trust issues from being scammed employing the same/similar tactics and the lady being all "oh, I guess I had that coming, shucks" about it.
Caleb having unholy sums of money sort of took away the power of the scam. I'd be ticked if somebody scammed me out of $5K now, let alone back in a time and place when that was like $100K or more in terms of value. Caleb's reaction to losing that much was kind of pathetic. He was hurt but more about the broken trust, not ballistic. He could have found out where Julia had gone and tracked her down no problem. Or hired somebody to do it. That's a big fat plot hole.
Tom Jordan has a nice voice.
Conclusion:
If you're a completionist, go for it, but you can enjoy the other books in the series without the entry.
*Found a code on a free code site. I have freely chosen to leave this review.
If you want to get 5 clean audio promos a month. Sign up here.
Audiobook Promotions …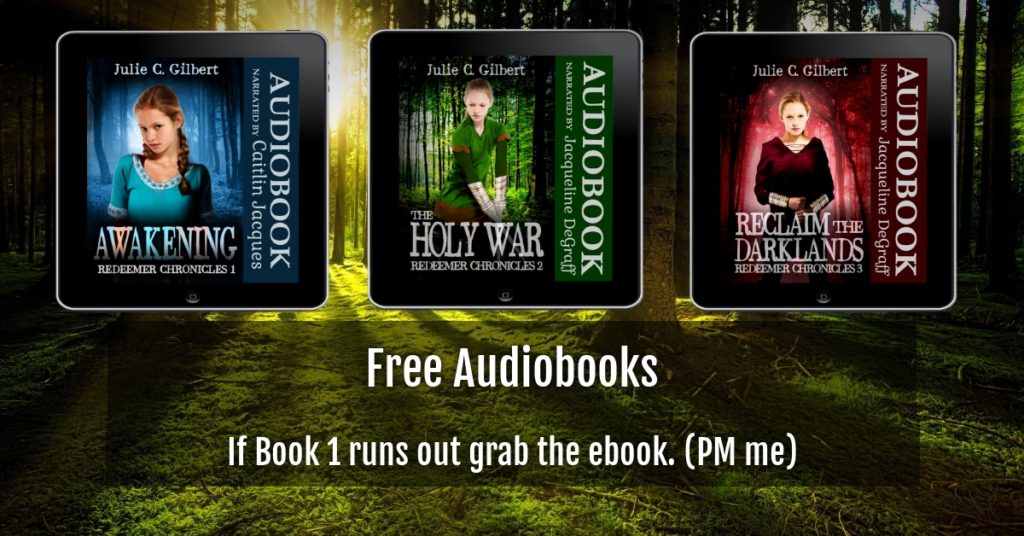 Many of my 55 audible titles are listed on Audiobooks Unleashed.
Whether you're looking for mystery or suspense or fantasy, I've got a title for you. Free codes are probably on audiobooks unleashed.
Normal links go to audible. *The Amazon labeled links are affiliate links. That means I get a very small payment from Amazon if you go through with a purchase.*
Note: Filter by US if you're looking for those codes as many titles are out.
Ones I think may still have US codes: Reshner's Royal Ranger, Never Again, Innova, The Golden City Captives, The Holy War, Reclaim the Darklands, Eagle Eyes, Treachery Makes it Tense, Ashlynn's Dreams Shorts, The Dark Side of Science, Ashlynn's Dreams, Nadia's Tears, Malia's Miracles, and Varick's Quest
There are plenty of UK codes, but not many US ones left.
Redeemer Chronicles (Fantasy)
Awakening – Redeemer Chronicles Book 1, MG fantasy (Amazon) (free codes)
The Holy War – Redeemer Chronicles Book 2, MG fantasy (Amazon) (free codes)
Reclaim the Darklands – Redeemer Chronicles Book 3, MG fantasy (Amazon) (free codes)
River's Edge Ransom – Prequel to Redeemer Chronicles (Amazon) (email devyaschildren @ gmail.com for free codes)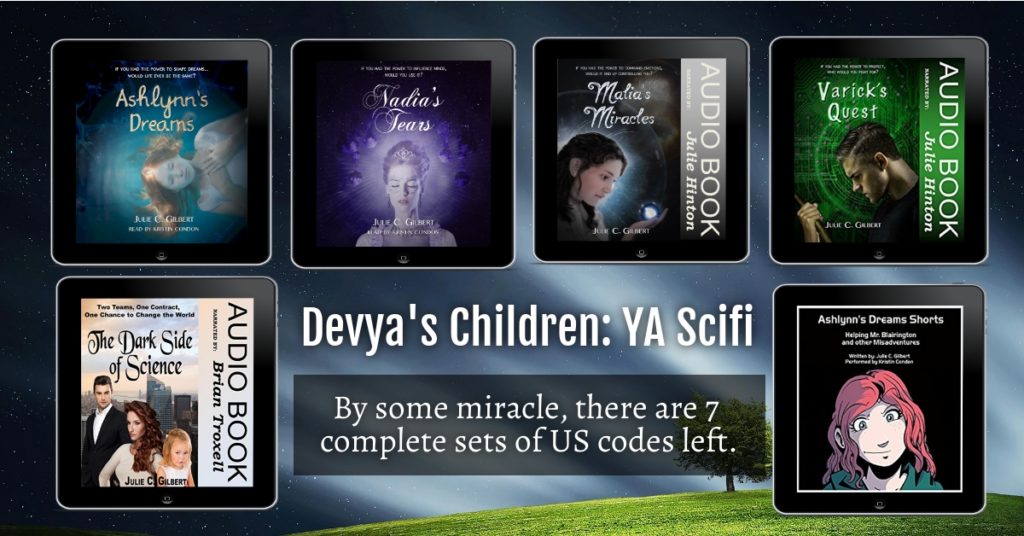 Devya's Children Series Links:
Ashlynn's Dreams Shorts – short stories featuring Jillian. (Amazon) (free codes)
The Dark Side of Science – official prequel to Devya's Children; Genetically altered kids fight for the right to live. (Amazon) (Please email devyaschildren @ gmail.com for free codes)
Ashlynn's Dreams – Genetically altered Dream Shaper learns her gift. (Amazon) (free codes)
Nadia's Tears – Jillian tries to awaken her sister, Nadia, from a coma. (Amazon) (free codes)
Malia's Miracles – Jillian and her siblings try to save a friend's mother. (Amazon) (free codes)
Varick's Quest – Jillian and Danielle get kidnapped. Nadia's also in trouble. (Amazon) (free codes)
More Scifi:
Reshner's Royal Ranger (epic sci-fi) just made it there. (Amazon) (free codes)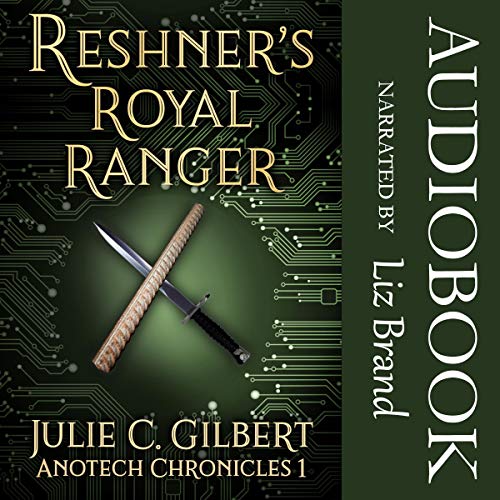 Guardian Angel Files:
Spirit's Bane – Allister and Mina are training to be Guardians. Satan's out to get them. (Amazon) (free codes)
Kindred Spirits – Mina's exiled to Earth. Allister's stuck in the Heavens. (Amazon) (free codes)