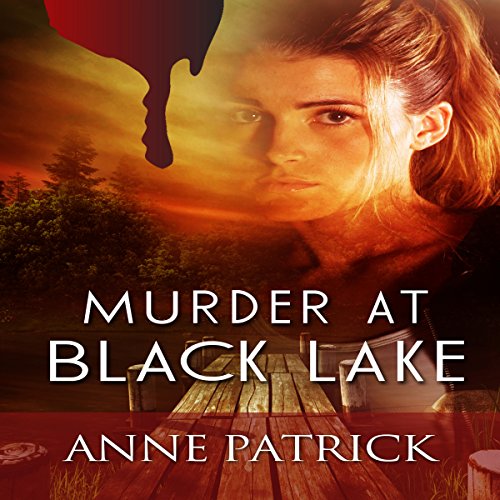 Narrated by Leonor A. Woodworth
Run Time 6 hrs and 45 mins
Summary:
A Hollywood actress returns to her roots to solve a mystery and face some past trauma. Jamie Riedel witnessed her father's murder. Years later, she returns to figure out what really happened and close out her mother's estate.
Additional Comments:
The danger never seemed real.
The bad guy had about a zillion chances to off the leading lady, but it's not that kind of book.
Gage played the perfect hero well enough.
Jamie's somebody you can root for. Her mommy issues were an interesting twist, but the conclusion to that thread was ho-hum.
The entire mystery builds and builds at molasses in January speeds and then concludes in about 4 seconds.
It's a fine Christian mystery.
This is my second experience with Anne Patrick's writing. It's par for Christian romantic suspense. I liked the other story I heard better, but I'd definitely give her stuff another go. Everybody misses sometimes. This one's a near miss to me.
Some of the side plots were interesting to watch unfold. I think several threads were laid just in case the author wanted to write a second in the series with Gage's sister and the other cop.
As a mystery, it's all right. The conclusion's satisfying even if it's predictable. Jamie's life choices are also predictable. She basically has everything at the beginning and has everything at the end, plus the handsome hero.
There's no real substance to the romance. They kiss a few times but everything seems to hinge on what they had in the past.
I do like that not every character was a saint. That lends credence to the credibility angles.
Conclusion:
You know essentially what you're going to get with these stories. Handsome hero. Damsel in distress who can handle herself and everybody else but still likes a hero.
If you want to get 5 clean audio promos a month. Sign up here.
Audiobook Promotions …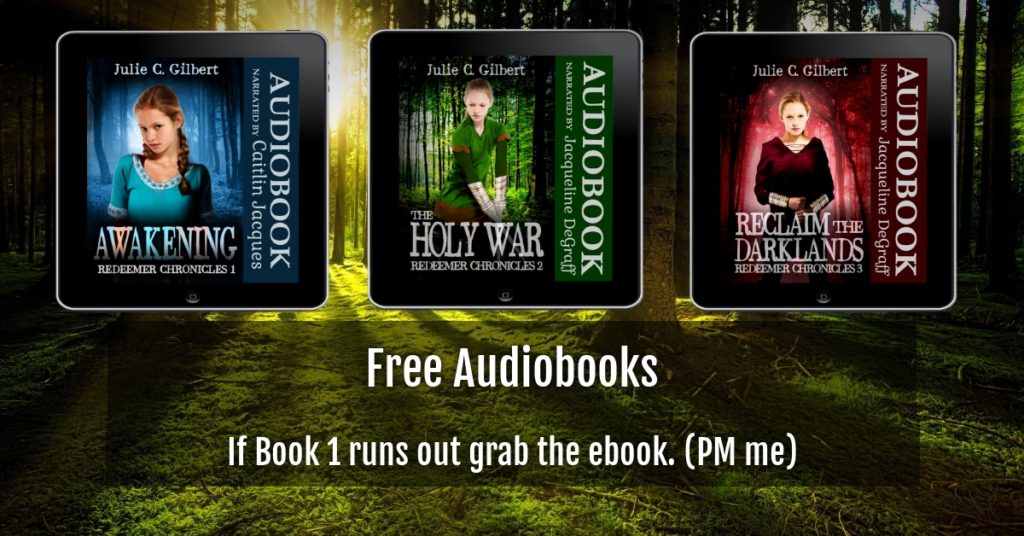 Many of my 50 audible titles are listed on Audiobooks Unleashed.
Whether you're looking for mystery or suspense or fantasy, I've got a title for you. Free codes are probably on audiobooks unleashed.
Normal links go to audible. *The Amazon labeled links are affiliate links. That means I get a very small payment from Amazon if you go through with a purchase.*
Note: Filter by US if you're looking for those codes as many titles are out.
Ones I think may still have US codes: Reshner's Royal Ranger, Never Again, Innova, The Golden City Captives, The Holy War, Reclaim the Darklands, Eagle Eyes, Treachery Makes it Tense, Ashlynn's Dreams Shorts, The Dark Side of Science, Ashlynn's Dreams, Nadia's Tears, Malia's Miracles, and Varick's Quest
There are plenty of UK codes, but not many US ones left.
Redeemer Chronicles (Fantasy)
Awakening – Redeemer Chronicles Book 1, MG fantasy (Amazon) (free codes)
The Holy War – Redeemer Chronicles Book 2, MG fantasy (Amazon) (free codes)
Reclaim the Darklands – Redeemer Chronicles Book 3, MG fantasy (Amazon) (free codes)
River's Edge Ransom – Prequel to Redeemer Chronicles (Amazon) (email devyaschildren @ gmail.com for free codes)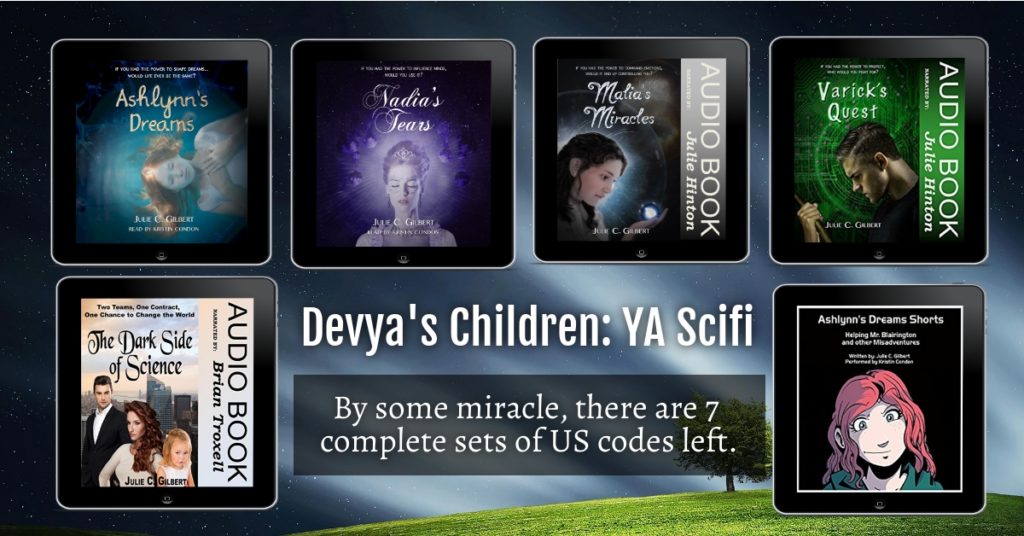 Devya's Children Series Links:
Ashlynn's Dreams Shorts – short stories featuring Jillian. (Amazon) (free codes)
The Dark Side of Science – official prequel to Devya's Children; Genetically altered kids fight for the right to live. (Amazon) (Please email devyaschildren @ gmail.com for free codes)
Ashlynn's Dreams – Genetically altered Dream Shaper learns her gift. (Amazon) (free codes)
Nadia's Tears – Jillian tries to awaken her sister, Nadia, from a coma. (Amazon) (free codes)
Malia's Miracles – Jillian and her siblings try to save a friend's mother. (Amazon) (free codes)
Varick's Quest – Jillian and Danielle get kidnapped. Nadia's also in trouble. (Amazon) (free codes)
More Scifi:
Reshner's Royal Ranger (epic sci-fi) just made it there. (Amazon) (free codes)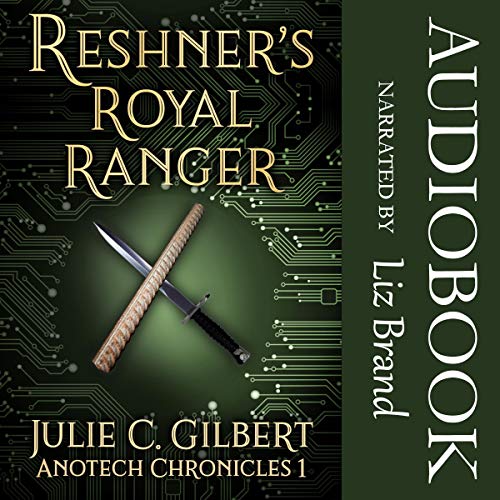 Guardian Angel Files:
Spirit's Bane – Allister and Mina are training to be Guardians. Satan's out to get them. (Amazon) (free codes)
Kindred Spirits – Mina's exiled to Earth. Allister's stuck in the Heavens. (Amazon) (free codes)