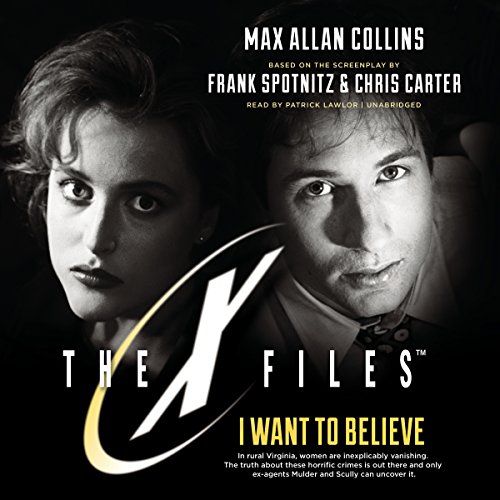 Narrated by Patrick Lawlor
Run Time 5 hrs and 37 min
Summary:
Dr. Dana Scully struggles with an emotionally heavy case, a young boy with a rare brain disease. The only way to save him is a very painful series of surgeries. Meanwhile, she convinces Mulder to help the FBI with a tough case that seems classically out of the X-Files.
Additional Comments:
I think I saw this movie, but I remembered less of it than I did the Fight the Future one.
This one is well after the X-Files closed. Mulder and Scully are partners/lovers but not married. They're probably mid-40's here.
Mulder's called in to consult on a tough, time-sensitive case involving a kidnapped young special agent.
It's a complicated case involving a disgraced priest who claims to have visions.
The medical/normal side of this case is highly creepy. The paranormal side is par for the course.
It's good to see Mulder and Scully back in action, but it also feels like that ship has sailed. I'd almost rather believe they solved the last of the X-Files and road off into the sunset sort of thing.
It's good but not as good as the earlier books in the series. I'm not sure why it's even considered part of this series because I believe the rest of the stories are originals as opposed to being based on movie scripts.
Conclusion:
A good story with X-Files vibes, but much like the beloved TV series, it feels like it's trying too hard. (I don't think I ever finished that series. I have it somewhere, I just never watched season 8 and 9.)
Audiobook Promotions …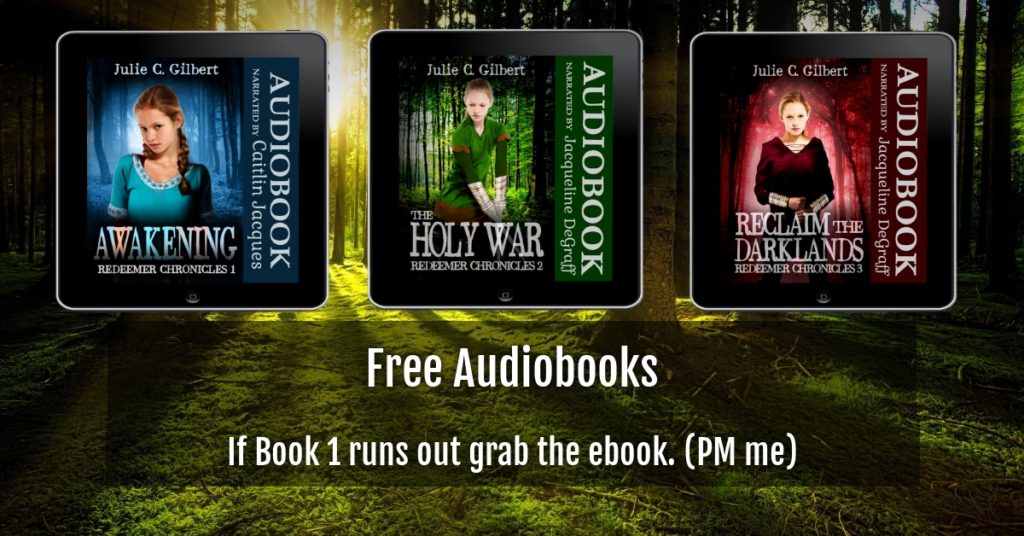 Many of my 50 audible titles are listed on Audiobooks Unleashed.
Whether you're looking for mystery or suspense or fantasy, I've got a title for you. Free codes are probably on audiobooks unleashed.
Normal links go to audible. *The Amazon labeled links are affiliate links. That means I get a very small payment from Amazon if you go through with a purchase.*
Note: Filter by US if you're looking for those codes as many titles are out.
Ones I think may still have US codes: Reshner's Royal Ranger, Never Again, Innova, The Golden City Captives, The Holy War, Reclaim the Darklands, Eagle Eyes, Treachery Makes it Tense, Ashlynn's Dreams Shorts, The Dark Side of Science, Ashlynn's Dreams, Nadia's Tears, Malia's Miracles, and Varick's Quest
There are plenty of UK codes, but not many US ones left.
Redeemer Chronicles (Fantasy)
Awakening – Redeemer Chronicles Book 1, MG fantasy (Amazon) (free codes)
The Holy War – Redeemer Chronicles Book 2, MG fantasy (Amazon) (free codes)
Reclaim the Darklands – Redeemer Chronicles Book 3, MG fantasy (Amazon) (free codes)
River's Edge Ransom – Prequel to Redeemer Chronicles (Amazon) (email devyaschildren @ gmail.com for free codes)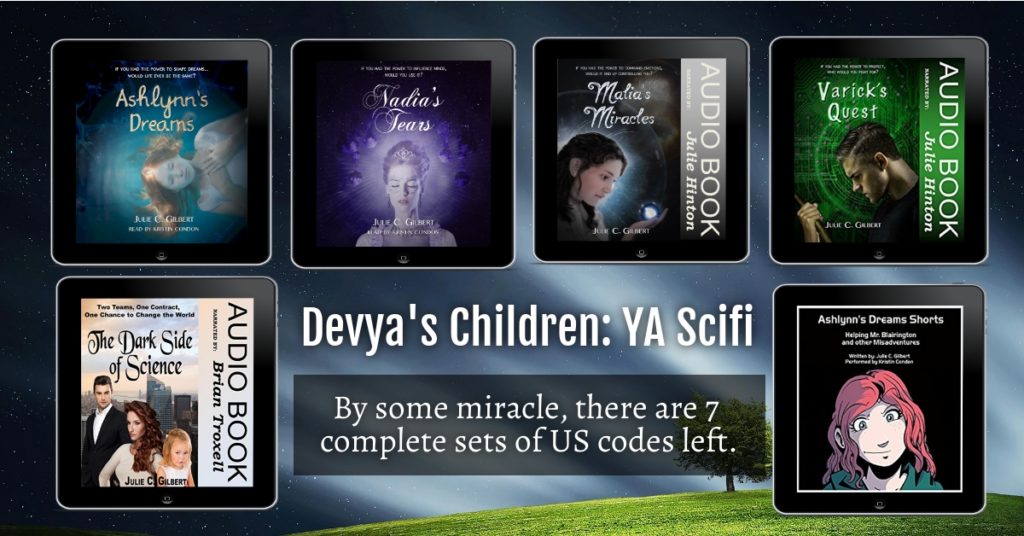 Devya's Children Series Links:
Ashlynn's Dreams Shorts – short stories featuring Jillian. (Amazon) (free codes)
The Dark Side of Science – official prequel to Devya's Children; Genetically altered kids fight for the right to live. (Amazon) (Please email devyaschildren @ gmail.com for free codes)
Ashlynn's Dreams – Genetically altered Dream Shaper learns her gift. (Amazon) (free codes)
Nadia's Tears – Jillian tries to awaken her sister, Nadia, from a coma. (Amazon) (free codes)
Malia's Miracles – Jillian and her siblings try to save a friend's mother. (Amazon) (free codes)
Varick's Quest – Jillian and Danielle get kidnapped. Nadia's also in trouble. (Amazon) (free codes)
More Scifi:
Reshner's Royal Ranger (epic sci-fi) just made it there. (Amazon) (free codes)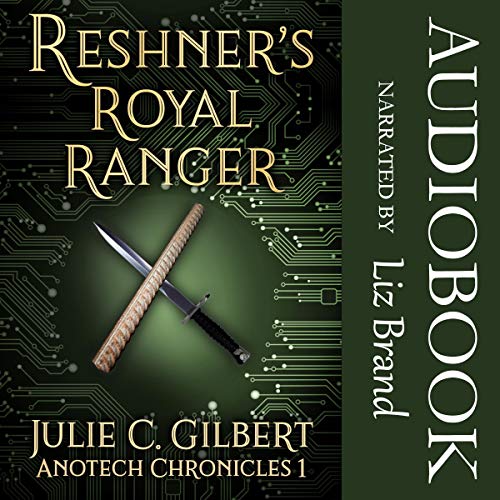 Guardian Angel Files:
Spirit's Bane – Allister and Mina are training to be Guardians. Satan's out to get them. (Amazon) (free codes)
Kindred Spirits – Mina's exiled to Earth. Allister's stuck in the Heavens. (Amazon) (free codes)